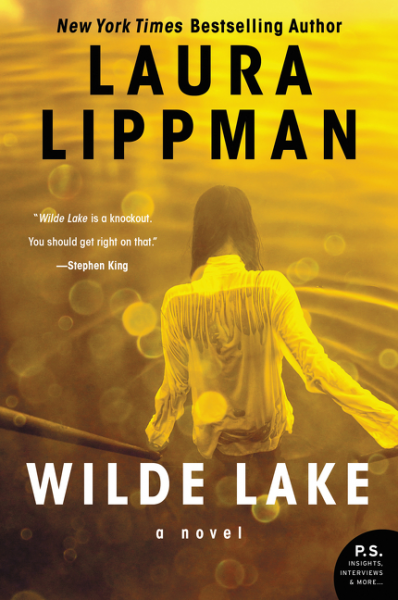 "When my brother was eighteen, he broke his arm in an accident that ended in another young man's death."
This is how Wilde Lake begins, setting the scene for the novel and drawing me into the story immediately. In the first chapter, we learn the details surrounding this introductory sentence, but those details are given to us through the lens of the narrator, Lu, who was ten years old at the time of the accident. And, as readers soon find out, the truth is often a lot more complex than we ever believe.
Wilde Lake is told in alternating chapters of present-day Luisa "Lu" Brant and Lu as a child. Present-day Lu is now in her forties and has just been elected as the state's attorney for Howard County. The chapters from Lu as a child are told from her ten-year-old perspective, dating back to before she was born (obviously, from information she gleaned from her father and brother) right up until the accident. Readers soon learn that Lu's mother died a week after her birth and her father never remarried, content in his job as state's attorney and being a single father of two.
When the present-day story begins, Lu is given her first case: trying a homeless man who is suspected of beating a woman to death in her home. She's looking to make a statement and let people know she means business. After all, she's a woman, she ousted a man for the job, and she has the legacy of her father behind her. She has to get this right.
As she works the case, the memories of the night of her brother's accident are dredged up and she begins to wonder if the accident happened in the way she remembered it. And then weird coincidences begin creeping up involving her current case and the accident of the past, and Lu is desperate to find out what really happened.
This is a book about how our memories cannot always be trusted, about family and turning to the ones you love when you need them, and about the truth and how it may not always set you free. I found that the story dragged a bit in the beginning, but that was simply because Lippman was setting the scene for an incredible plot twist about 70% of the way into the book – a plot twist I never saw coming. I love when an author surprises me like that.
My favorite quote of this novel was this, on page 160: "Besides, what is the whole truth and nothing but the truth? The truth is not a finite commodity that can be contained within identifiable borders. The truth is messy, riotous, overruning everything. You can never know the whole truth of anything."
Goodreads synopsis:
The bestselling author of the acclaimed standalones After I'm Gone, I'd Know You Anywhere, and What the Dead Know, challenges our notions of memory, loyalty, responsibility, and justice in this evocative and psychologically complex story about a long-ago death that still haunts a family.
Luisa "Lu" Brant is the newly elected—and first female—state's attorney of Howard County, Maryland, a job in which her widower father famously served. Fiercely intelligent and ambitious, she sees an opportunity to make her name by trying a mentally disturbed drifter accused of beating a woman to death in her home. It's not the kind of case that makes headlines, but peaceful Howard county doesn't see many homicides.
As Lu prepares for the trial, the case dredges up painful memories, reminding her small but tight-knit family of the night when her brother, AJ, saved his best friend at the cost of another man's life. Only eighteen, AJ was cleared by a grand jury. Now, Lu wonders if the events of 1980 happened as she remembers them. What details might have been withheld from her when she was a child?
The more she learns about the case, the more questions arise. What does it mean to be a man or woman of one's times? Why do we ask our heroes of the past to conform to the present's standards? Is that fair? Is it right? Propelled into the past, she discovers that the legal system, the bedrock of her entire life, does not have all the answers. Lu realizes that even if she could learn the whole truth, she probably wouldn't want to.
You can connect with Laura Lippman on her website, Facebook, and Twitter. Her book is available to buy from Amazon, HarperCollins, and Barnes & Noble. 
Click here to add this book to Goodreads!
I received this book for free from TLC Book Tours in exchange for an honest review. All words and opinions, unless otherwise stated, are my own.
No affiliate links were used in this post.