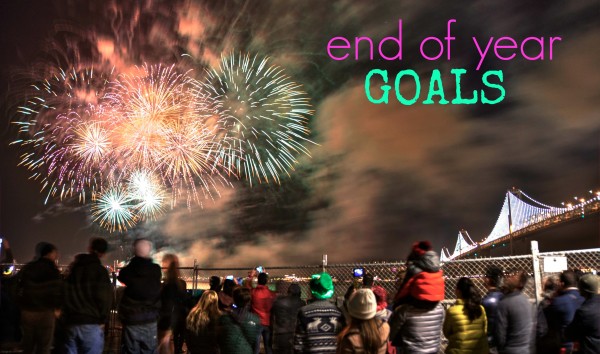 I've been thinking a lot about goal-setting lately. Most specifically, what goals I want to achieve by the end of this year. It's hard to believe we've lived more of 2014 than we have left! There are less than four months to go until we ring in a new year and I want to see some serious progress in my life.
So, after some thinking, I came up with a list of a few end of year goals I'd like to see myself achieve. Since I have less than four months to accomplish these goals, I had to get serious about which ones I wanted to be a priority for me. I didn't want to just come up with a super long list… I wanted a short list of accomplishable (<– yes, that's a word) but challenging goals.
Without further ado, here are the five goals I want to achieve over the next four months:
1. Lose 15 lbs
I'll need to lose a little less than 4 lbs a month to achieve this goal, which is doable, but only if I buckle down and get serious about eating better. I can exercise my face off, but if I'm not implementing healthier eating habits, then I'm not going to see any results. Weight loss happens with dietary changes, plain and simple.
2. Save 10% of each paycheck, and transfer my savings account over to a CapitalOne 360 account
The easiest way to begin saving on a regular basis is to simply save 10% of your paycheck. I need to set up automatic deposits, so I don't even think about having the money to play with. And, on that note, I also need to switch my savings account over to one that will do more for me. Currently, my savings sits in an account with my bank, but it's very limited to what it can do. (Basically nothing.) A CapitalOne 360 savings account will earn interest, allow me to create multiple accounts for different needs, and keeps it in a place that is a bit harder to access, which is something I need.
3. Go to therapy
I need to be in therapy like whoaaaaaa. It's not even something I need to question anymore. I need to talk to a professional, to help me sort out my shit. There are so many ways I'm holding myself back in life, and it simply comes down to a lack of self-worth and too much anxiety than I know what to do with. I found the therapist I want to see, now it's time to schedule a visit and get this started.
4. Take a trip somewhere new for my birthday
I'm thinking of either St. Augustine or Savannah, Georgia. I'm not sure which to choose! St. Augustine is closer (3.5 hours) than Savannah (6 hours), but I feel like I would enjoy Savannah more. Hmm.
5. Completely cut out soda and my daily sugar habit 
Oy. This will be a hard goal, but it goes hand-in-hand with my goal above to lose 15 lbs. I just need to give up soda. Completely. One hundred percent. There is nothing good in soda – not in regular soda or diet soda. Both are equally bad for you, and it's time to cut it out of my life for good. I feel better when I'm not drinking soda, I sleep better, and it's a lot easier to stick to eating healthy (soda just makes me crave more bad stuff!) It's time. Also – sugar. Gah. I don't want to give up sweets completely, but I do need to cut down to where I'm only having one or two a week. Sugary treats should not be a daily occurrence!
What's one goal you'd like to achieve by the end of the year?
{ 6 comments }