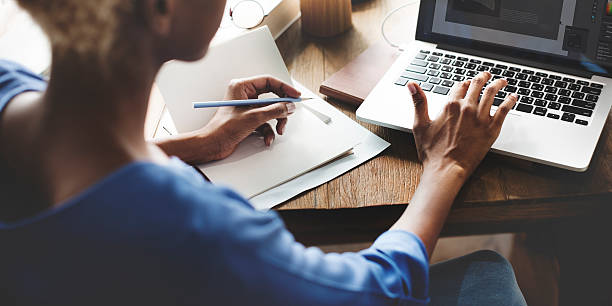 I've been a blogger for about ten years now, which means I've been following people online for a really long time. It also means I've watched person after person quit their full-time job to work for themselves. It's always touted as the "ideal" scenario because why would anyone want to work for a boss, have their schedule dictated by someone else, do work other people tell them to do? Isn't being able to quit your job to work for yourself the ultimate freedom, the ultimate goal?
For me, the answer is an emphatic no.
I had what is called a quarter-life crisis in my mid-twenties, when I was working at an unfulfilling job and feeling completely lost and confused about what I wanted from my career. I had never been particularly career-minded, never one to dream about rising through the ranks at a corporation or getting that corner office. I never had aspirations for management. I just wanted to do work that felt fulfilling, something where my skills could shine.
And yet, as a painfully shy, socially anxious person, I was terrified of every little thing when it came to work. I was scared of messing up, of taking initiative, of speaking up in meetings. I didn't really know what my skills even were, much less what position they would shine in.
That was around the time when it felt like everyone was starting online businesses. There were podcasts devoted solely to "solopreneurship" and "building a brand." It seemed like the only way to enjoy your life was to have your own online business. There were life coaches and web designers and bloggers. They were shouting from the rooftops how freeing it is to own your own business, to not "work for the man," to have your own schedule.
And it started to feel a little condescending.
Because, truly, what is so wrong about working for someone else? Why can you only love your life when you're working for yourself?
I called bullshit on that real quick.
I knew the answer to finding fulfillment in my life wasn't by quitting my job and starting my own business. It was by finding things that made me happy outside of work (exercise, reading, joining a book club, travel) and getting real serious about finding a new job. I still wasn't sure what skills I had or what kind of job I wanted. All I knew was that my degree was in communications, I had some marketing experience, and I loved to write.
And that's when it happened.
I found it. The job that fulfills me. The job that doesn't give me Sunday Scaries. The job that doesn't define who I am by any means, but just makes me feel good.
This week, I'm celebrating five years at this company and I really cannot believe it's been half a decade. When I started at this position, I was so scared. It took me two-and-a-half days to even approach the break room! It took me a week to talk to a coworker who wasn't my boss. It took me over a year to find a friend. But from the minute I started, I knew I was at the right place. Five years later, I still feel that way. I still love what I do.
I still love to "work for the man."
However, that doesn't mean I haven't thought about what it would mean to work for myself. I have. I've thought about being a full-time freelance writer, working on projects I sought out myself. I know it would take awhile to get there. I'd have to spend months, or maybe even years, writing in the nooks and crannies of my life. Early mornings, lunch breaks, evenings, weekends. I'd have to hustle hard and throw my entire self into the work.
Man, does that sound exhausting.
Perhaps fulfilling in some way. And, I can't lie, the extra money would be rull nice. But mostly exhausting.
There'd be no time for myself. No time for reading. No time for exercise. No time for friends. No time for naps. (I'd really miss napping.)
It's not worth it for me. That side hustle life is not for me.
Right now, I have one single freelance client. She sends me work when she needs it. Sometimes, that means I'm spending every weekend writing. Sometimes, that means I go months without hearing a peep from her. It's the ideal scenario.
And there are major benefits to being employed by a company. Health insurance, for one. Taxes, for another. Knowing that my job is steady and I will get a paycheck for the same amount of money every other week. Meeting new people, having a reason to take a shower and get dressed every day. Not having to worry about work coming in – I just take what's given to me and do it with a smile. I'm challenged in ways that fulfill me, not in ways that stress me out.
So, I take your "working for yourself is so freeing" and raise you a "so is working for someone else." I don't think working for yourself is any more freeing than working at a job that fulfills you. I think they both offer their own levels of freedom and autonomy. It's all about how you choose to view it.