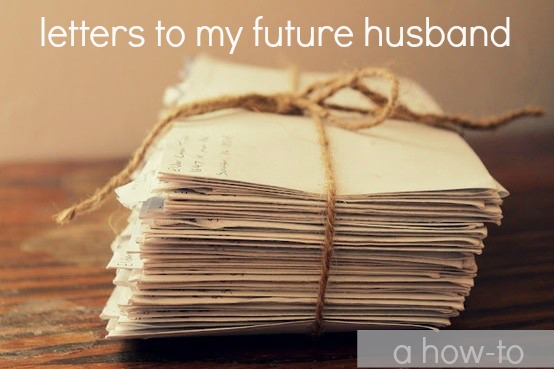 I get lots of emails from young girls who have come across my Letters To My Future Husband series from a Google search and are curious to know more about how to get started on writing their letters. I thought it was high time I finally sat down and wrote my own "How To" on writing these letters.
I will caution to say that these letters are highly personal to each and every individual and everyone goes about them in a different manner. There is no formula to these letters, no "right" way to begin. But, for those asking, here are some steps to getting started on writing letters to your future husband:
1. Decide how you want to write your letters – blog, journal, private diary.
I made the decision to make my letters very public and searchable. I never set out to be one of the top search terms for "future husband letters" and I never expected to receive emails encouraging me to keep writing and girls in high school who wanted to tell me their story and ask for advice. It's morphed into something bigger than I ever expected and now, I am so glad I made my letters public because it means I get to share my biggest passion to the world and encourage young girls during this season of waiting.
But you have to decide what feels right for you. For most people, these letters are way too personal to keep public. You may want to just have a journal that is dedicated just for your letters. That's what one of my friends did, keeping it in a pretty journal that she gave to her husband on their wedding day. You may decide to open your own blog solely for your letters to have a place to keep it for always. It's up to you how public or private you want your letters to be.
2. Write that first letter.
I think it's important to get that first letter out of the way, because it helps you see the route you want to take with your letters. Light and fun? Romantic? More story-like, talking about what you are dealing with now? That first one can be awkward because you have to get into the habit of writing to a guy you don't even know! It's weird, yes. Totally weird. But it becomes easier and easier with the more letters you write, as you start to get used to how you want to write them and what you want to say. My letters tend to be more romantic than I expected, because I am so not that way in real life! There are letters when I basically just talk about what's going on in my life and then letters when I just want to tell him how much I already love him and how I can't wait to meet him. It's all about what you are feeling when you sit down for that letter. But the important thing is to just get started and get that first one on paper! (Or blog, as the case is for me.) It's going to be a little awkward but just keep writing and soon, the words will start flowing more easily.
3. Decide your frequency.
For some people, they like to be on a timeline for these things. Once a week. On the 30th of every month. During holidays. For me, I don't have a set time of when I write my letters. I went a whole ten months between my latest letter and the one before that! I write when I feel that tugging on my heart to write to my future husband. I write when the words need to escape from my brain and be placed on paper. (Er… blog.) I don't write when something crazy happens in my life or a holiday is coming up, although that may work for you! For me, I want this to remain something fun and something I do when the mood strikes. I didn't want this to have an agenda. I didn't want to feel forced. I just wanted to write when my soul pushed me to write. I wanted to write when I wanted to "talk" to my future husband.
These are your letters. You can decide on a frequency or you can just write when your spirit moves you to do so. Having a set time may work for you and that's fabulous if it does! Or you may start writing with your frequency in mind, but later on you forgo that for something else. Don't make this into a chore. These letters are supposed to be fun and exciting and yours alone. If you want to write them once a year, write them once a year! If you want to write them every month, write them every month!
You don't have to decide on a frequency, but for some people, it helps, especially in the beginning when you are just getting into a habit of writing these letters.
4. Remember that these letters are your personal journey to marriage.
No matter how you decide to write them or how frequently, these letters are your personal journey to marriage. They aren't supposed to look like anyone else's. The letters will change throughout the years as you mature and gain more experience, both in life and dating. As you start to figure out who you are and what you want your marriage to look like. And when you find that special guy that you think these letters might be for.
As I said before, there is no real formula for writing these letters, because they are so personal to each person. I know my letters look completely different than letters I've seen from other people but that's because we are all taking different journeys. I am proud of the journey I am taking and I am proud of these letters, because of the man I will one day give them to. You have to write from your heart, no matter how silly you may think you sound. Sometimes I like to imagine my own future husband writing letters to me and that gives me further motivation to keep writing and helps me let go of the awkwardness, because I know he will love these letters just as much as I would love letters from him.
This is a "how to" on getting started but honestly, it's very hard to give advice on writing these letters because they are so personal. All I can give is my own experience and how writing these letters has effected my own life. It helps me keep focused on what I want from life and that the way I want to capture my love story is vastly different than what the world is leading me to believe I need to do to find love. I may not understand everything and I may falter more than most but I do know this: God's plan for my love story is so much bigger, brighter, and amazing than any love story I could imagine.
If you've stumbled across this blog post from a Google search, I'd love to talk to you! Feel free to email me (stephanywrites at gmail dot com) and tell me your story. I'd love to encourage you and help you in any way I possibly can. You are not alone in this waiting season.