November is Diabetes Awareness Month and November 14th is World Diabetes Day. Allison of With Faith and Grace explained the importance of  World Diabetes Day on her blog last week. She put in a call to guest post on different non-diabetes blogs to raise awareness about diabetes and I was glad to hand over my blog for one day to let her. Enjoy!
***
Every day with diabetes is a little bit different. Different foods, different routines. Different stress levels, different hormone levels (hello PMS!). So it's hard to find a "typical" day because there really is no such thing. Some days are easier, and some are harder, but they are always a challenge and take work.
The day I chose was Monday, November 12, 2012. Let's have a look…
7:00 a.m. This wake-up call is a little earlier than other days of the week, but I'm up because my first class is at 9 a.m. and I also have to drive my husband to work. We're a one car family, so unless he has a work vehicle to use, we have too coordinate our morning schedules. But this morning is also unusual because I have a huge exam at my second, 11 a.m., class, and so I've elected to skip my first class so that I can come back to study, eat a good breakfast, and take a shower.
There's something about a shower that always makes me feel refreshed and ready to concentrate.
7:45 a.m. Before we leave, I have to test my blood sugar. It should be the first thing I do when I wake-up, but sometimes I forget to do it right away. This morning, I'm 161 mg/dl. (That's milligrams of sugar per deciliter of blood — hey, I never said diabetes was sexy). It's different every day.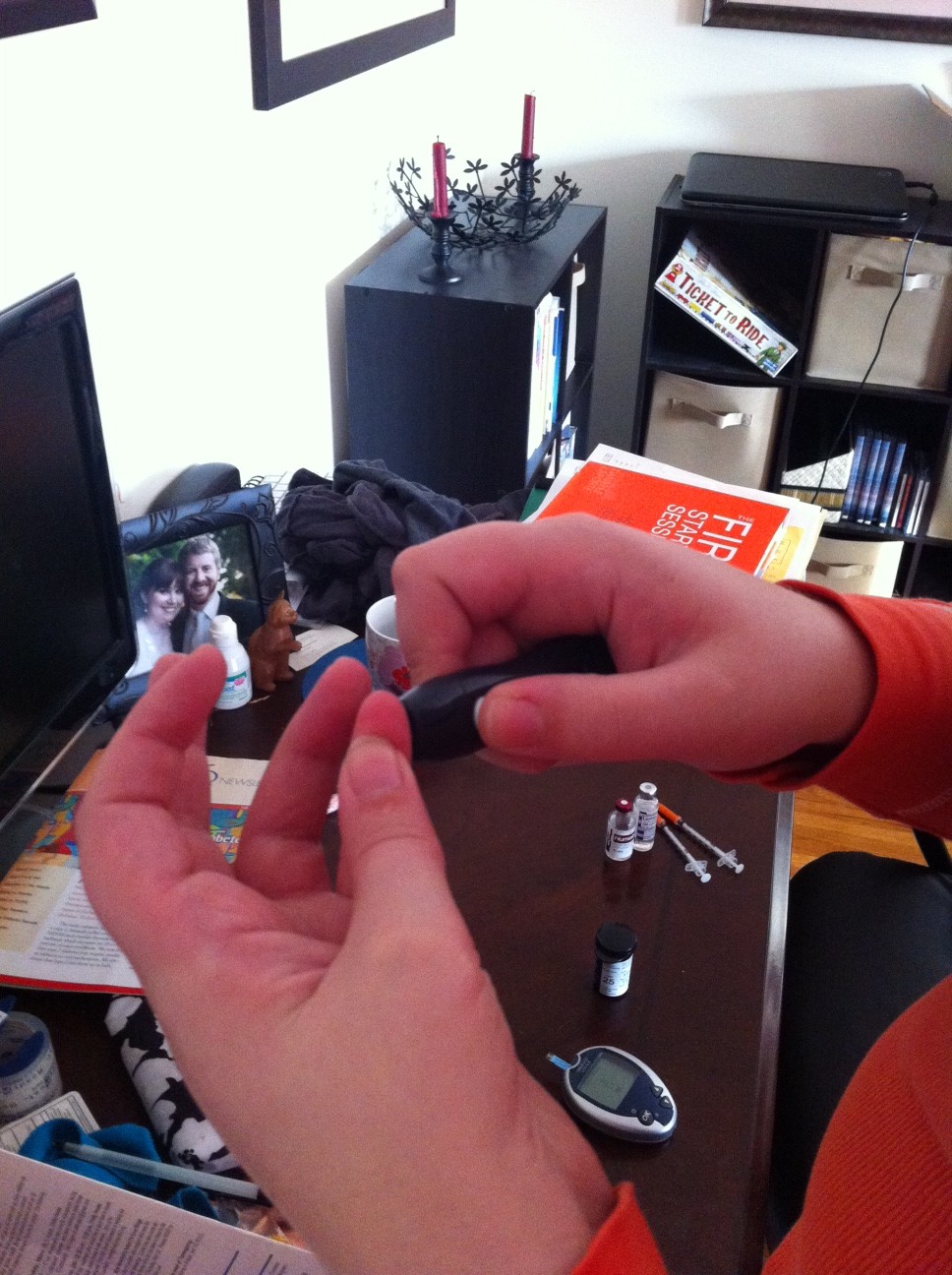 8:53 a.m. I'm back home and ready for breakfast. I'm brew some coffee, and cook up some eggs (sunnyside up) and take a slice of pumpkin bread that we made yesterday. Since I ate the pumpkin bread yesterday successfully (that means I didn't have crazy high or low blood sugar afterward), I use the same carb count: 35 grams of carbs. Eggs and coffee are thankfully carb-free.
But the work isn't quite done. Even though I haven't had anything to eat yet, I suspect my blood sugar has gone up. It's been a trend in the past, and I think it's caused by early morning hormones. It's the diabetes world, it's called the dawn phenomenon. I check my blood sugar and it's 225 mg/dl. Up from 161 just an hour ago! WTF? I take an injection of Humalog insulin, a short-acting insulin designed to pair with meals, and dig into breakfast.
10:15 a.m. After breakfast, showering and studying, I'm ready to take off for school. But before I can do that, I need to take my morning injection of Lantus. Lantus is a long-acting insulin that keeps my blood sugars steady when I'm not eating. That's because the body still produces a small amount of glucose naturally, and so you always have to have insulin in your system. Another way to do this is with an insulin pump, which takes the short-acting insulin and just infuses it 24/7. You can take off a pump for short durations (like showering or sex), but for the most part, it's always on.
I take my Lantus injection, and I'm out the door!
11:56 a.m. I think I did pretty good on the test! Or at least, I don't think I failed it. I head to the library to kill time between class. I decide that it would be a good idea to test my blood sugar, even though I'm not eating right now. I clock in at 107 mg/dl. Perfect!
12:30 p.m. I'm starting to feel a little funny. Not sure what it could be, but feeling funny always indicates that a blood sugar check is necessary. I'm thinking I'm low, because I have a weird, "I've just run a marathon" fatigue in my legs. But… I'm 205 mg/dl. Say what?! How did I jump 100 mg/dl in 30 minutes! WTF? I test again, just to be sure: 192 mg/dl. It's not that I dropped 10 points in two minutes, but blood sugar meters are not 100% accurate. It's one of the many things that make our lives difficult.
Aggravated, I start messaging with some friends. No one has any solid answers, but the reigning theory is that my exam was more stressful than I thought, and my body had a delayed reaction to the adrenaline from taking it. That funny feeling? The rush of adrenaline coursing through me. Fun times. However, I'm not convinced and so I decide not to take any insulin to bring my blood sugar down. Why? Don't ask me. Sometimes diabetes management is best done by intuition.
3:30 p.m. I get done with my last class at 2 p.m. and drive home. But I can't test again because I've used up the last of my test strips! So I head to the pharmacy to pick some up. When I finally get around to checking, I'm 132 mg/dl. Perfect again! But why did I drop? I have no idea, but I'm glad I didn't take any insulin for that 205 mg/dl. I would have "crashed" (diabetes-lingo for having a sudden low blood sugar) for sure! I haven't had lunch yet, and I'm starving, so I nosh on some leftover veggie lasagna from last night, plus a couple of Hershey's chocolates. I add up how many carbs I think are in them (12 for the chocolates, and I estimate 42 for the lasagna since that's what I ate last night) and inject… Pop Quiz: What type of insulin do you give for a meal? Got it? Answer: Short-acting insulin!
5:51 p.m. I spend the rest of the afternoon blogging, working on freelance assignments and coordinating an order for Blue Cupcake, but I'm not quite ready for dinner since I ate such a late lunch. Erik, my husband, suggests going to the gym before dinner, rather than after. I check my blood sugar to see if that's a good idea: 255 mg/dl. Ouch! Higher than I would have liked, but I still have insulin working in my system. Short-acting insulin is actually not very fast at all, and often times your food (like lasagna) will raise your blood sugar before insulin will lower it. This can also happen in a non-diabetic, but to a much lesser degree.
6:53 p.m. My blood sugar tends to stay pretty steady when I do cardio, but when I'm weight training, I can crash like a rock. Half way through my work out, I check my blood sugar, to make sure I have nose-dived. Normally I would try to have less insulin in my system to prevent a low. But look at that, I'm 216 mg/dl! I've dropped a bit, but nothing too serious.
8:07 p.m. We're done, home, and ready for dinner! My blood sugar is now… 222 mg/dl. OK. Now I'm annoyed again. Why didn't all that active insulin + exercise drop me into the normal range? WTF? Sometimes the adrenaline from working on can make me rise, but it's very rare (for me) in weight training. Or there's the possibility that I ate way more lasagna than I thought, and the insulin and exercise just wasn't enough to bring me down. Sometimes it feels like anything is possible! But we have to keep moving on…
Dinner is trout, mashed sweet potatoes and a caesar salad, but I don't end up eating everything. Which is bad, because it makes it harder to count what I did eat. Later on, I'll discover that I took way too much insulin.
10:45 p.m. Time for bed! Yet another blood sugar check for me and I'm 155 mg/dl. This might look like a better number than 216 mg/dl, but it's all contextual in diabetes.  At the time, I think that I must still have food that's digesting and that the active insulin still in my body will have some sugar to work with soon. Hindsight is 20/20…
1:16 a.m. Diabetes doesn't care if you're asleep. It doesn't care about holidays or vacations or exams. So just because I'm sound asleep doesn't mean diabetes isn't going to demand my attention. My inkling that maybe I should have had a snack is confirmed when I wake up to a low blood sugar. I'm disoriented and my limbs are miserable and uncomfortable from the lack of sugar. I wake my husband and he fetches orange juice while I test to see what the damage is: 59 mg/dl. Far too low below my threshold of 80 mg/dl. After gulping down the OJ, I fall back asleep.
But by morning, I'm 108 mg/dl… and the adventure starts all over again.
Number of Blood Sugar Checks: 10
Number of Insulin Injections: 5
Number of WTF Moments: 3
***
Were you surprised about how much thinking and planning goes into just one day for a person living with diabetes? I know I was!