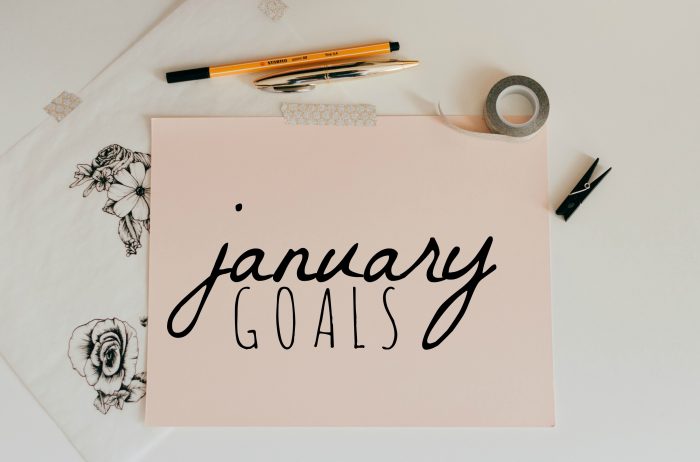 Ah, it's time to get back to my monthly goals! I took the latter part of the year off because, well, goal setting wasn't top of my priority list while grieving the loss of my beloved grandpa. But it's a new year and hopefully a new me, and I've got some great goals to start off the year with:
1) Get blood work done.
It's been years since I've had my blood work done. I need to go to an actual diagnostic center for blood work because my veins are notoriously hard to get a needle into, but I have the paperwork and this is an easy task I can cross off in January. I may even just go to my local Quest location first thing tomorrow to get it done!
2) Set up Eloise with a new vet and sign up for pet insurance.
I'm sort of cheating with this goal because Eloise has an appointment today with the vet. 🙂 But it has been my goal for January since I adopted her, so I'm still counting it! I just want to get her in their system and also check in on some issues she had prior to me getting her and make sure she's healthy. I'm also going to talk to them about her feeding schedule because she's been on a "put on all the weight" diet since she was rescued and was skin and bones. I leave out dry food for her at all times, and also give her a can of wet food twice a day. I'm hoping I can stop with the wet food soon because that ish is expensive. And, I also need to sign up for pet insurance! Whew. A big month for little Ellie.
3) Get new tires for my car and a wheel alignment.
I've been putting this off for far longer than I should, and the anxiety I experience every time I drive my car on the highway means I need to get this taken care of ASAP, if only for my mental health. I replaced two of my tires last year (thanks to two tire blowouts on the highway, hence the anxiety), so I only need to replace the other two and I also need a wheel alignment, which is always a costly maintenance fix. I've gotten estimates from a few companies, so now I just need to get a few more estimates and then schedule the appointment.
4) Try out a meal delivery system.
So, I hate to cook. I do not find cutting vegetables relaxing and nothing I make ever seems worth the amount of work it takes. Plus, as a single gal, a lot of my meals end up providing way too many leftovers than are good. But I can't keep eating out – I want to lose 40 lbs this year! So, I've decided to test out a meal delivery service. It's expensive, but I already spend an astronomical money on food when I account for eating out, Starbucks, and grocery store runs. I'll probably end up spending the same amount of money, honestly! I'm a little apprehensive, though, because I am a very picky eater but I'm willing to give it a try.
5) Schedule a dermatology appointment.
I usually go for my annual skin check in January or February, and this time, I'm going to talk to my derm about getting all my skin tags removed and what that process entails. Gosh, it will feel so good to have them removed! They annoy me so much and some of them can even be painful.
6) Sign up for Mint and organize my budget.
I am so intimidated by the process of getting my budget organized on Mint, but it needs to be done. Maybe I'll make this special and take myself to Starbucks while I do it! (Does that defeat the purpose of using a budgeting system to be better at money? Hmm.)
What's something you want to accomplish in January?