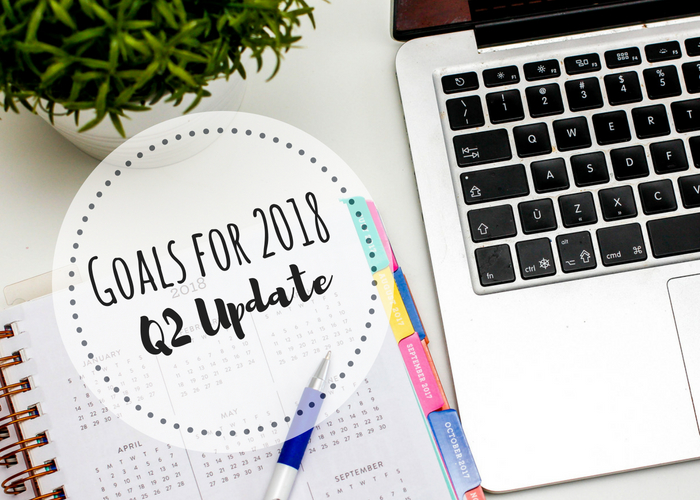 Hey! It's just about mid-July. How the heck did that happen? Somehow, we've zoomed through the first half of 2018 and we're squarely in the second half. This means it's time to get cracking at those goals I set at the beginning of the year. There are definitely goals on this list that I know won't get marked off, but that's okay. That's never the point, right? It's just to have a little fun, challenge myself, and try to always improve myself both inside and out.
Let's take a look at the goals I set and the progress I'm making:
1) Lose 30 lbs. I was making good progress, but I had a pretty rough Q2 in terms of my goals, so I didn't lose any weight (the scale kept going up and down). I'll need to lose at least 5 lbs a month over the next six months to mark this goal complete. Eek.
2) Complete the Whole30. I keep going back and forth on whether or not I want to do this goal. My plan was to attempt it in Q3, which means I need to start making a plan if I want to do it in August or September. I'm really scared to attempt Whole30 because elimination diets like this are not my fave and I know it's the type of challenge you have to be all-in for.
3) Cut out soda completely. Oof, no progress made on this one! My mom has managed to cut out soda completely over the last month and it's seriously inspiring. She cut it out cold turkey and I think it might be time for me to do the same.
4) Buy a new couch. Not yet! It's still something I want to happen in 2018, but Q2 was tough financially and I really want to focus on my credit card and savings first. Once that's taken care of, I can think about selling my sectional and buying a new couch.
5) Complete a yearly shopping ban where I don't buy any new clothes. In Q2, I bought a polo shirt and two pairs of sandals. The polo shirt was necessary because I had to wear one to the golf outing my work hosted in May, and one of the pairs of sandals replaced the flip-flops my sweet fur-brother destroyed in June. So this means that in six months, I've bought one pair of black jeans, one polo shirt, and two pairs of sandals. That's pretty darn awesome! I'm happy with that and will continue to strive to not buy too many clothes this year.
6) Stop using plastic bags at the grocery store, Target, etc. This is a goal that's always at the forefront of my mind, and I even keep plenty of plastic bags in my trunk to ensure I never, ever have to use reusable bags when I'm out and about, but would you like to know how many times I remember to grab a couple when I'm shopping? Not very often! I don't even know how to get better at this. At least I'm trying to reuse and recycle the plastic bags I do get?!
7) Read 100 books, including four classics. Well on my way with this goal! I have read 72 books this year, so I think 2018 might be my most-read year to date! Adding audiobooks to my repertoire has helped boost my reading even more than usual. For my goal to read four classic novels, I've read two: A Tree Grows in Brooklyn and 1984. I'm on the wait list for a library audiobook of Persuasion by Jane Austen, so that's what I'll be reading in Q3.
8) Give up all dating apps for the entire year. Here's where I have to come clean: I re-downloaded Bumble in June and have been using it off and on over the last six weeks. I haven't actually gone on any dates because every single message has fizzled before we can even get to discussing meeting up (or they just unmatch with me when I send a message, which really does wonders for my self-esteem. Truly.) I'm using it very sparingly (and I'm not swiping through three different online dating apps like I've done in the past). I think I'm going to give myself the rest of July to see if any connections are made through the app. If not, I'll delete it and go back to my app-less, date-less life.
9) Try something new once a month. No. I just keep forgetting about this goal. I think I may change it to "go on one solo adventure a month" instead. My goals, my rules. 🙂
10) Start therapy. Nope, but not for lack of trying! I am still on the hunt for a therapist. Here's hoping!
11) Finish my novel. I'm working on it! I'm thinking I may have to participate in NaNoWriMo this year to make this goal happen, though. Would be a fun challenge!
12) Figure out what my Enneagram type is. Oops, completely forgot about this goal! I need to buy a book to figure this out because I hear the best way to find out your type is to read up on them all and determine which fits you best.
13) Travel to one new state. I am still eyeing the fall to make this goal happen!
14) Exercise at least three times a week. Yep. I am doing very well on this goal, actually. Exercise is probably #2 on the list for "ways to manage my anxiety disorder" (right after regularly taking my meds), so it's much easier to get this done when I know it helps me mentally. I'm not perfect, as I definitely don't exercise on the weeks where I'm sick (and I've been sick way too often this year), but I would say I get it done 90% of the time.
15) Create a wedding album for my mom and stepdad. Complete! I ordered their wedding album this weekend and it should arrive sometime later this month. So glad I could cross this off my list and I hope they love it.
How are you doing on your yearly goals?