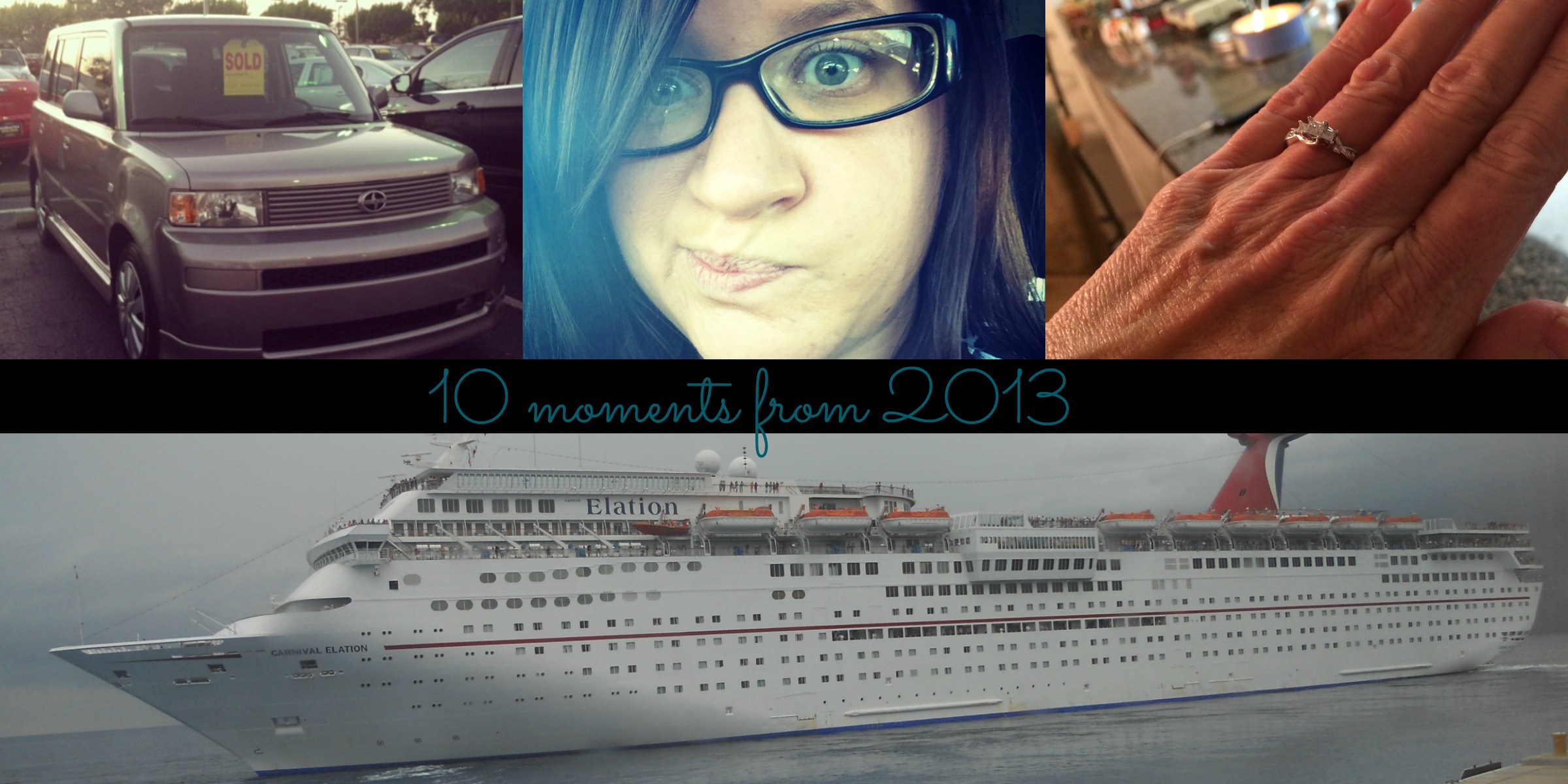 This week, I'm going to spend time looking back on 2013 with a few top ten lists. Usually, I simply recap the year month by month, but I thought writing a top ten list was more appropriate. A lot of great things happened this year. A lot of growth, a lot of change. These are listed chronologically, so in no real particular order. Here we go!
One – Experiencing butterflies
It's no secret that my dating life – and dating history – is sad. I'm 26 years old and have never been in a serious relationship. Oy. But earlier this year, I met someone over OK Cupid and we dated for a short period of time. And for that short period of time, he made me really, really happy. I got this tiny glimpse of life in a relationship and it was wonderful. Really, really wonderful. I was excited where this relationship was heading and was the happiest I had been in a really long time. And then things went sour and it really hurt. But it's life. It happens. He wasn't the right one for me. But those butterflies? They were so worth it.
Two – Going 30 days without drinking soda
At the beginning of this year, I did something I never thought I could do: I went 30 days without drinking soda. This is a major accomplishment for me, because I have been addicted to soda for so long. It really wasn't all too difficult, even fighting through the caffeine withdrawals. I think I just set my mind to doing it and I did it. It reminded me how capable I am and how I can do anything I set my mind to.
Three – Buying a car
I bought my first car this year! It was a long, long time coming, especially since I don't live in a walkable city so anytime I need to go anywhere, I have to drive. I put this off for a while, mainly because my mom let me use her car whenever I needed it (and we're together so much, it wasn't often I was without wheels!) and also because of money issues. But the time came where I just needed my own car so I set aside money for a down payment and found a wonderful, reliable car in my price range. Definitely a huge bright spot in this year.
Four – Parasailing in Grand Cayman
My mom and I went to Grand Cayman for the third time in three years, during our cruise in May. I like to do crazy things while on cruises, and parasailing is definitely pretty crazy! It was such an amazing experience, even if it was slightly scary to be so high above the water! We had fantastic tour guides and five whole minutes to ourselves high in the sky. I thought it wouldn't feel long enough, but it felt like the perfect length of time. I would definitely do it again!
Five – Participating in The Amazing Cozumel Race
My mom and I finally did this excursion while we were in Cozumel in May, after passing over it the other times we had been in Cozumel. It wasn't perfect. We were paired with a girl who was a bit overbearing and annoying and all over the place. On the one hand, she was very helpful and had no problem asking locals for help (something my mom and I would never do, unless it was a life or death situation!). But on the other, she kind of spoiled the race for us a bit. All in all, though, it was still fun and we got to explore an entirely different side to Cozumel.
Six – Writing 30+ guest posts
I didn't make my goal of writing 50 guest posts this year, but I did wind up writing over 30 posts, which is still an impressive number (in my eyes, at least). It was a bit crazy and nuts, but I enjoyed writing these posts. I wrote about everything from my faith to reading to cruising. You can find the whole slew of posts right here.
Seven –  Accepting a new job
There were many changes I wanted to have happen to my life this year and one of those was finding a new job. I didn't talk much about it, because who knows who is reading your blog, but I threw myself into job searching this year. While I loved the coworkers at my job, the position was evolving into one I didn't much care for, and I knew I wasn't making what I deserved. The large part of me finding a new job was to find something that paid better, simply because I was barely making it on my salary at my old job. So I went out there and searched. I put together a gorgeous resume, fiddled with my cover letter, and started applying to my little heart's content. I set up a ton of job alerts and would spend many weekends and weekday mornings going through those emails and finding jobs to apply for. And, in August, it all paid off when I accepted a job doing SEO content creation for an online marketing firm.
I've been with my new job for four months now and things are going swimmingly! I love the work. I love my coworkers. I love my bosses. I love the environment. I was terrified of everything in the beginning, because change and transitions are really hard on me. I felt more anxiety than excitement about starting a new job, and the first few months were definitely difficult. But I'm opening up, building friendships, and I know I am exactly where I'm meant to be. Hands down, the best decision I've made and the best part of my year.
Eight – Going brunette
I went back to brunette! After over 3 years of being blonde, I decided to go brunette. Being blonde was a lot of fun, but it was also a lot of work. (And expense.) So I spent the majority of the year growing out the blonde and then made the plunge in early October! I love being brunette and I'm so happy I made the change!
Nine – A vacation with new girlfriends
Mid-November saw me boarding a cruise ship for fun weekend getaway with girls I met through my local book club. The leader of the book club is as obsessed with cruising as I am, and she found a great deal for a two-day cruise out of Tampa on Norwegian Cruise Lines. Of course, I was so in, as were three other members and we had a blast! The food was delicious, the entertainment was fun, and the company was amazing. I loved cruising with these girls and only hope we can vacation again together very soon!
Ten –  My mom getting engaged!
This past weekend, my mom's boyfriend officially proposed to her and she's got a dazzling ring to prove it! They've been talking about getting married for a few months now, and had been shopping around for rings all week, so this wasn't anything crazy shocking, but still very fun and awesome. My mom actually met her fiance, Robert, on OK Cupid and while there were a lot of growing pains in the beginning, we've all gotten used to one another and I am so, so, so happy for my mom. She deserves this. She deserves to know what true, good, honest love is like. And he has been so good for her. Of course, she asked me to be her maid of honor, so I guess we'll be planning a wedding in 2014! Eee!
What are some of your top moments of this past year?