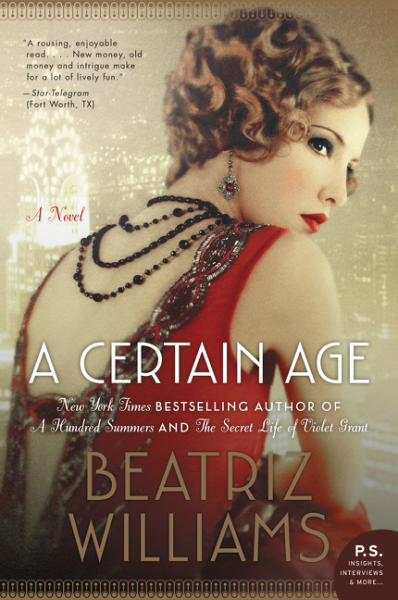 There's a very specific period in America's history that I love to read about: the 1920s.
I know, I know. Most people love reading about the 1940s because of WWII, and I do too, but those stories are typically heavy and sad. The 1920s, though. That was a time of celebration. According to History.com, it was the first time that more Americans lived in cities than on farms and when the nation's wealth more than doubled. It's where we begin to see flappers and women wearing their hair short. It's when women first begin to experiment with their sexuality and worked at jobs to support themselves. And, of course, when women could finally vote.
A Certain Age takes place during this time period in New York City. The novel opens with a newspaper column called "The Tit and Tattle." The column is describing an ongoing "Trial of the Century." As readers, we don't exactly know what this trial is or who the characters mentioned in the courtroom are or what bearing it has on the story. In the next scene, we've jumped back in time a bit as we're introduced to Theresa Marshall, a woman of a certain age who is in a clandestine affair with a younger man, the svelte Captain Octavian Rofrano whom she calls "The Boy."
There's something mysterious and charming and infuriating about Theresa. She's sweet and vulnerable, yet cunning and tough. I love her, but I don't trust her.
As the story progresses, Theresa finds out her baby brother Ox has met a girl and is going to ask her to marry him. Due to tradition, this girl, Sophie, has to be asked by a proxy and Theresa has the perfect man for the job – Octavian/The Boy. Not only can he secure Sophie's hand in marriage, but he can also find out about who this girl is to make sure she's perfect for her baby brother.
The novel switches between Sophie and Theresa's stories, and we learn about how each of them got to where they are at this moment in time: Theresa, a disillusioned wife who has taken a lover, and Sophie, a naive young girl who has accepted the proposal of a man she barely knows. Interspersed between their stories is Octavian/The Boy, who is connected to both of them in ways neither of them could ever suspect.
I just completely adored this novel. The setting was perfect, the characters were engaging, and the writing was exquisite. I was captivated by Beatriz Williams's words and the world she created. I have so much respect for the way she unfolded the narrative and slowly, gently revealed new character motivations and plot twists. It was beautifully done.
Oh, and the trial? Well, that is continually referenced throughout the book and… well, I think you just need to read it yourself to find out the significance it plays.
Book synopsis (from Goodreads):
The bestselling author of A Hundred Summers, brings the Roaring Twenties brilliantly to life in this enchanting and compulsively readable tale of intrigue, romance, and scandal in New York Society, brimming with lush atmosphere, striking characters, and irresistible charm.
As the freedom of the Jazz Age transforms New York City, the iridescent Mrs. Theresa Marshall of Fifth Avenue and Southampton, Long Island, has done the unthinkable: she's fallen in love with her young paramour, Captain Octavian Rofrano, a handsome aviator and hero of the Great War. An intense and deeply honorable man, Octavian is devoted to the beautiful socialite of a certain age and wants to marry her. While times are changing and she does adore the Boy, divorce for a woman of Theresa's wealth and social standing is out of the question, and there is no need; she has an understanding with Sylvo, her generous and well-respected philanderer husband.
But their relationship subtly shifts when her bachelor brother, Ox, decides to tie the knot with the sweet younger daughter of a newly wealthy inventor. Engaging a longstanding family tradition, Theresa enlists the Boy to act as her brother's cavalier, presenting the family's diamond rose ring to Ox's intended, Miss Sophie Fortescue—and to check into the background of the little-known Fortescue family. When Octavian meets Sophie, he falls under the spell of the pretty ingénue, even as he uncovers a shocking family secret. As the love triangle of Theresa, Octavian, and Sophie progresses, it transforms into a saga of divided loyalties, dangerous revelations, and surprising twists that will lead to a shocking transgression . . . and eventually force Theresa to make a bittersweet choice.
Full of the glamour, wit and delicious twists that are the hallmarks of Beatriz Williams' fiction and alternating between Sophie's spirited voice and Theresa's vibrant timbre, A Certain Age is a beguiling reinterpretation of Richard Strauss's comic opera Der Rosenkavalier, set against the sweeping decadence of Gatsby's New York.
You can connect with Beatriz Williams on her website, Facebook, Twitter, and Instagram. Her book is available to buy from Amazon, HarperCollins, and Barnes & Noble. 
Click here to add this book to Goodreads!
I received this book for free from TLC Book Tours in exchange for an honest review. All words and opinions, unless otherwise stated, are my own.
No affiliate links were used in this post.
What's your favorite decade to read about?