Oh, what a weekend this was! I always love the long Thanksgiving weekend, because my birthday usually falls somewhere in the midst of it, and it's just nice having four full days off work. This weekend felt especially long, but I can't lie that I whimpered a little when I woke up this morning. It's hard getting back into routine after a holiday! But alas, here we are. It's December and we have 23 days until Christmas. I have done zero Christmas shopping.
But no matter. It will get done! For now, let's take a look back on this weekend, shall we?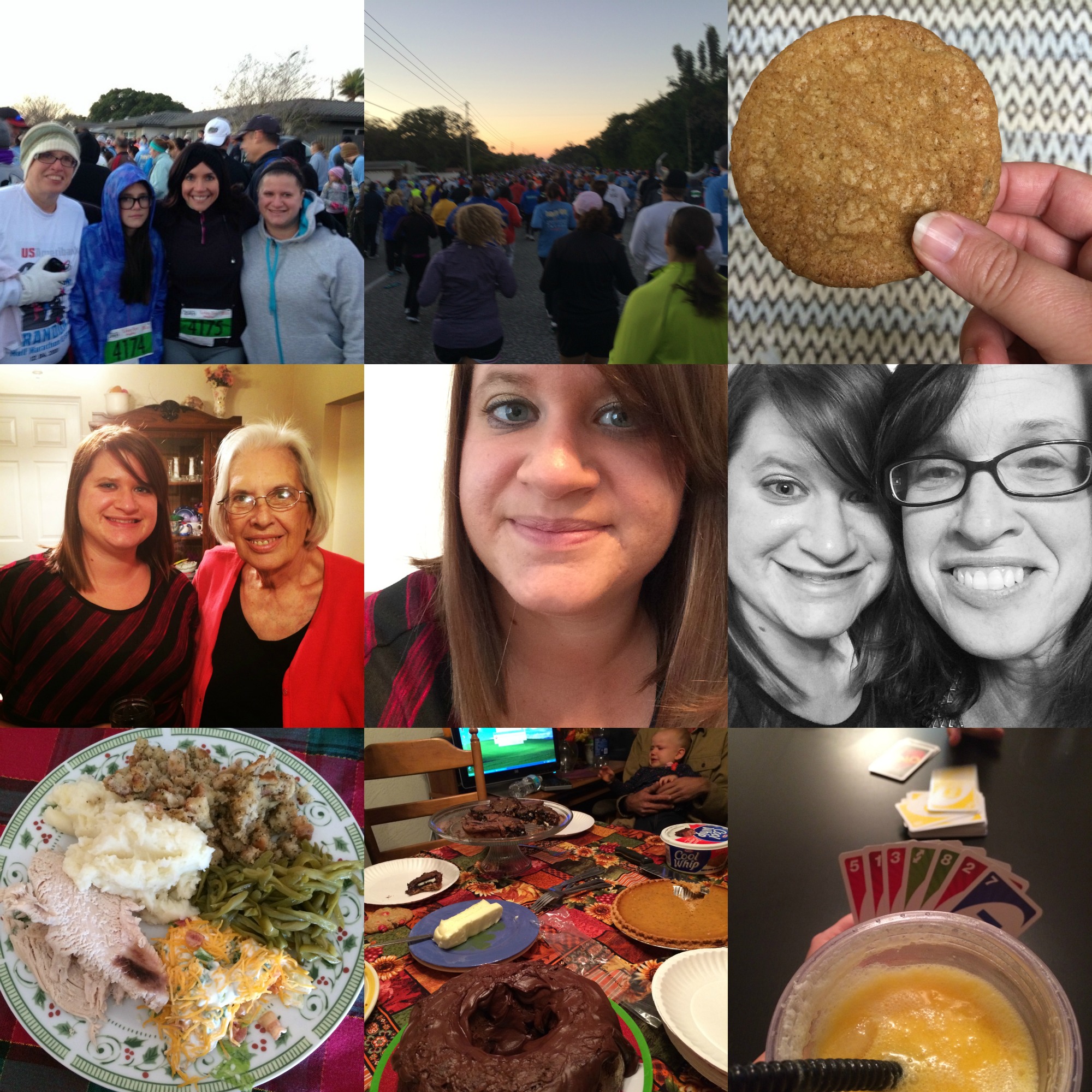 The oh-so-lovely Natasha coined the term "Birthsgiving" for my birthday and I loved it so I stole it for the day. Birthsgiving started early with a 5am wake-up call. My mom and I, and our house guests (my uncle, aunt, and two cousins from Georgia!) ran the Turkey Trot 5K so we had to be up and attem early. It was 43 degrees that morning so we were all freezing. The race was good, though I ended up walking more than I wanted to.
The rest of the morning and part of the afternoon were spent lounging around and slowly getting ready for Thanksgiving dinner. There was a quick trip to Cracker Barrel because we were all hungry and not going to last until dinner. Dinner itself was great. We had a big group this year – 23 people in total! I got my fill of turkey, stuffing, and mashed potatoes. (My favorite Thanksgiving foods!) And the desserts topped everything off, leaving me feeling as if my stomach would burst from all the good food. And the best part? The best part was that my grandma hosted and seeing her feeling and looking so good made me the happiest. She's on the path to recovery after being diagnosed with cancer for the third time and we're all just praying it stays away for good this time.
After dinner, my mom & I and our house guests settled in for the night at our apartment with some drinks, UNO, and good quality gossip. Having our Georgia family here in town was the best, and I love them dearly. I wish they could come down more often! Maybe a trip to Georgia is needed soon? Yes?

Friday started a bit early, as we wished our house guests safe travels back to Georgia, and then I took Dutch on a 30-minute walk. After coming back inside and fooling around online for a bit, Dutch and I went back to sleep for a few hours, because what else are holiday weekends for? Gradually, my mom and I got up and ready for the day. We went out for lunch and then shopping for my birthday present: new boots! I've been looking around for the perfect knee-high boots for a long time, because I guess I have fat calves and most boots won't fit over them. (Wonderful.) But then I found these by chance and they fit perfectly. I want to wear them every day. But we have highs in the mid- to upper-70s for the next week so we'll see how much use I get out of them!
After that, I took another nap (because, holidays) and then Friday night was spent lounging. I caught up on almost all my TV shows, ate good food, and worked on some blog things. A perfect night, in my opinion!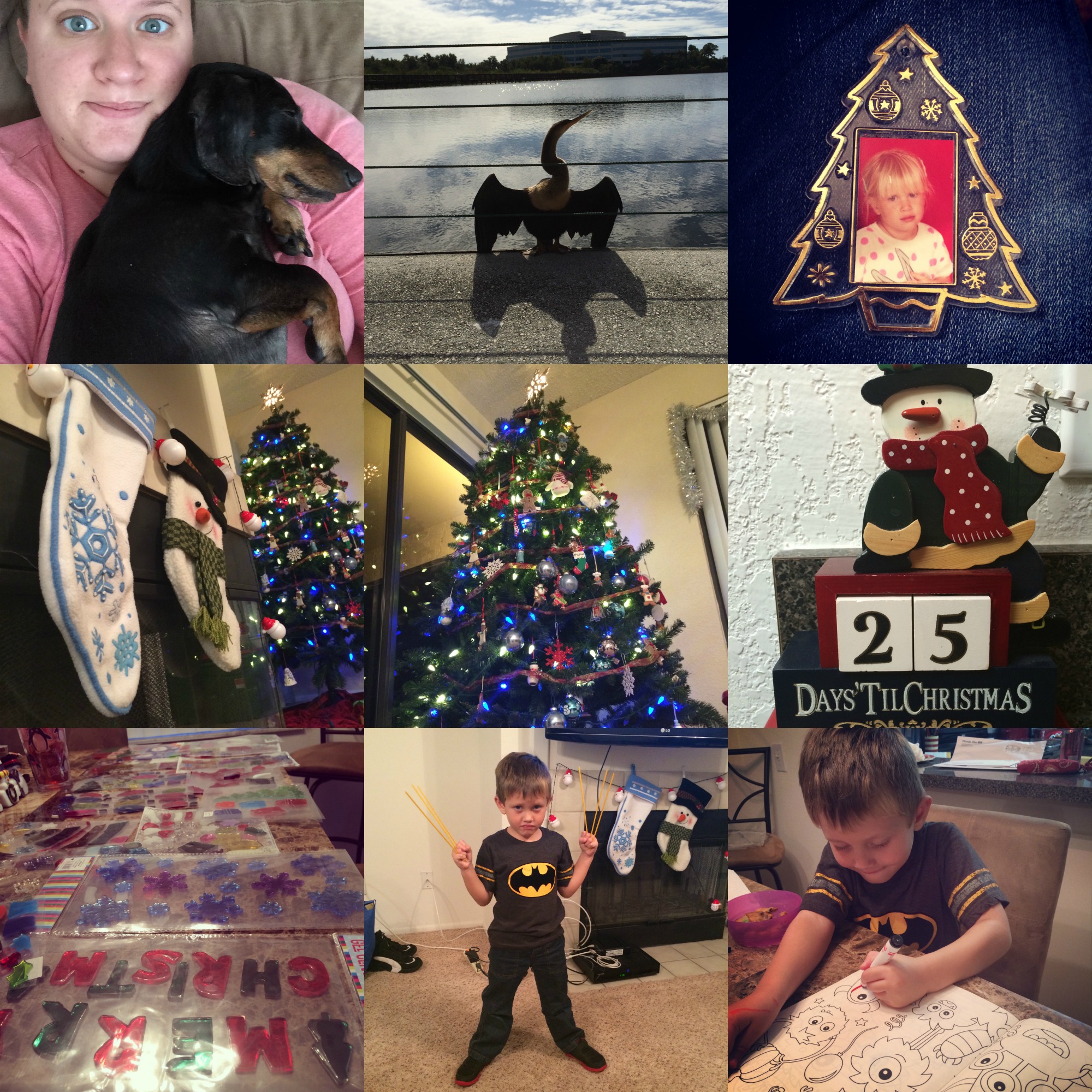 Oh, what a day Saturday was! I woke up around 7:30 after not getting to bed until 2am, so I was tired throughout the whole day but there was no rest for the weary! My mom and I went for a run, and then came home to shower and start Christmas decorating! After setting up the tree and stringing the lights, we took a break to have lunch and then do some shopping. We stopped at the mall (where I picked up my favorite pair of Old Navy skinnies!) and then Target to get some more holiday decorations.
We finished decorating our apartment just as my brother and nephew arrived for some Saturday night fun. We ordered pizza, I baked cookies, and we spent the night watching TV and just hanging out. It was a wonderful night! I love having those boys over. It was a bit of a belated birthday celebration, since my birthday was taken over by Thanksgiving, so I got to make all the decisions on what to do! Woo!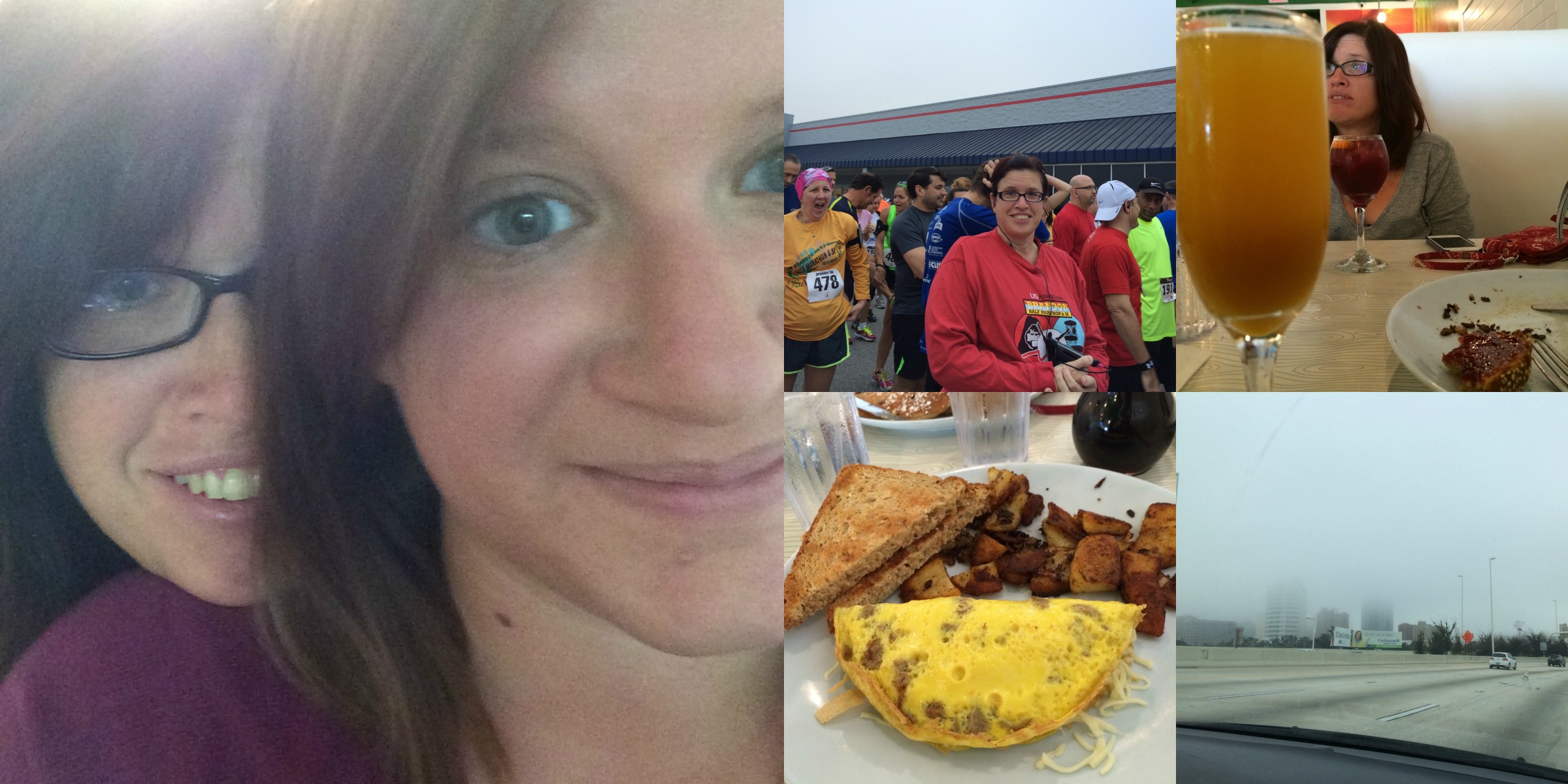 Sunday was another early morning, as my mom signed up for a 5K in Brandon. I opted not to run it, since I didn't feel confident after my 5K on Thanksgiving. She did wonderful, as per usual, and then we came home for showers before heading out to brunch. And then? Then, we came home and I took an epic 5-hour nap. It was beautiful. So, so needed. I was out cold from the minute my head hit the pillow, until Dutch woke me up by licking my ear. The rest of the day was spent watching football, grocery shopping, meal prepping, doing laundry, and trying to hold on to the last few seconds of my holiday weekend.
And that was my weekend! Full of fun, food, family, and plenty of naps. And now it's time to get back into my routine, especially healthy eating and exercising!
How was your weekend?