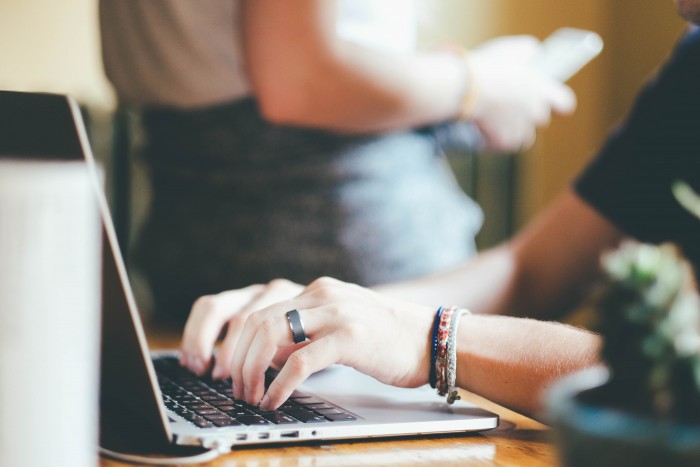 By the end of 2015, I will have written 133 blog posts. One hundred and thirty-three times this year, I sat down and poured my heart out to this little blog. Some of my posts were silly updates about my life, things that don't seem to mean much but still mean a lot to me. Some of the posts were vulnerable and gritty and hard to push publish on. I wrote the post I never dreamed I would have to write, saying goodbye to the most special woman in my life. I wrote honestly about dating, even though that's a subject I hate to talk about. I spent two weeks reliving a fantastic vacation, another week writing about my day-to-day life, and yet another week detailing the bests of my 2015.
This blog is such a piece of me, but it's not my brand. It's not who I am. I will never make money off my blog, and I am fine with that. I won't litter up my sidebar with ads or my posts with affiliate links. That's not me and that's not why I blog. It's okay if it is for you, but I long for the days when blogging was less about Pinterest graphics and brands and more about honesty and vulnerability.
It's an age-old refrain, I know. The good news is, there are still many of us personal bloggers out there. Bloggers who are pouring their hearts out and giving us a glimpse inside their lives. My blog has always been a vulnerable place, which is why I keep rather quiet about it to people I know IRL. Blogging for me has always been about opening my heart and allowing others to see the triumphs and the struggles.
I hope to continue that throughout 2016 and for however long I plan to blog. (I have no intention of stopping at any point in time.)
So, that's a super long introduction to my next "Best of 2015" post, which is about some of my favorite blog posts I've written this year. Enjoy!
1. My favorite post was Life Lessons from My Grandma.
"My grandma taught me a lot – about life, about love, about what it means to be a good person. She was one of the best humans on this earth. She was giving, kind, compassionate. Even when she was at her sickest, she never faltered in her positivity and tenacious spirit. I wouldn't be the woman I am today if it wasn't for my grandma."
2. My most popular post was I'm 27 and Scared to Move Out.
"In many ways, I feel incredibly silly for being 27 years old and having so many fears about moving to my own apartment. I am well past the stage of life where it's deemed acceptable to be living with your parents."
3. My most helpful post was… My Favorite Podcasts.
"As I've mentioned before, I am a voracious listener of podcasts. I started listening around February or March of last year, and it's an obsession. Currently, I have 26 shows that I am subscribed to and I can only see that list growing and growing. I wanted to take the time to recommend some of my favorites to you guys, just in case you a) want to start listening to more podcasts but aren't sure where to begin, or b) are as obsessive about podcasts as me and want more shows to add to your feed."
4. A post whose success surprised me was The Guilt of Contentment.
"And even though I'm happy and I feel fulfilled and content… there is guilt. There is worry that if I stay content and happy in my singleness, then I'll grow comfortable and complacent and not ever try to move on to the next season of my life. That I'm wasting my most precious years, holding tight to my singleness."
5. A post I feel didn't get the attention it deserved was… What's the Point of Healthy Living?
"The crux of a healthy living journey begins when we start taking a good, long, hard look at ourselves and discover that the way we treat ourselves, the way we talk about ourselves, and the way we believe our worth has more to do with the number on the scale than who we are inside is where it all begins."
6. My most beautiful post was… For My Grandma.
"I process my emotions best through writing, so I wrote the below poem that I tearfully read at her funeral yesterday. On Friday before she passed, as we all gathered in her hospital room, my grandpa asked if we could talk about the qualities Grandma had that we loved best. I took the qualities listed, along with other qualities, to write this poem."
7. The post I was most scared to push publish on was… The Struggle of Acceptance.
"I'm afraid of missing out. I'm afraid of not living my life by the mantra "YOLO!" I'm afraid of wasting my time, of not measuring up to my version of success, of not measuring up to other's versions of success. I'm afraid of not being special, not being important, not being necessary. I'm afraid of dying and I'm afraid of living."
8. The post I am most proud of was… Change, Triggers, and Finding My Way.
"But you can't know how much you will struggle, how hard it will be, how intense the feelings will feel, until you are in it. Until you are living through the anxiety and the fear."