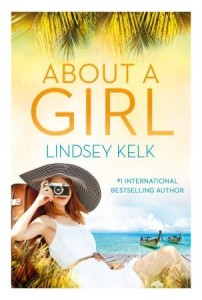 About a Girl by Lindsey Kelk is the perfect beach read. It's a chick-lit novel that is light and fun and hilarious, but also has incredible character development and a fast-moving plot. This novel gave me this insatiable desire to keep reading and reading. In fact, I think I read the last 40% in one sitting – and that rarely happens with me. I typically read in pockets of time – 10 minutes here, 5 minutes there – but with this book, I spent a Friday afternoon curled up in bed, reading. It was perfect.
What I loved the most about the novel was the characters. They were so well-developed, so easy to like, and the development they went through throughout the novel felt very natural. I adored the main character, Tess, so much. She was such a fun character, and I could completely relate to her.
I felt like the plot moved along at an authentic pace. It was a bit slow in the beginning, but that was necessary for scene setting and understanding the character better. But once the meat of the story hit, it didn't slow down and I just devoured the novel. I loved the situations that Tess got herself into, and I really appreciated it wasn't silly-stupid stuff that authors tend to want their chick-lit heroines to get into (I'm looking at you, Sophie Kinsella!) The situations felt pretty normal and really added to the crux of the novel.
I think the only thing I didn't like was the cliffhanger ending. I don't really like cliffhanger endings – I always think there is a more natural way for authors to end a book that is a part of a series. And this ending seemed a bit contrived.
I still gave this novel 5 stars because of the way it gripped me and the fact that I had such trouble putting the novel down! A must read, if you love chick-lit type novels!
About a Girl summary from Goodreads:
Tess Brookes has always been a Girl with a Plan. But when the Plan goes belly up, she's forced to reconsider.
After accidently answering her flatmate Vanessa's phone, she decides that since being Tess isn't going so well, she might try being Vanessa. With nothing left to lose, she accepts Vanessa's photography assignment to Hawaii – she used to be an amateur snapper, how hard can it be? Right?
But Tess is soon in big trouble. And the gorgeous journalist on the shoot with her, who is making it very clear he'd like to get into her pants, is an egotistical monster. Far from home and in someone else's shoes, Tess must decide whether to fight on through, or 'fess up and run…
You can connect with Lindsey Kelk on her website, Twitter, Facebook, and Instagram. Her book is available to buy from Amazon, IndieBound, and Barnes & Noble. 
Click here to add this book to Goodreads!
I received this book for free from TLC Book Tours in exchange for an honest review. All words and opinions, unless otherwise stated, are my own.
No affiliate links were used in this post.
Do you like cliffhanger endings?