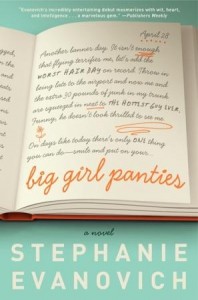 I had high hopes for Big Girl Panties and newcomer Stephanie Evanovich (not to be confused with her famous aunt, Janet Evanovich!) fulfilled each and every one of them.
Big Girl Panties could be looked at your typical transformation book. Holly Brennan is thirty-two, overweight, a recent widower and unhappy with the trajectory her life has taken. It is during a flight home where she sits next to Logan Montgomery, personal trainer to the stars and practically Adonis himself, that he offers her a chance to change her life. He is going to train her. He is going to work with her to lose the weight she's gained and to find herself again.
The book is about Holly's transformation as she trains with Logan, starts to eat better, and finds who she is and what she wants through it all. But it's also about Logan's transformation, from realizing it's not always about the looks and the person inside is more important than what they look like. Big Girl Panties is not your typical transformation book. It's there, but packaged in a much more believable way that makes you trust in the power of new beginnings, hard work, and dedication.
I devoured this book from the start. Holly is a likeable character with her charming wit and easy way about her. And Logan is this guy you can't help but love. He has his faults and his missteps, but it's all with good intentions. They are two characters that lodged themselves deep into my heart.
It's definitely a steamy romance novel, with a kinky secondary story that I can't say I really loved or felt was necessary to the basis of the story. I loved the secondary characters, but some of it felt over the top for my tastes.
Big Girl Panties is a solid novel with funny, likeable characters, a well-written plot, and a charm that will make you hungry for me. This was a book I was racing to finish because I wanted to know what happened, but then was sad when it was truly over and these characters weren't a part of my life anymore. If you love a good romance novel, I wholly recommend this novel! It's the perfect summer beach read.
My rating: 5 of 5 stars
I received this book for free from TLC Book Tours in exchange for an honest review. All words and opinions, unless otherwise stated, are my own.