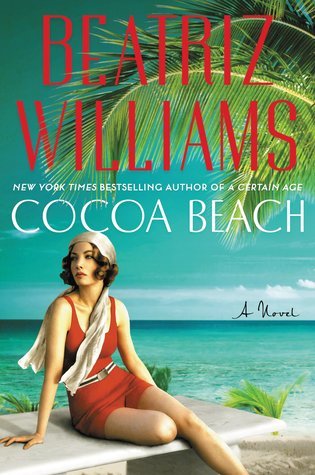 I recently read – and reviewed! – Beatriz Williams' novel, A Certain Age, and Cocoa Beach picks up right where that novel left off. In A Certain Age, we're introduced to the protagonist in this novel, Virginia, who is the older sister of Sophie. Virginia has a young daughter and is supposedly married to a man she met while serving as an ambulance driver in France during World War I. But there are suspicions about Virginia's marriage brought up during that book, and I was pleased to get all of my questions answered during Cocoa Beach.
When this novel begins, Virginia has received word that her husband has died in a house fire in Florida, and her presence is needed to settle his estate. So she arrives in Florida with her daughter, Evelyn, and lots of questions. During the course of the novel, she learns more about what her husband was doing in Florida and about her husband's brother and sister, who gladly welcome her into their lives as they all try to grieve Simon's death.
The novel alternates between present-day 1920s Florida and World War I, when Virginia and Simon first meet and fall in love. I love a good love story, as everyone knows, and there was something so precious about Virginia and Simon. Virginia is someone who has been overlooked her whole life and wasn't sure how to deal with Simon's attention, and Simon is charismatic and romantic and overzealous in his affection for Virginia.
This book took so many twists and turns, and I really wasn't expecting it to be such a crazy novel. Every time I thought I knew what was happening, the novel took a completely different turn. I really, really loved how crazy the plot was and how I never knew who to really trust throughout the entire novel. At a certain point, I had to tell myself to stop trying to solve the mystery and just read the novel blindly.
I also thoroughly enjoyed the setting and time period. Of course, any novel set in Florida has my heart and reading about Florida during the Prohibition era was fascinating. The 1920s is one of my favorite time periods to read about because it was such a great era – women coming into their own and honing their power.
I also cannot review this novel without talking about the writing, which was outstanding. Beatriz Williams writes in such a beautiful way that truly captures the essence of the human spirit. There was one particular part in the novel, and I hesitate to say anything more because I don't want to spoil any part of this enchanting read, where I felt like I was fully immersed in Virginia and what she was going through. I felt so connected to her in a way I haven't felt connected to a character in such a long time. I credit that to Williams' outstanding writing.
This novel is perfect for people who enjoy a good historical drama and love a novel that has tons of unexpected twists and turns. While I wish the ending wasn't wrapped up so abruptly, it's still a novel I had no trouble giving 5 of 5 stars. Pick this one up!
Goodreads synopsis:
The New York Times bestselling author of A Certain Age transports readers to sunny Florida in this lush and enthralling historical novel—an enchanting blend of love, suspense, betrayal, and redemption set among the rumrunners and scoundrels of Prohibition-era Cocoa Beach.
Burdened by a dark family secret, Virginia Fortescue flees her oppressive home in New York City for the battlefields of World War I France. While an ambulance driver for the Red Cross, she meets a charismatic British army surgeon whose persistent charm opens her heart to the possibility of love. As the war rages, Virginia falls into a passionate affair with the dashing Captain Simon Fitzwilliam, only to discover that his past has its own dark secrets—secrets that will damage their eventual marriage and propel her back across the Atlantic to the sister and father she left behind.
Five years later, in the early days of Prohibition, the newly widowed Virginia Fitzwilliam arrives in the tropical boomtown of Cocoa Beach, Florida, to settle her husband's estate. Despite the evidence, Virginia does not believe Simon perished in the fire that destroyed the seaside home he built for her and their young daughter. Separated from her husband since the early days of their marriage, the headstrong Virginia plans to uncover the truth, for the sake of the daughter Simon never met.
Simon's brother and sister welcome her with open arms and introduce her to a dazzling new world of citrus groves, white beaches, bootleggers, and Prohibition agents. But Virginia senses a predatory presence lurking beneath the irresistible, hedonistic surface of this coastal oasis. The more she learns about Simon and his mysterious business interests, the more she fears that the dangers that surrounded Simon now threaten her and their daughter's life as well.
You can connect with Beatriz Williams on her website, Facebook, Twitter, and Instagram. Her book is available to buy from Amazon, HarperCollins, and Barnes & Noble. 
Click here to add this book to Goodreads!
I received a copy of this novel for free from the publisher in exchange for an honest review. All words and opinions, unless otherwise stated, are my own.
No affiliate links were used in this post.