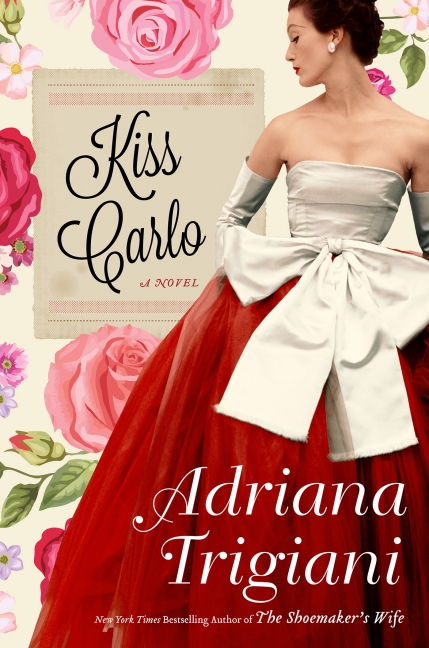 Some of the things I can always count on in a Trigiani novel: Italian families, strong character development, and enough talk about delicious pasta dishes to make me hungry. Kiss Carlo had everything that I know and love about Adriana Trigiani, and it's the kind of novel that just reverberates with the feeling of family – family that may be a little too loud and overbearing at times, family that might not always understand you, but family that you can count on to be in your corner no matter what.
In Kiss Carlo, we follow the story of Nicky Castone, who lost his parents at a young age and has lived with his aunt and uncle in Philadelphia – who had a full house of their own with their three boys – ever since. When the novel begins, Nicky is 30 and working for his uncle's taxi and telegram delivery company. On the side, he works at a local struggling theater and has dreams of becoming an actor. He's also engaged to Peachy, and has been for seven years, so it's time to set a date and marry her.
But when Nicky is given a part in a play at the theater, he starts to have dreams that are far bigger than Philadelphia and Peachy and marriage and family. He wants to be someone. He wants to be known.
I'll be honest that this novel was a bit of a slog for me. First of all, it's over 500 pages and I found that there were so many unnecessary side plots that didn't add anything to the story. I think this book could have been a manageable 300-350 page novel without those stories and it would have been a stronger book overall. It just floated along at this meandering pace that never seemed like it was going anywhere, until it finally did around page 350. I kept waiting for the story to begin and that's never a good thing.
It's a good book, don't get me wrong. Trigiani is a fabulous writer and she writes in an engrossing and lively way that makes the characters come alive on the pages, but I just wish the novel was shorter and that the plot was a big stronger. It felt like there were a billion different plots in this novel, every one getting resolved at a different time (some early in the book, some at the end, etc.)
I've read nearly everything Trigiani has written, but I have to be honest and say this one wasn't my favorite.
Goodreads synopsis:
It's 1949 and South Philadelphia bursts with opportunity during the post-war boom. The Palazzini Cab Company & Western Union Telegraph Office, owned and operated by Dominic Palazzini and his three sons, is flourishing: business is good, they're surrounded by sympathetic wives and daughters-in-law, with grandchildren on the way. But a decades-long feud that split Dominic and his brother Mike and their once-close families sets the stage for a re-match.
Amidst the hoopla, the arrival of an urgent telegram from Italy upends the life of Nicky Castone (Dominic and his wife's orphaned nephew) who lives and works with his Uncle Dom and his family. Nicky decides, at 30, that he wants more—more than just a job driving Car #4 and more than his longtime fiancée Peachy DePino, a bookkeeper, can offer. When he admits to his fiancée that he's been secretly moonlighting at the local Shakespeare theater company, Nicky finds himself drawn to the stage, its colorful players and to the determined Calla Borelli, who inherited the enterprise from her father, Nicky must choose between the conventional life his family expects of him or chart a new course and risk losing everything he cherishes.
From the dreamy mountaintop village of Roseto Valfortore in Italy, to the vibrant streets of South Philly, to the close-knit enclave of Roseto, Pennsylvania, to New York City during the birth of the golden age of television, Kiss Carlo is a powerful, inter-generational story that celebrates the ties that bind, while staying true to oneself when all hope seems lost.
Told against the backdrop of some of Shakespeare's greatest comedies, this novel brims with romance as long buried secrets are revealed, mistaken identities are unmasked, scores are settled, broken hearts are mended and true love reigns. Trigiani's consummate storytelling skill and her trademark wit, along with a dazzling cast of characters will enthrall readers. Once again, the author has returned to her own family garden to create an unforgettable feast. Kiss Carlo is a jubilee, resplendent with hope, love, and the abiding power of la famiglia.
You can connect with Adriana Trigiani on her website, Facebook, Instagram, and Twitter. Her book is available to buy from Amazon, HarperCollins, and Barnes & Noble.
Click here to add this book to Goodreads!
I received a copy of this novel for free from TLC Book Tours in exchange for an honest review. All words and opinions, unless otherwise stated, are my own.
No affiliate links were used in this post.