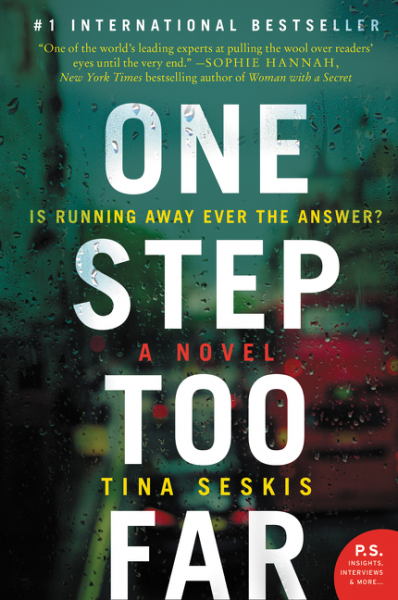 Lately, I've been feeling a little let down by the mystery/thriller novels I've been reading. They all seem a little too contrived, a little too predictable. So I wasn't sure what to expect from One Step Too Far by Tina Seskis. When I started the book, I'll admit I wasn't expecting much, so maybe my expectations were a little low (nothing to do with the author or the book, just based on past experiences with thrillers!). Spoiler alert? I was completely blown away by this novel.
The novel isn't a feel-good story; there's a melancholy tone throughout the entire book that seems to sweep you up into its embrace. When the story begins, you are brought right into the main character's world. She's just left her husband and family and started a completely different life. She's starting over and you aren't really sure why she is starting over. What are her reasons? Is any reason enough to leave your family?
The novel is a bit slow to start off with, and it was a little difficult to get into at first because I found myself disliking Emily (the main character) a lot and convinced that her motivation to leave was not enough. Throughout the novel, you learn about Emily's new life and how she is creating an entirely different persona for herself, and you also learn about Emily's past – her childhood, her romance with her husband, her family (which includes a troubled twin sister), and starting her family.
And then, near the end of the novel, Seskis throws in one of the craziest, most mind-boggling twists I have ever come across in a thriller. I didn't see it coming, not one bit, and it had me flipping back through the novel to see how I missed it. That is the mark of a truly great thriller.
I would recommend this book to anyone who loves a good thriller novel with characters who are not wholly likable. (Though they do seem to redeem themselves throughout the novel as you learn more about their motivations and struggles.)
Book synopsis (from Goodreads):
An apparently happy marriage. A beautiful family. A dream home. So what makes lawyer Emily Coleman—a woman who appears to have everything—get up one morning and walk right out of her life to start again as someone new?
Deliberately losing herself in London, Emily quickly transforms herself into Cat. Along with her new name, she finds a new home in a shared house in North London teeming with an odd assortment of flatmates, and a new job as a receptionist.
Soon Cat has buried any trace of her old self so well, no one knows how to find her. But she can't bury the past—or her own painful memories. As the days turn to months, thoughts of all she's left behind begin to consume her. She cannot outrun the ghosts that haunt her, no matter how hard she tries to elude them. And soon, she'll have to face the truth of what she's done—a shocking revelation that may push her one step too far…
You can connect with Tina Seskis on her website, Facebook, and Twitter. Her book is available to buy from Amazon, IndieBound, and Barnes & Noble. 
Click here to add this book to Goodreads!
I received this book for free from TLC Book Tours in exchange for an honest review. All words and opinions, unless otherwise stated, are my own.
No affiliate links were used in this post.