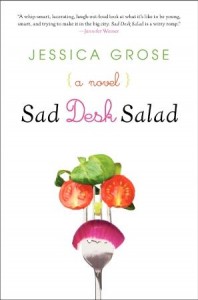 Sad Desk Salad
Author: Jessica Grose
4 of 5 stars 
Goodreads Summary:
Alex Lyons gets paid to be a bitch. As writer for Chick Habit, a website for women and one of the most popular blogs on the Internet, she's fulfilling her dream of being a professional writer. Maybe she's not quite championing the women's rights issues she used to write about in college-but Alex churns out several posts a day, beginning with hard news at 8 am (a meth-addicted former beauty queen, perfect); morning and evening gossip roundups; and especially juicy posts for blog primetime , when women in their offices all over both coasts eat their sad desk salads.
So what if it means burrowing into the couch while her boyfriend is at work, compulsively scouring the Web from 6 am until 6 pm to find the next big celebrity scandal, and only moving for five minutes to grab a sad couch salad of her own…but the last time she left her computer for more than 10 minutes, Farrah Fawcett died, and she missed the scoop. It's a chick-eat-chick world; and since Chick Habit's parent company has been cracking down about page views, Alex knows her job is at risk.
So when an anonymous tipster sends Alex the juiciest scoop of the year-a politico's squeaky-clean Ivy League daughter caught in the act of some very R-rated activity-it's a no-brainer. As she prepares to ignite the next Internet feeding frenzy, she hesitates: is she ready to ruin the girl's life? What Alex doesn't anticipate is how the big scoop will send her own life spiraling out of control.
My Review:
I read this book within 1 day. To be fair, I had just moved into a new apartment and didn't yet have cable or Internet hooked up so there wasn't much else I could do, but I'm not the type to voraciously read books like I did this one so it's definitely a book that sucks you in easily!
There was a lot happening in this book but it all centered around Alex and her trying to make a living as a writer. She has talent and the passion for it, but life hasn't panned out like she thought and now she writes for a gossip blog where she is terrified of leaving her computer for fear she'll miss out on a big story. Add in a hate blog, a coworker trying to steal her thunder, and a boyfriend that is getting tired of her job and the way it consumes her life and you have one overwhelmed blogger.
She gets a chance at the biggest scoop of the year and, knowing this may very well make her the apple of her boss's eye, she publishes it and the media has a field day. Chick lit doesn't often delve into important social justice issues like this one did. How far is too far in Internet privacy? Is getting the big scoop more important than heeding your moral compass? The book also delved into the world of blog commenting and the way people lash out at writers and/or other commenters. Anyone who has read through comments on a popular blog or news website knows that the comments can make one ill and lose faith in humanity so it was interesting to get a take (albeit a fictional one, although I'm sure the author's experience with this played a part) on how the writer deals with comments on the posts they write. They are only doing their job, after all.
All in all, a fantastic book that was an easy read but also dealt with interesting issues that would make for a great book club discussion. Fans of chick lit, check this one out!
What would you have done if you were Alex? Posted the story to keep your job and your boss's favor, or decided not to because of your own moral compass and possibly lose your job? 
I received this book for free from TLC Book Tours in exchange for an honest review. All words and opinions, unless otherwise stated, are my own.