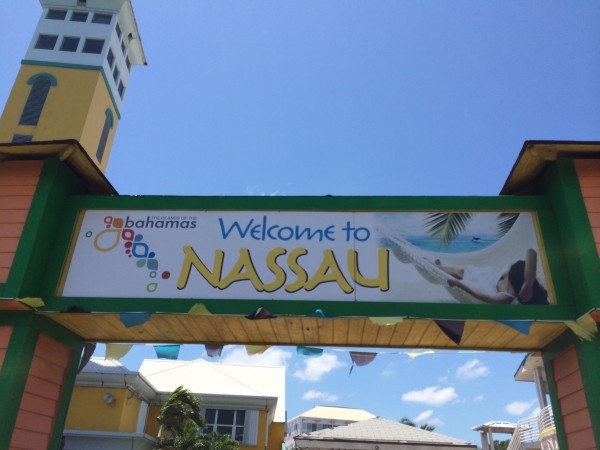 On the fourth day of our cruise, we were docking in Nassau, the Bahamas! I've never been to the Bahamas before, mainly because lots of people told me it's not that impressive. To be honest, the excursions were a bit crummy and none of them seemed like something we would enjoy (plus, my mom doesn't snorkel so that cuts out 70% of the excursions!), or if they did, they were super expensive. So instead, we decided we would go off on our own (our first time ever, in any port on any cruise!) and spend some time at the beaches.
(We typically don't like to do beach-type excursions because we live 20 minutes from the beach itself, so it's something we can do anytime we want! But we thought we would try it and see how we liked it.) Here's how the day turned out!
Wednesday, May 7
9:30am: Up and attem!
We wouldn't be docking in Nassau until noon at the earliest, so Mom and I had grand plans to wake up early and get in a workout before leaving the ship but that just did not happen. Instead, we chose to sleep in and laze around in the cabin on Wednesday morning, which was an a-plus decision, I have to admit. It felt so luxurious! I think we were still recovering from the day before! I don't do much aside from playing games on my iPad and reading.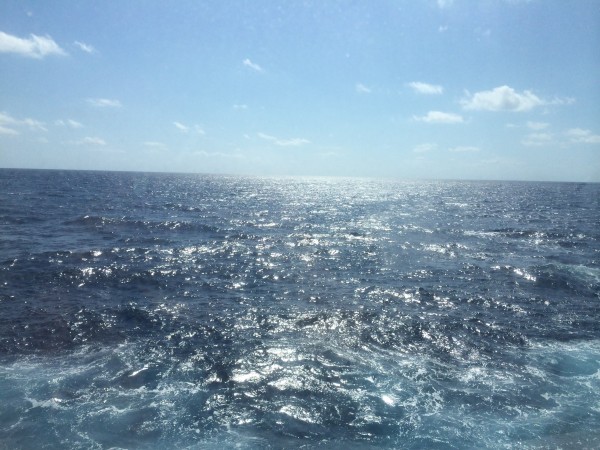 10:15am: Get ready
I finally manage to actually get out of bed and get ready for the day. We're spending the day at a resort on the beach so I put on my swimsuit, pack my beach tote, pull my hair up, and I'm good to go! I pick up the room a bit while waiting for Mom to finish getting ready.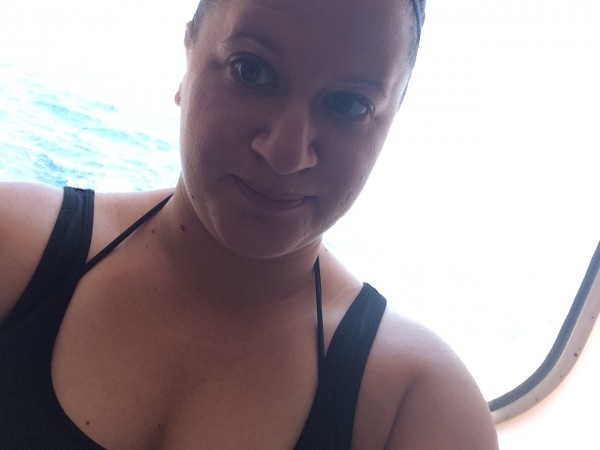 11:00am: Breakfast
We head up to the lido deck to eat in the buffet and find a seat inside. As we're eating breakfast, the ship begins pulling into the port in Nassau and it's gorgeous! I can also see it's going to be a busy, busy day because we're one of FIVE cruise ships docking there today! There's another Carnival ship, two Norwegian Cruise Lines ships, and a Royal Caribbean ship. Lots of tourists!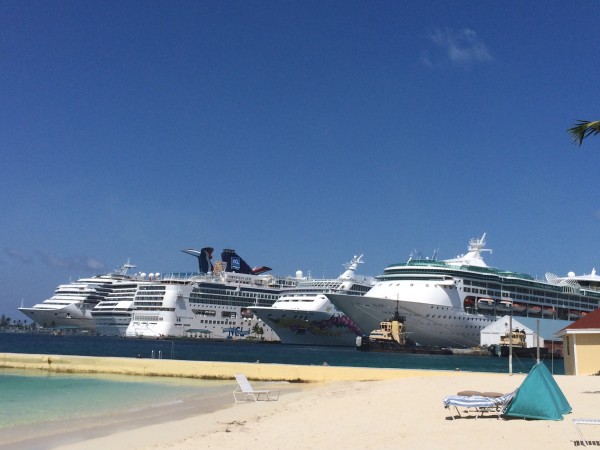 12:15pm: Off the ship and in Nassau!
Nassau was a bit hectic, but once we bypass all the craziness of people trying to get us to join an excursion or take a taxi to the beach, it's fine. The hotel where I had previously purchased day passes at was just a short walk from the port itself, so we had no need for a taxi. We just followed the road to the hotel (the British Colonial Hilton), found it easily, and walked inside to receive our passes.
Our passes were $60 each and gave us access to their pool and facilities, beach and beach loungers, non-motorized sporting equipment (like kayaks and snorkel gear), as well as a $40 voucher toward food and drinks. With my voucher, I bought a hamburger, fries, soda, and a daiquiri later in the day and I still had money left in the voucher to give my waiter a tip. I think it was a really good deal, though I wish I had more time to spend at the hotel. (Though we were in Nassau until 8pm, the passes expired at 5pm.) (Also, I purchased the passes through Island Marketing, and I have nothing but positive things to say about the experience! I recommend using them for any cruise excursions. I'm definitely looking them up for my next cruise!)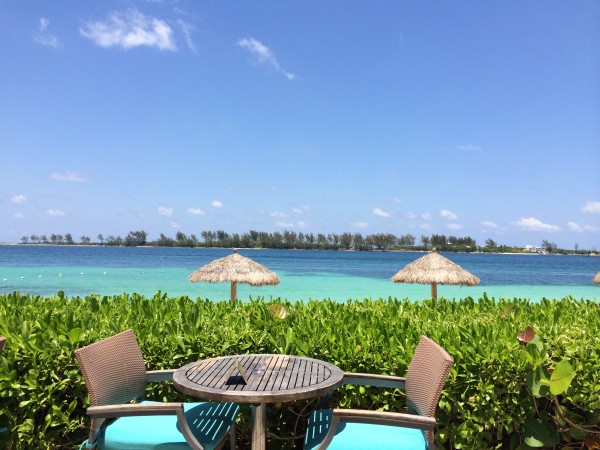 I really loved the Hilton! The pool area was beautiful (I really wanted to lie in one of the beds, but they were all taken!), the water was crisp and clean, and it was very quiet. Exactly what I was looking for! We spent the next few hours swimming, relaxing with our books and iPads, and eating. Eventually, we wandered down to the beach which was also really nice but the water was super cold! Also, I totes saw a woman change bathing suits right on the beach. That was strange. (It wasn't that kind of beach!) She was slightly hidden in a cabana, but I most definitely saw boobies. Wheeeee.
4:00pm: Walking around Nassau
We left the Hilton around 4:00 to walk around Nassau and do some shopping. First, we walked to the Straw Market because I had heard a lot of great things about this place and I was really excited to check it out.
Aaaaaand… nope. Nope, nope, nope. Not our thing! Straw Market was dusty, crowded, and super busy and really loud. It was filled with little stalls of women selling wares, like purses and shirts and other little knick-knacks to take home. Every time we passed by a stall, they would shout at us to come into their stall, to ask us what we were looking for, etc. It's a great place for haggling and finding neat trinkets to bring home, but it just wasn't our scene. We looked around for five minutes, but I was a little terrified to go into one of the stalls so we left. I don't like being hassled into buying something.
We eventually found some other shops closer to the port to poke around in and look for some touristy things to bring home. I ended up buying a shirt and a magnet.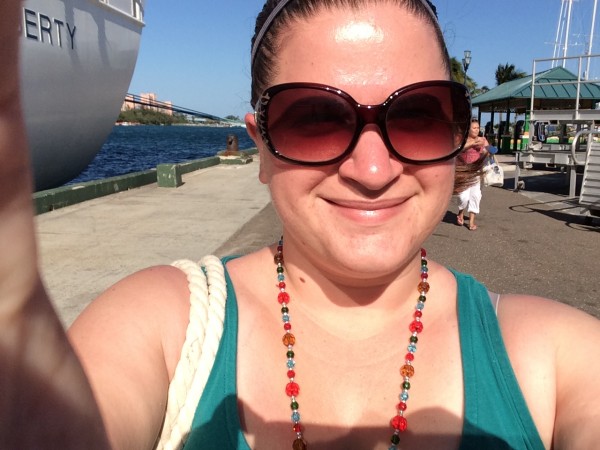 5:15pm: Back on the ship
We make it back to the ship and then simply relax in the room for about a couple of hours. We read and play a few rounds of Scattegories.
7:00pm: Dinner
Tonight, Mom and I decide to skip eating in the dining room and just go to the buffet. For one, it was another "elegant dress" night and I wasn't really up for getting dressed up again, and for another, we were both a little tired of having awkward dinners with our tablemates. We never really formed a good connection with them, and it simply became about surviving the hour and a half of our dinner and not enjoying the dinner and conversation.
So buffet it is! I have a feast. 🙂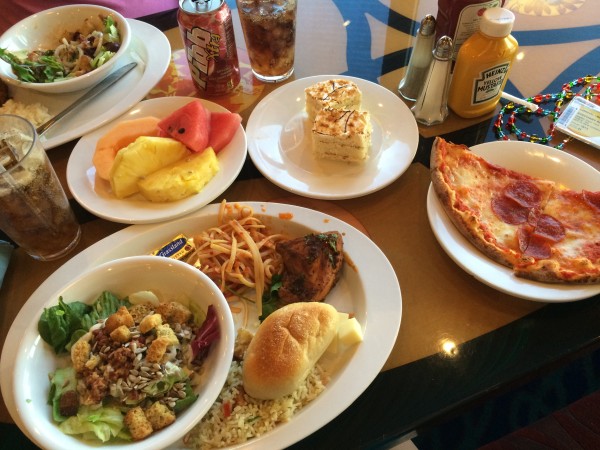 8:00pm: Watch the ship leave Nassau
After dinner, we make our way up to the Serenity deck to watch as the ship sets sail. It's such a pretty night!
(Please excuse the super grainy iPhone pictures.)
8:15pm: Low-key night in
There wasn't much in the way of entertainment tonight, so we decide to go back to the cabin and chill. We get in our jammies, play a few rounds of Scattegories, and then see if there is anything good on TV. Surprisingly, we catch the latest episode of Modern Family (love that show!) and then catch around the last hour of the Sandra Bullock movie, The Proposal. It's a silly rom-com, but does it's job for providing us some entertainment for the night.
They were also showing Gravity in the outside theater but there was just something about a movie about people floating in space while sitting on a ship in the dark floating in the middle of the ocean that made me not too interested in watching it. Just me?
11:00pm: Bedtime!
Tomorrow was our last full night on the ship (and we would be docking in Freeport early!), and I was pretty sad about it. Vacations go by so fast!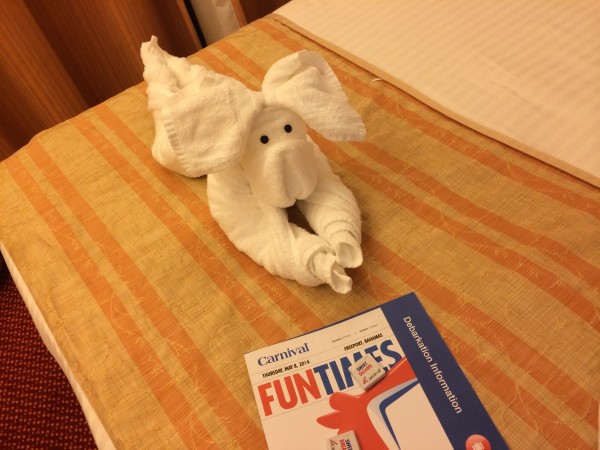 If you had 6-8 hours to spend on an island in the Bahamas, which would you choose to do: snorkeling, laying on a beach, or going on a dolphin swim?