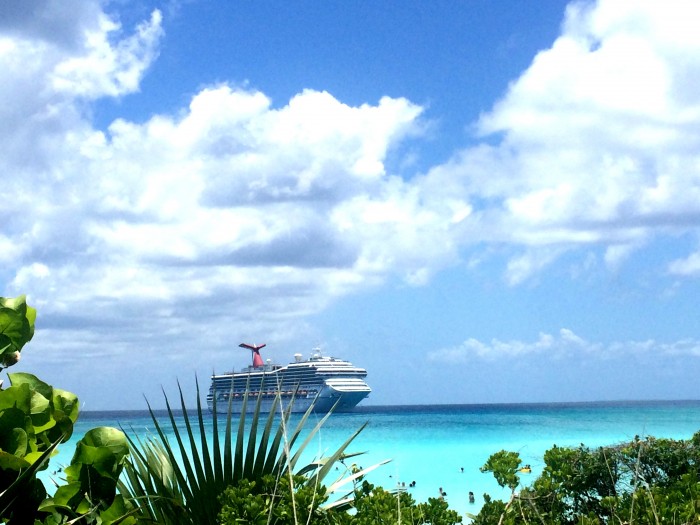 On our second day of the cruise, Sunday, May 17, my mom and I woke up in Half Moon Cay, the Bahamas! This is Carnival's private island and it is an incredibly beautiful place.
We had to meet for our excursion at 9 a.m., so we got up around 7:30, got ready, and headed up to the lido deck for breakfast.
A little after 9 a.m., we were taken by tender boat into Half Moon Cay and waited for our excursion tour guide to call us. We had booked a bike and hike tour for the morning, and would have plenty of time to enjoy the beach afterward. So, we got our helmets, found the bikes we wanted to use, and then proceeded to begin the tour.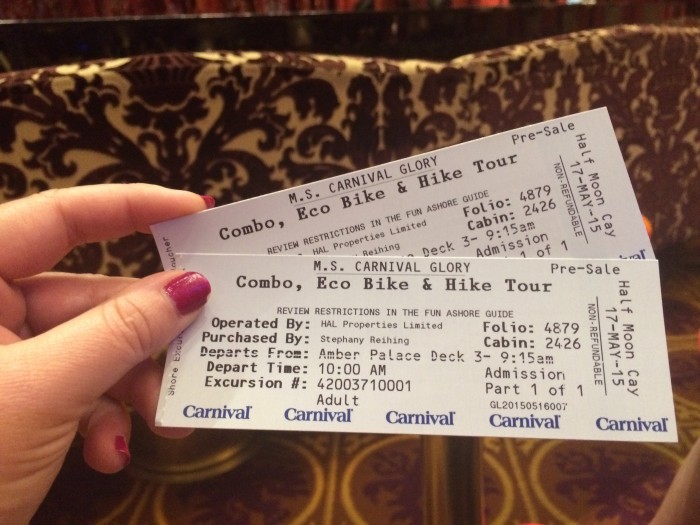 No less than thirty seconds into the ride (I mean, we seriously hadn't even biked past the area where the bikes were kept), my mom hit an uneven spot in the road and fell off her bike and into the wooded area next to the road. It was so scary! I immediately threw my bike to the side and went to help. She had to have help getting up because these woods were sloped downward, so she couldn't even figure out how to get up herself! Oh, boy.
When she got out of the woods (ha), we discovered the right side of her face was bleeding, so we had to go immediately to the medic to get it cleaned up, which meant we wouldn't be able to continue with the excursion. We were bummed, but I was just glad my mom was relatively okay! She had a cut on the side of her face near her eye (and she eventually got a black eye), a cut on her arm, and then bruises on her legs. And also a major headache, which is understandable!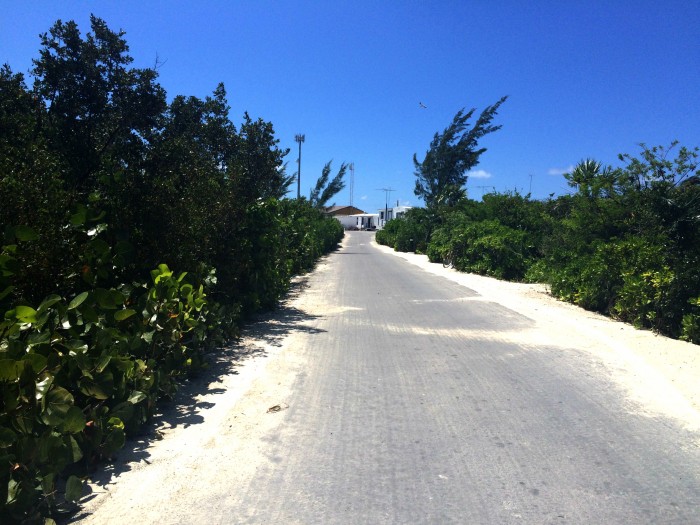 What followed was honestly one of the worst parts of the cruise. See, the problem was that we left one of our bags in a locked container by the bike location. This bag had our swimsuits and coverups, so there wasn't a whole lot we could do in our workout gear! (Plus, we had to stay nearby the excursion place to get our bag back once the tour finished!) We got a drink at the bar and people watched before walking over to the bike location to wait for the tour to end and retrieve our bag.
The tour ended up finishing 30 minutes past the time we thought it would (due to it getting started later because of Mom's injury!), and then the tour guide lost the key to the container and we had to wait another 30 minutes for them to find it.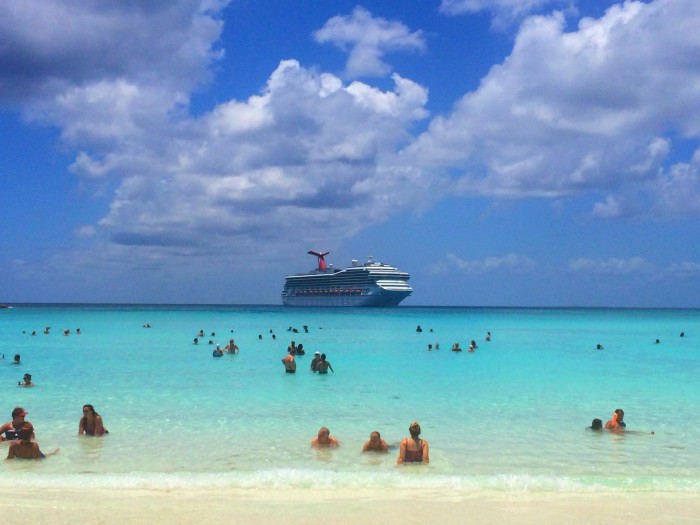 Have you ever had one of those moments where you know it will just be a small snippet of time in the grand scheme of things but when you're in the moment it just feels like it will never end and you'll be stuck in that moment forever?
Yeah. That's what these hours felt like. The time just went on forever; it felt endless and annoying and frustrating. I felt like we were wasting away the short time we got to have in Half Moon Cay. I wanted to explore! (I probably wasn't at my nicest at this point in time either. I'm a real brat sometimes, I must admit.)
Finally, though, the key was found, our bag was recovered, and our first order of business was going to the BBQ lunch (which was FREE since Carnival hosted it. Wahoo!) The lunch was okay, but since we got there so late (the barbecue started at 11:30, but we didn't get there until after 1), there wasn't much in the way of offerings.
After scarfing down lunch, my mom and I changed into our swimsuits and went to explore the beach! Since Half Moon Cay is a private island, there isn't a whole lot to do, aside from the beach and excursions through the cruise ship, but I was really excited to spend a few hours relaxing on the beach after my stressful morning/afternoon. We actually managed to score a covered cabana. We swam in the ocean, in water so clear that you didn't even need a snorkel to see fish and other sea life. We don't have water like that in Florida, that's for sure! And the water just felt… clean. Whenever I swim in the beaches near me, I always feel a bit gritty, but I felt so refreshed after the dip in the waters of Half Moon Cay.
I wasn't sure how I would feel about being on a private island, but I loved it. I wasn't too impressed with the Bahamas when I went last year (we stopped in Freeport and Nassau), but HMC completely changed my opinion. It was nice to have an island that was solely for cruise guests. It felt really safe and it was nice that it was just us. And HMC is also stunningly beautiful. I would go back in a heartbeat!
After our swim, we relaxed for a while on the beach before heading back to the ship, since the ship would be leaving port soon. (And I'm an anxious freak and must be back on board an hour before we're supposed to be. Seven cruises in and I'm still scared of being left behind!) It was around 3:30 at this point, so we took showers, played a few rounds of cards, and then took naps! We'd had such a crazy day and had been in the sun for most of it, so we were really worn out.
That night, we got ready for dinner earlier than usual because we wanted to see the comedy show beforehand. My mom and I have found that we don't really enjoy the "adults only" comedy shows because they are just… not our taste. They can be a little vile, I'll just say. (And let's be honest: you don't really want to sit and listen to sex jokes when sitting next to your mom!) Thankfully, they have a clean comedy show that's for all ages nightly, which is the kind of comedy we enjoy! This comedian was pretty good (we already had a taste of his type of humor the previous night at the Welcome Aboard show) and there were laughs all around!
After watching the comedy show, we hightailed to the dining room for dinner! We enjoyed a very yummy dinner (I had a super delicious steak dish that I wish I could eat again!) and then explored the ship afterward.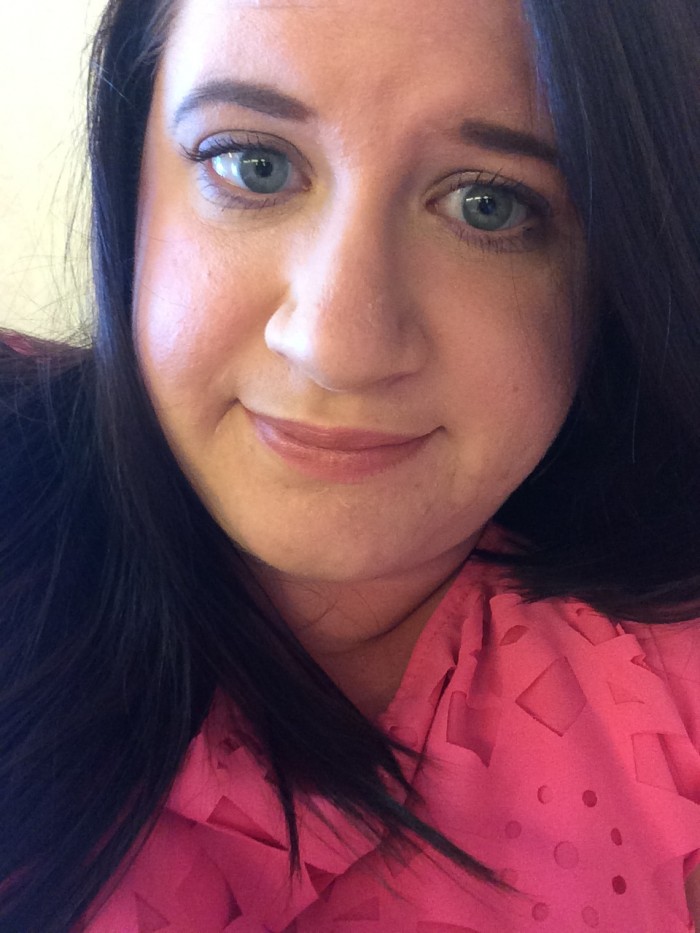 And, since we not very exciting people (well, I'm not. My mom definitely is!), we went back to the room, read for a bit, and then it was lights out at 11:30! I was really looking forward to the next day, since it was a day at sea. I needed a calm, relaxing day!