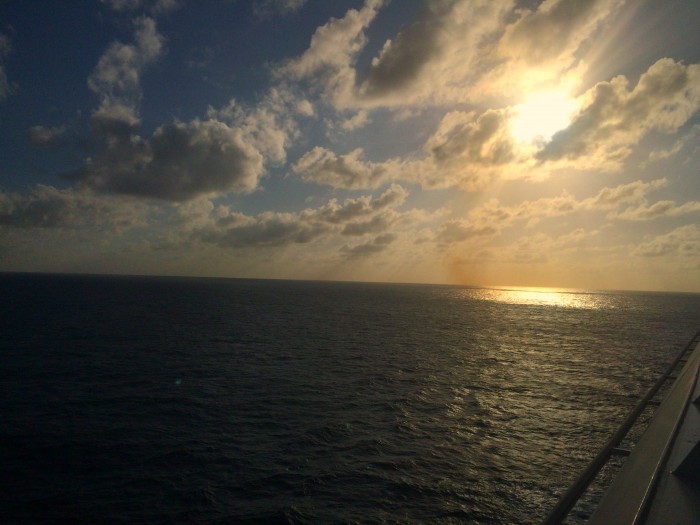 Our third day of the cruise was Monday, May 18, and it was an at-sea day! We desperately needed a calm, relaxing, peaceful day after the crazy that was the previous day.
I woke up around 9 a.m. but my mom was fast asleep, so I took my time getting ready before waking her up and forcing her to accompany me to brunch. 🙂
We ate brunch in the dining room and toasted each other with mimosas. The brunch was okay (I ordered a bagel and an omelette), but not outstanding. (I'm also not much of a breakfast person, so take that as you will.)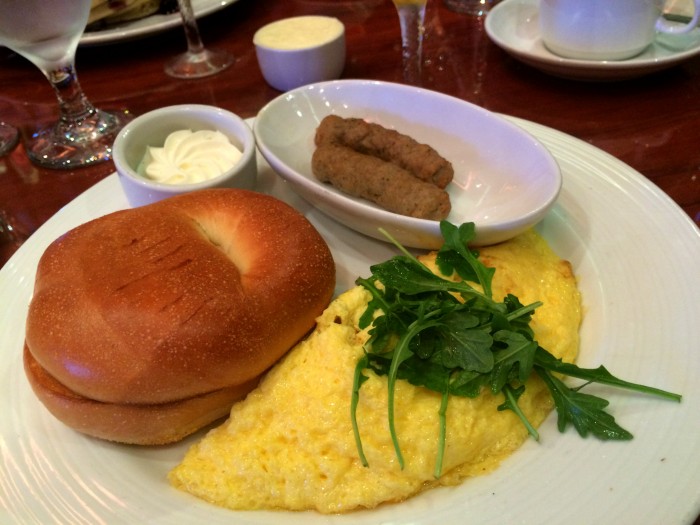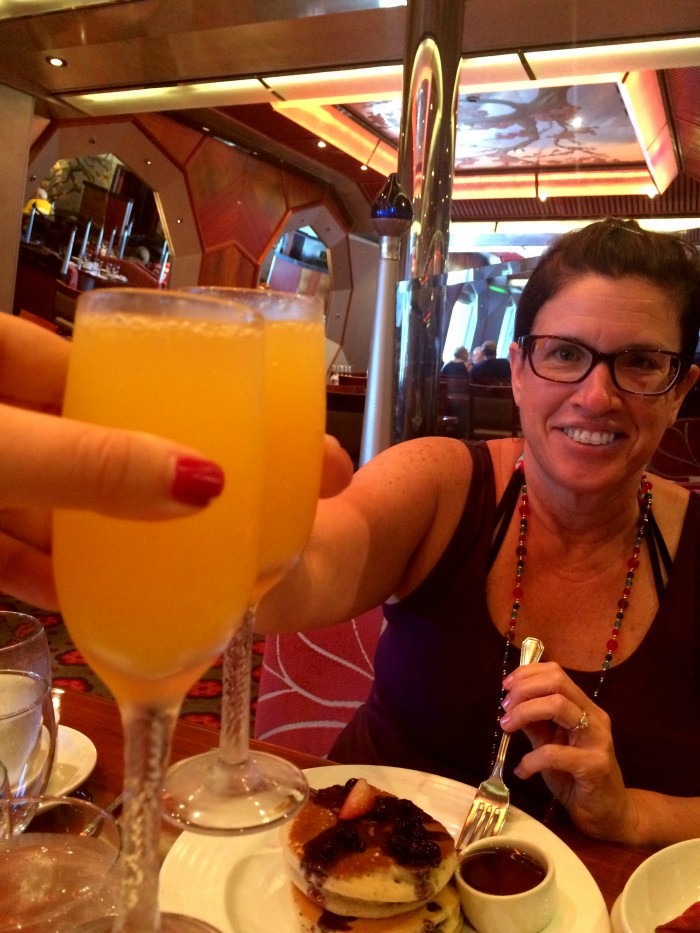 After brunch, we made our way outside to the Serenity Deck, which is located at the top of the ship. We found chairs, lathered on the sunscreen, and spent the next few hours relaxing in the sun. So divine! I read for a bit, played some games on my iPad, and then listened to a podcast. After a few hours, my mom and I took turns on the water slide (which was awesome!) and cooled off a bit in the pool.
A little after 1:30, we decided to pack it up and head down to the lido deck for lunch. We both opted for a burger and fries from Guy's (gosh, so good! I miss it!) and watched the Hairy Chest competition while eating. (Not as gross as it may sound, haha!)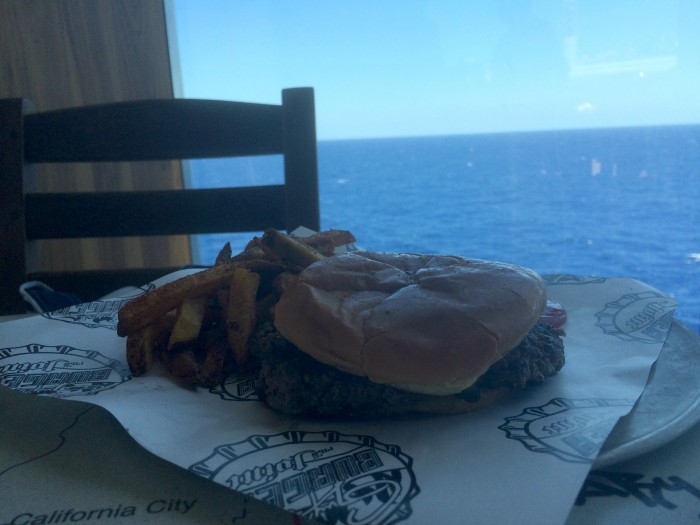 After our meal, we decided to head up to the room to get out of the sun. I had missed a few spots with my sunscreen and was already developing sunburn on those areas, so I needed to get inside! We played a few rounds of cards and then decided to take naps. Ah, glorious!
We woke up around 5:30 because we wanted to do a quick workout before dinner. We attempted to go for a walk around the jogging track but it was just too windy for my liking, so after just a few minutes, we found our way to the gym. I'm not sure what it was, but the minute I stepped into the gym, I felt this nostalgia for the gym environment. I didn't realize how much it filled me with excitement to work out! There was just this energy flowing through the whole place. I definitely want to join a gym here in Tampa because you just don't get that kind of energy from a tiny apartment gym – at all!
I used the stationary bike for 20 minutes and whew, was it harder than the stationary bike I have at home! Their level 1 resistance felt like what an 8 or 9 is with my regular bike. (I'm not sure what that means – is my bike at home too easy? Is the bike at the cruise gym too hard?) It was nice to bike with a beautiful view, though!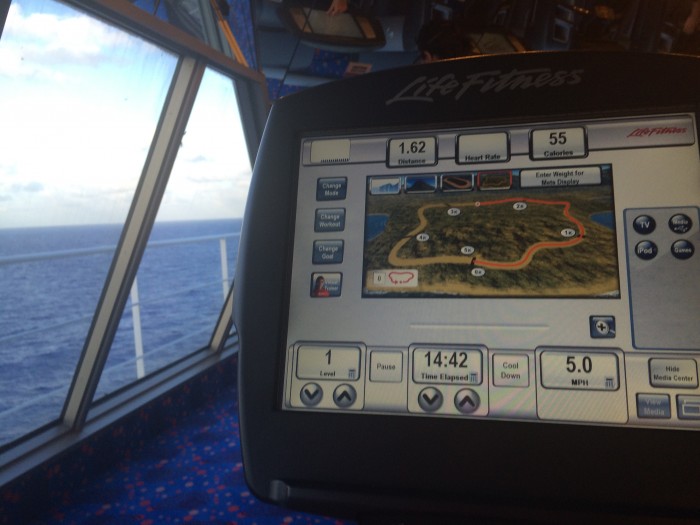 After our workout, we went back to the room to get ready for dinner. Tonight was elegant night, which meant dressing all fancy!
And dinner was fun! I really enjoyed our dinners on the cruise. The food was delicious and the company outstanding. After our terrible dinner mates on our last cruise, I did not take this group for granted. It was so nice to have a personable group that got along so well!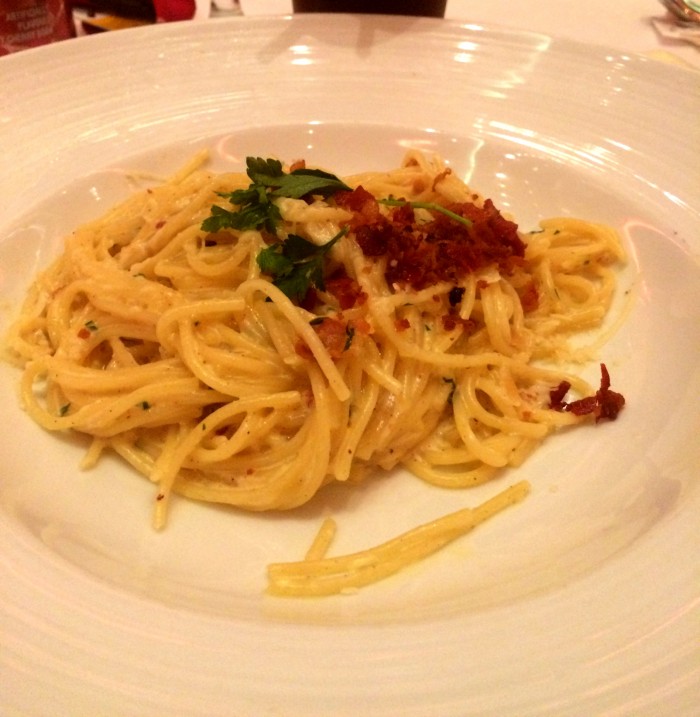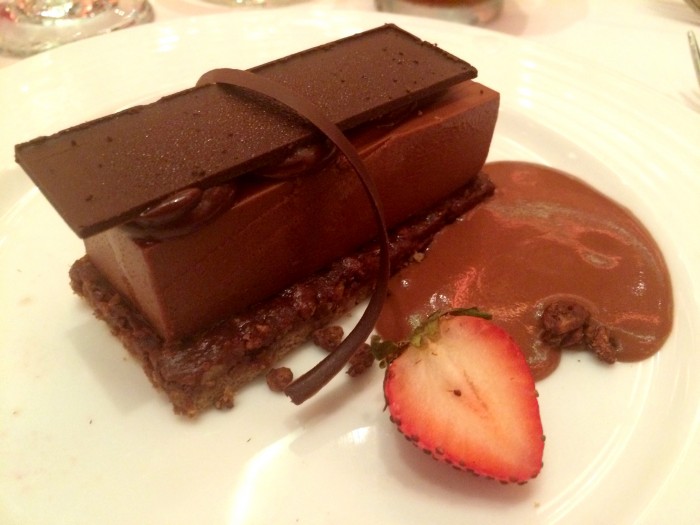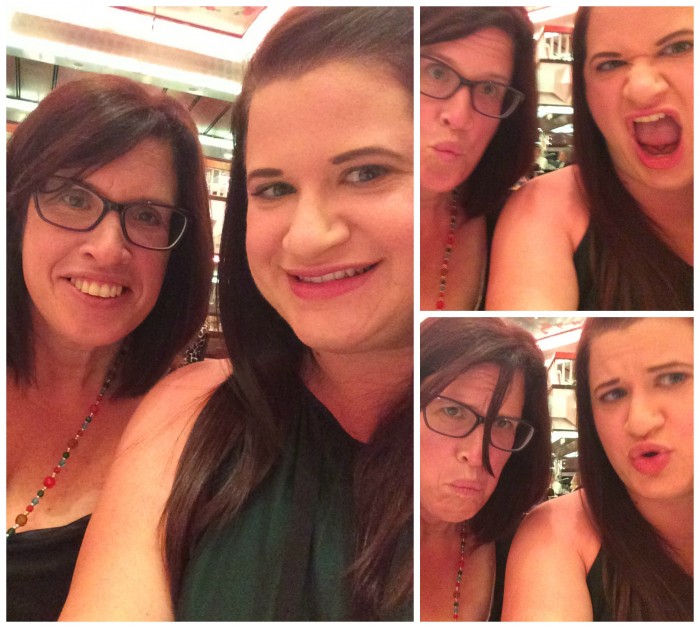 After dinner, my mom and I went out to the lounge area to have fancy portraits taken.
We took two different sets of pictures – one in front of a cruise ship background and the other on a "fainting couch" with a plain white background. When we saw the pictures the following day, I was not expecting to love any of them. (I typically hate pictures of myself!) But I loved them all. Two of the pictures in particular really stood out for me and I hemmed and hawed about buying them. The only problem is that ONE 8×10 is $22. At the end of the day, the cost was just too much for a picture I'd probably never put up in my home. As much as I loved the pictures, I couldn't justify the price. Womp, womp.
After taking pictures, we headed back up to the room, played a few rounds of cards, read for a bit, and then it was lights out at 11:45. Tomorrow would be a super fun day – speed boating and snorkeling in St. Thomas!