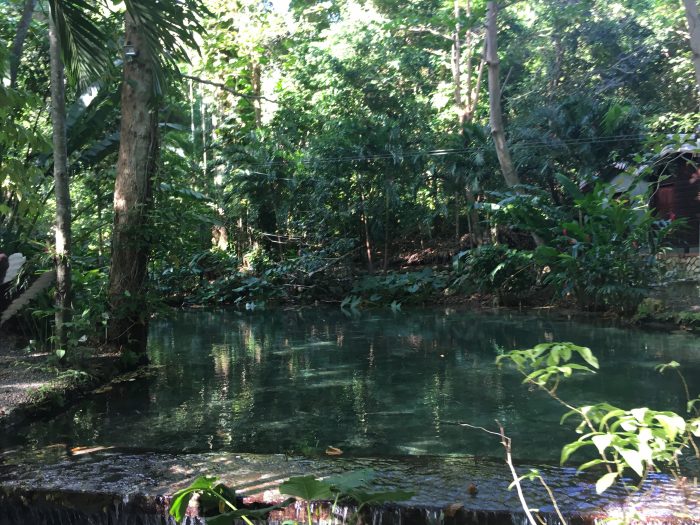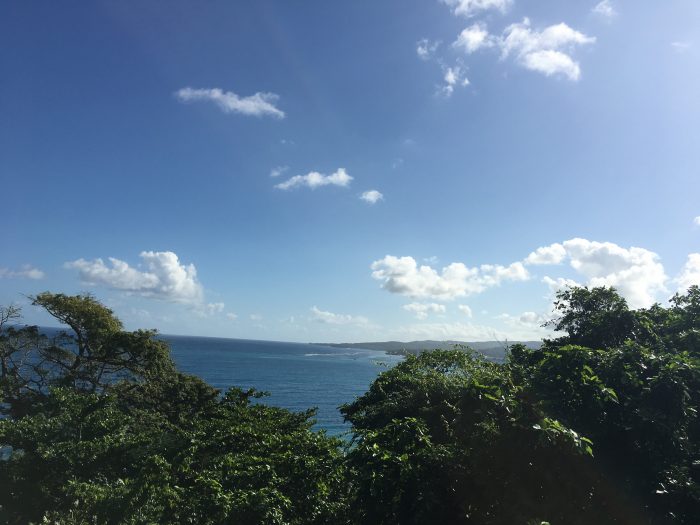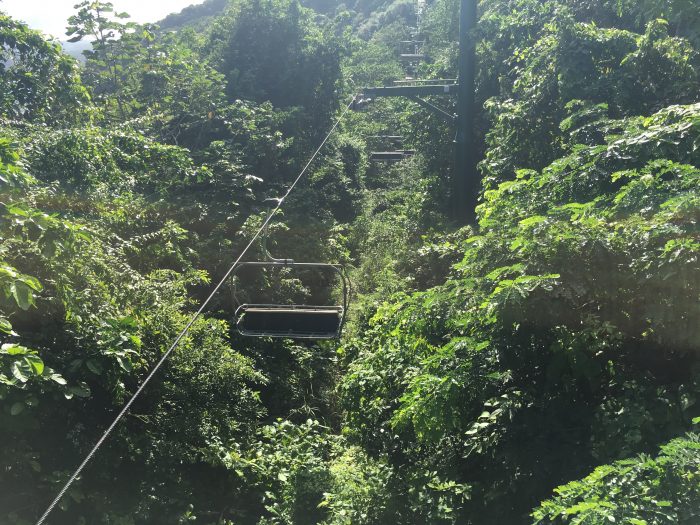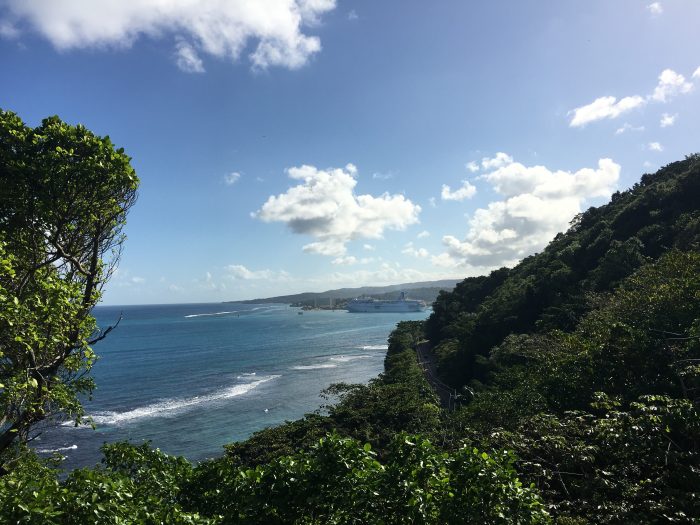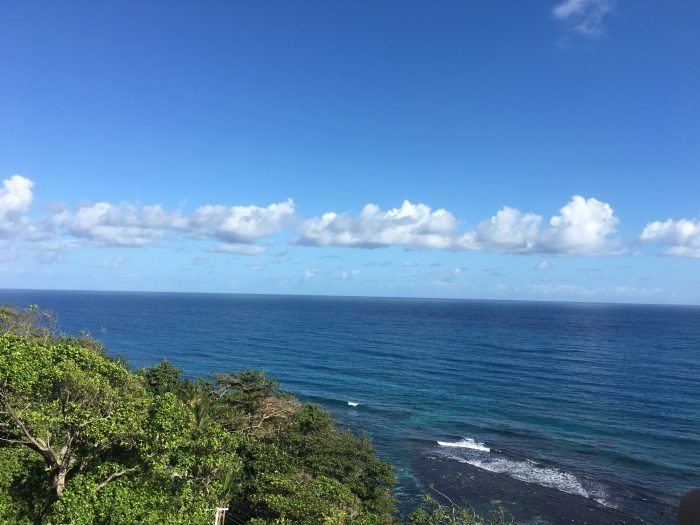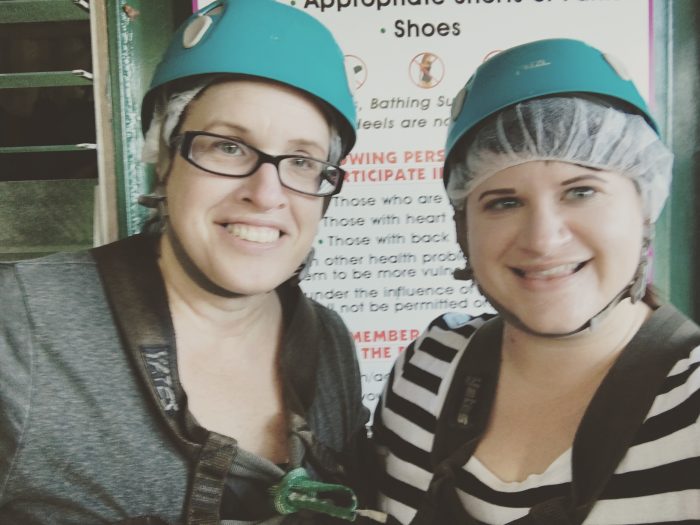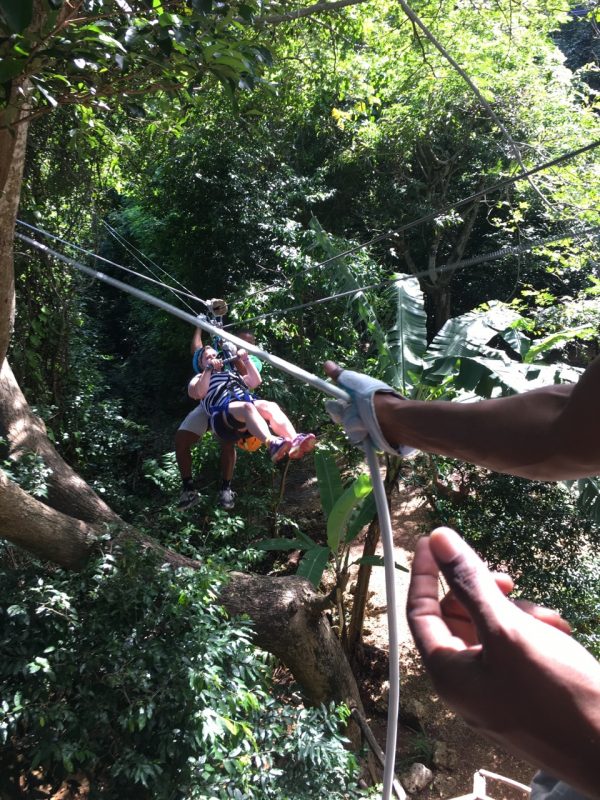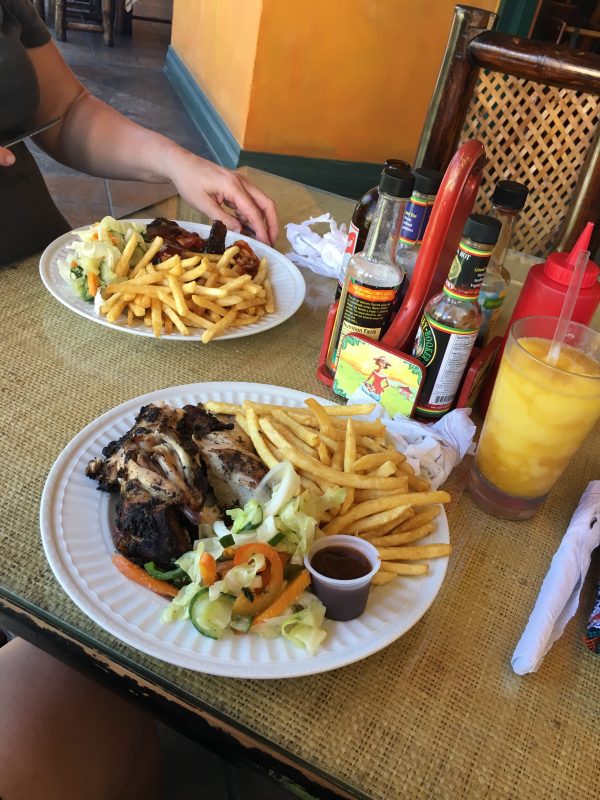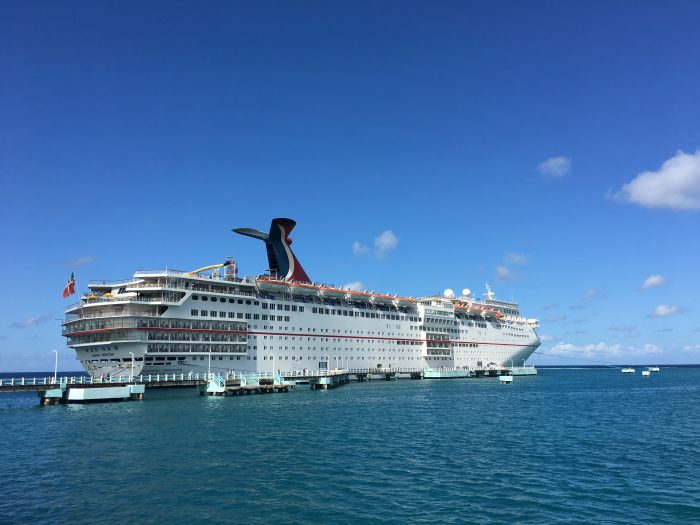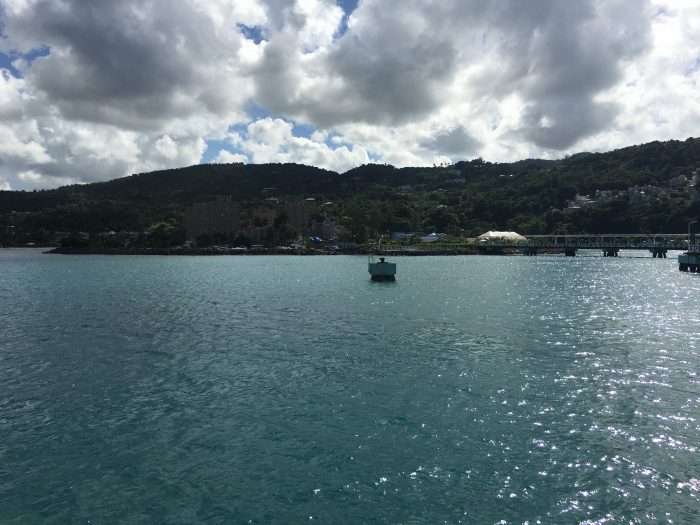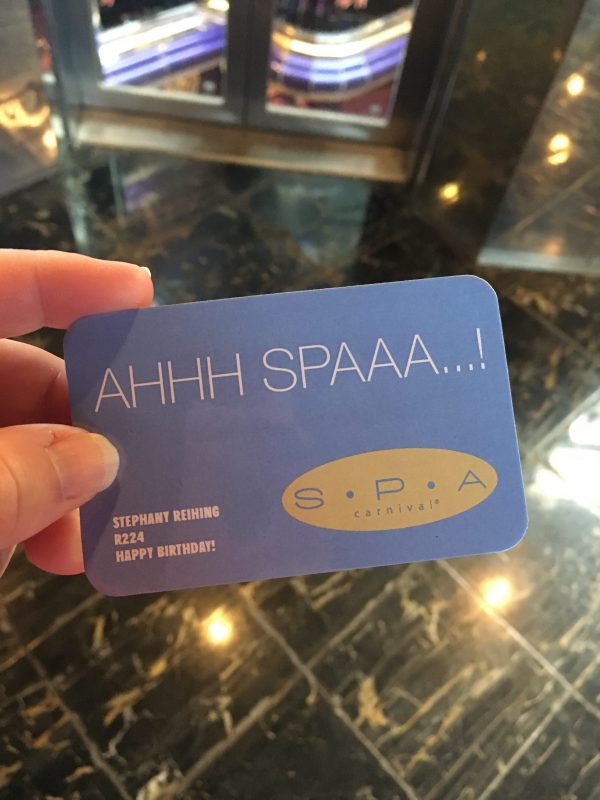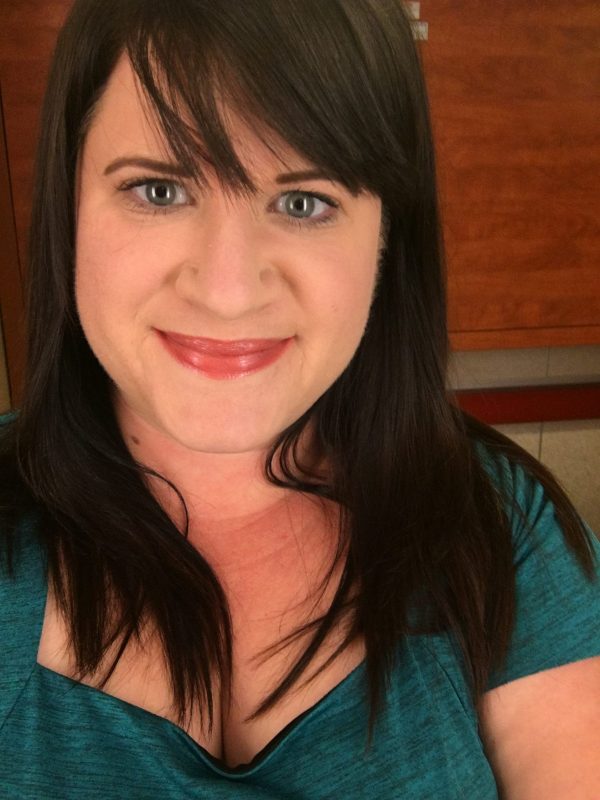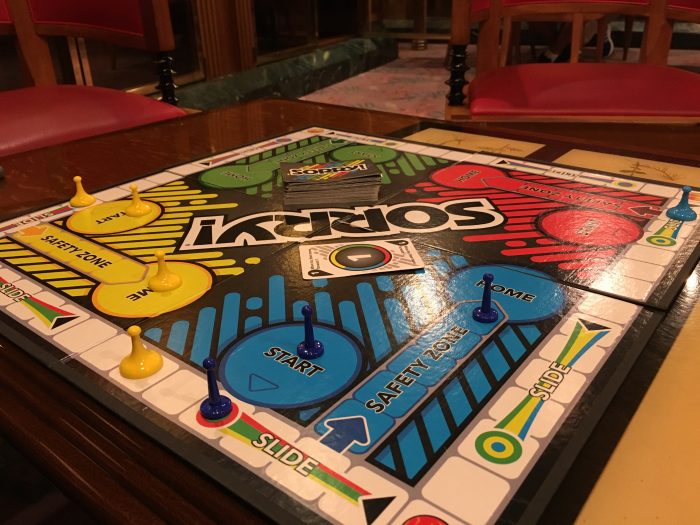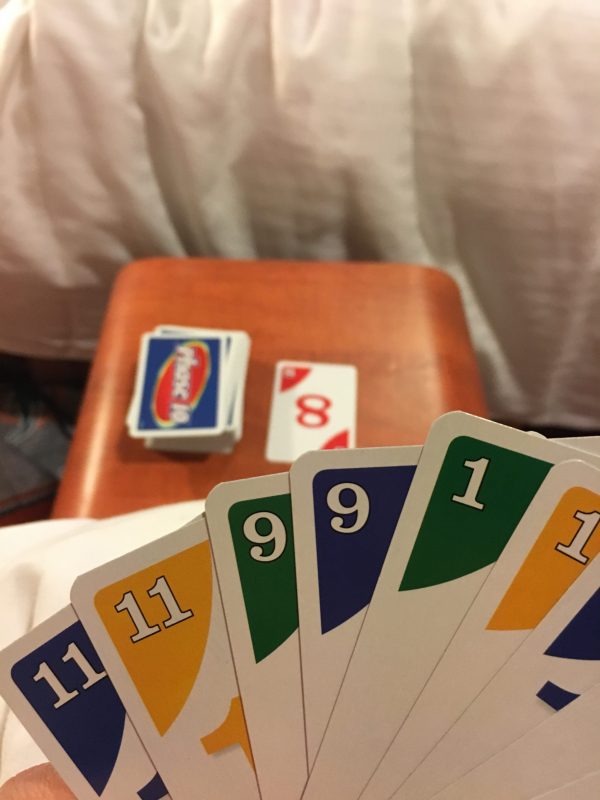 Our fourth day of the cruise was Tuesday, November 29 and we were in Jamaica! YAY!
Jamaica has long been my favorite cruise destination, and the excursion my mom and I booked was the exact same one we did four-and-a-half years ago. Sorry I'm not sorry? It was just such an amazing adventure the first time we did it and my last two zip-lining adventures haven't been as fun as that one (see: having a panic attack while zip-lining in Cozumel and spraining my ankle while zip-lining in Puerto Rico). I wanted to get back to the zip line, and back to a tour I knew would be amazing.
Since we had to meet our tour group early in the morning (8:15), we woke up pretty early to get ready for the day and have breakfast. Soon enough, we finished up and headed over to the theater located on the other side of the ship to meet our group. And that's when the fun happened!
About halfway to the theater, my mom trips over her own feet and falls down hard on the tile floor. She immediately grabbed her knee and said, "It hurts! It hurts!" Her knee started bruising immediately and she also cut her elbow. It's never a dull moment with her, that's for sure! Thankfully, a Carnival employee saw her fall and came over to help us. We guided Mom to a chair and then he left to get ice for her knee, as well as a bandage for her elbow.
I honestly didn't think we'd be able to go on our excursion. My mom's knee looked bad and I wasn't sure if she'd be able to walk on it, much less go zip-lining. She even asked me if I would zip-line by myself and I said an emphatic, "Nope!" But, gradually, the pain subsided and she was able to limp over to the theater before our group left the ship. Woohoo! We were going on our excursion.
As we left the ship and entered the beautiful Ocho Rios, Jamaica, I felt nothing but pure elation about being back on this gorgeous island. I know, I know. I'm not seeing the real Jamaica, and maybe one day I will, but man, Ocho Rios is goddamn beautiful. There's something about this island that draws me in and makes me feel so good. Maybe it's the incredible views or the friendly people or the chill vibe. Whatever it is, Jamaica has my whole heart.
Our excursion took place at Mystic Mountain, a rain forest where I felt like I stepped into an entirely different world. First things first, Mom and I took a chairlift that brought us right to the heart of the park. It took about 20 minutes and soared us high above the treetops, where we were given the most incredible views. I kept snapping pictures, putting my phone away, and taking it out again for more pictures. I couldn't help myself!
When we got into the park, we started with a quick bobsled ride. The bobsled is so much fun, but I don't think I took full advantage of how fast it could go. (You know you're going slow when your mom tells you to speed up…) It was still fun, though, just zooming around the rain forest in the bobsled. 🙂
After the bobsled, we poked around in the gift shop for a short while before heading over to our main event – zip-lining. Yay!
We got suited up in our gear and headed down a set of steps to the first zip-lining platform, following one of our tour guides. One of the things I most love about zip-lining at Mystic Mountain is that the tour guides make things so much fun. They joke around, pretend they have no idea what they're doing, and put everyone at ease right away. I don't think I've laughed so much in a 45-minute period than I did that day.
Some gems:
"My other tour guide is getting a drink at the bar, but it's fine. It's, like, his second day or something."
"Okay, I saw this on the DVD…" (<– they constantly referenced this "DVD" as if they had only watched the DVD and never zip-lined)
"Wait, wait, come back!" (One of the tour guides said this to my mom after she took off on the first zip-line. When I stepped onto the platform, I scoffed at him, "We've done this before. We know all your jokes.")
"Did you see that bird? That there is a… flying bird."
After someone in the group pointed out a tree that had red marks up and down its trunk: "Oh. Yeah. We lost someone last week. Went flying straight into the tree. And then it rained." (Morbid, perhaps, but Mom and I giggled.)
In any event, I wish I could do the tour twice because I had so much fun zip-lining and even more fun with the tour guides. Some of the people in my group didn't seem to get their humor, which made me sad, because I felt like these guys really put on a fantastic tour.
Even better? My mom told one of the tour guides that yesterday was my birthday to which he replied that today was the other tour guide's birthday, so on our last zip-line platform, they sang to us! How cool!
And then, as if that wasn't cool enough, I tandem-zipped with the tour guide on my last line. It was truly one of the most incredible experiences of my life. I still don't think I have fully processed it. I keep reliving it over and over in my head and wish I could go back to Jamaica and experience it again.
After zip-lining, Mom and I decided to go back to town and had lunch at Mama Marley's where I ordered jerk chicken before realizing, Oh yeah, Steph. Your taste buds are wimps! I tried eating around the "jerked" part, but basically just slurped down my mango daiquiri and French fries. Sigh. We strolled around the shops for a bit and I was pleased to be offered rum punch in one of the stores and then given two shots of chocolate rum just because. I still have no earthly idea why I didn't buy a bottle of chocolate rum because it was incredibly delicious!
After that, we went back to the ship and I took a short nap because, whew, I was one tired girl after such an active morning/afternoon! I woke up around 3:30 and took a shower, and then it was time for some fun: a massage! Carnival had generously given me a $50 spa gift card for my birthday and I decided to use it on a foot and ankle massage. As someone who has sprained/broken her right ankle three different times and deals with arch cramps constantly, I knew having a masseuse spend an hour massaging my feet and ankles was exactly what I needed. Certain parts of the massage were painful (as a highly sensitive person, massages are usually more painful than relaxing for me because my nerve endings are so sensitive), but overall, it felt really good.
My mom also opted to get a massage, the same one as I did, so we were both feeling good on Tuesday night! After our massages, we went back to the room, got ready for dinner, and then had an early-ish dinner before escaping into the game room for a cutthroat game of Sorry!.
At this point in my vacation, I was feeling a little mentally fatigued. I wasn't ready for the cruise to be over – not by a long shot! – but I was feeling a little overstimulated by all the activity on the ship and the stuff we were doing. We weren't even going crazy every night, so I'm not even sure why I felt so fatigued, but that's just my body, I guess. It needed some quiet time, so after playing in the game room for a little bit, we went back to our cabin to play Phase10 (which, you may notice is the game I played with my girlfriends in The Villages that I said was a horrible game. Turns out, much better to play with just two people! I actually enjoyed it this time. And won a few rounds!)
I stayed up a bit to finish the book I was reading and then it was lights out and time to celebrate our last day of the cruise. Wah. Five-day cruises are just too short!