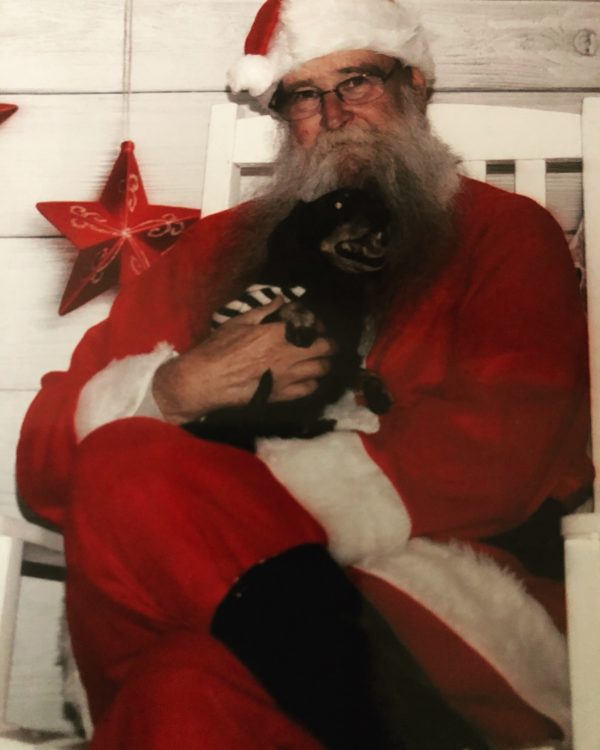 Loving… my sweet pup. My mom and I took him to this fun little place in downtown St. Pete this weekend, so he could have a picture with Santa. It's called "The Dog Bar" and you can bring your dog there, even inside the bar area! It has an outside dog park for the dogs to run around and plenty of open seating where you can drink a beer with your dog by your side. Santa held Dutch in his lap and all Dutch wanted to do was bite his beard, ha, but we managed to get a good photo of him (albeit, not the highest quality. Ya win some, ya lose some). He did so good hanging out at the bar! (Although he was totally falling asleep on me as we were getting ready to leave.) Dutch has been having so many good days lately and that gives me hope that I still have lots of time left with my favorite little dude.
Loathing… that I fractured my right ankle again. It happened two weekends ago, when I was helping a friend move. I was carrying two boxes stacked on top of one another, and I couldn't exactly see where I was going, so I stepped off a curb when I wasn't expecting to and my ankle twisted and I fell hard on my left knee. I went to urgent care after it happened to get the ankle x-ray and the road rash on my left leg taken care of. I ended up with a tetanus shot due to the abrasion, nearly crying in the exam room when the nurse cleaned up and bandaged my wound, and an X-ray showing that my ankle had fractured. Last week, I saw an orthopedic about the fracture and it appears I fractured it in exactly the same place I did previously (a fracture that never fully healed). Since the place I fractured it is a non-weight-bearing bone, I can walk on my ankle without needing a cast or walking boot. I was in an air cast for a few days after the injury, but now I can walk without pain, so I'm just wearing an ankle wrap. The real problem, though, wasn't the ankle fracture; it was the road rash. Holy hell, it hurt. For the first two days, it stung constantly and there was nothing I could do to get it to stop. I couldn't even expose it to air for the first few days because the wound was so raw. I had to keep it tightly wrapped in bandages and change them twice a day. Just putting on the prescription ointment brought tears to my eyes. It wasn't until Friday night (nearly a week after the accident) that I was able to sleep without the wound being bandaged. It was so damn painful and hard to even walk on my left leg because the wound made it so sore. So crazy! Lesson learned: don't help friends move. 😉
Reading… Their Eyes Were Watching God by Zora Neale Hurston. I have to admit: I'm not loving it. But I'm just going to power through because I'm reading it for my challenge to read four "classic" novels this year, and this will allow me to mark that goal complete. So, in order to power through, I'm reading a romance novel alongside it. Their Eyes Were Watching God is short – less than 200 pages – but I swear it's going to take me all of December to finish it.
Watching… Mad Men! I'm halfway through season one and I adore it. I never understood why women were all gaga over Jon Hamm until I started watching him as Don Draper and guys, I get it now. Even though he's kind of a shit. But he's a handsome shit.
Anticipating… our annual book club Christmas party at The Melting Pot this weekend! This is our third year doing this and it's probably one of the things I most look forward to during the holiday season. We enjoy some ridiculously good food (The Melting Pot is a fondue restaurant) and have our Secret Santa gift exchange. I caaaaan't wait. I'm just hoping this week passes quickly so I can enjoy some good food and good laughs and good gift-giving with my girls!
Thinking about… my goals for 2018. I've already started plotting some of the bigger goals I want to achieve next year and they are the typical goals you'd expect: losing weight, paying down my debt, finishing my novel. I'm nothing if not consistent, right? I just hope to have better action steps to actually make my goals a reality in 2018. I want it to be an amazing, life-changing year.
Needing… another bookshelf. I currently have a three-shelf bookshelf that I also use as a pseudo-nightstand that sits on the right side of my bed, and I think I'm going to get the same bookshelf for the other side of my bed. I need more space for my books, as it appears that I'm now a collector of books. Between my Book of the Month selections and things I decide to buy on a whim and ARCs from publishers… I need the space. I'll have to wait until after Christmas, though, because my Christmas tree currently has the spot next to my bed.
What are you currently reading and anticipating?