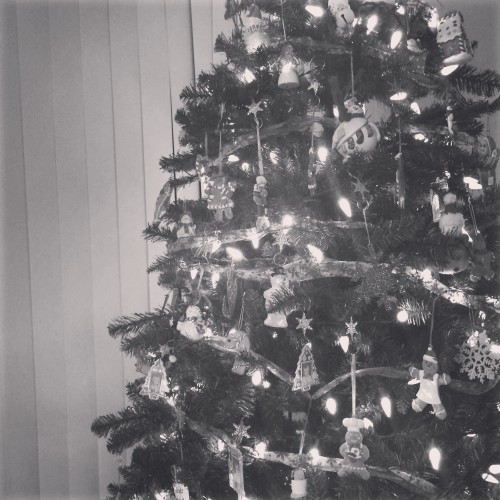 Feeling… insanely happy. There's no other word to describe it. I am in this state of blissfulness and excitement about my life and things that are unfolding. And it's Christmastime. There's no better time of year, in my opinion!
Reading… The Time Traveler's Wife. Can you believe I've never read this book before? It's slow going for me, just because I haven't been making time for reading like I normally do (weird, right?), but I'm really enjoying it when I do carve out some time to sit and read. It's so well-written!
Watching… not a ton of stuff, lately. (Are you sensing a theme here?) I do have dozens of Christmas movies taped that are taking up space on my DVR. I need to watch them! The only Christmas movie I've watched so far is A Boyfriend for Christmas (one of my favorite Christmas movies!) Also, I realized this the other day: I have never seen Home Alone. I laid this bombshell on someone and I swear he almost passed out from the shock. Why have I never seen Home Alone??? I must remedy that this Christmas season!
Anticipating… Christmas morning! Is there anything like Christmas morning? No, there is not. It's my favorite day of the year!
Listening to… Christmas music! I may not be doing great with watching Christmas movies, but I am doing a great job at listening to Christmas music! I'm actually super behind on my podcast listening because all I want to do is listen to Christmas music. And I think Pentatonix's version of "Mary, Did You Know?" is outstanding and a much listen/watch. Ugh, they are so good!

Planning… to finish up my Christmas shopping on Friday. I'm mostly finished, but not quite. I think I can knock it out completely on Friday afternoon, which will feel wonderful!
Losing… weight without really trying too hard. Ha! I haven't had much of an appetite lately, so food has become very uninteresting to me. I'm basically just eating to eat, which is an entirely new phenomenon for me. I'm not too worried about not having an appetite, but I dearly hope it comes back soon. But hey! Yay for pants fitting better and not feeling like a slave to my appetite anymore. (I lost four and a half pounds last week WITHOUT TRYING. Go me?)
Falling behind… on Holiday Council work. I still haven't even done the first worksheet! I'm thinking I might carve out some time on Thursday evening to make some peppermint hot cocoa and snuggle into bed with my worksheets, listen to the calls, and get back on track.
Realizing… that I am most certainly the opposite of a movie buff. Do you know how many movies I haven't seen that just about everyone has? A list, of sorts: Jaws, Home Alone (as mentioned above!), The Goonies, Top Gun, Braveheart, The Patriot, and many, many others. I'm just not a movie person, I guess!
Loving… scented candles, my coworkers and the fun we have throughout the day, Christmas lights, productive work days, chilly mornings, tinted lip balm, and SeaWorld adventures.
What are you currently reading and anticipating?