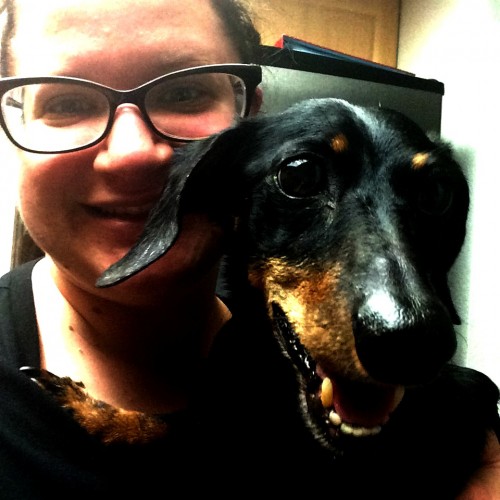 Feeling… incredibly sore. On Saturday morning, I did a 10-minute leg workout and it. kicked. my. butt. My quads and hamstrings have been so sore since that workout! DOMS at its finest. I haven't felt this kind of sore from exercise in a really long time so, as much as it hurts, it also feels really good. After my Savannah race, I'm going to get back to focusing on strength training, along with different kinds of cardio, because I really just love it.
Worried… about Dutch. If you follow me on social media, you know he had a bit of a rough week. After picking him up from PetSmart, where he got a bath and nail trim, I noticed Dutch was walking funny and seemed to be having trouble putting weight on his left leg. I knew something was definitely wrong when he couldn't run up our stairs. (He always runs up the stairs!) Luckily, he was already scheduled to have his comprehensive exam (and his annual teeth cleaning), so when we took him in, we mentioned the problem with his leg, and they took x-rays of his legs and spine. Thankfully, nothing wrong appeared on the x-rays, so the vet believes he just has a pinched nerve. What a relief! He's on an anti-inflammatory and a muscle/joint supplement, and limited exercise, so let's hope he gets better soon.
Reading… The Rosie Effect by Graeme Simsion. It's the sequel to The Rosie Project, which I read last year. I'm almost finished with it and I just love it. I love Don Tillman so much.
Anticipating… Savannah! I am not worried about the 5k… I know I can finish and I want to just have a good time, not worry so much about striving for having the best race ever, but just enjoying being in Savannah and running through the historic district. And I am just excited for a fun weekend in my most favorite city with my most favorite person.
Organizing… the categories on my blog, in preparation for launching a new blog theme in the coming weeks. This wound up being a much bigger project than I originally imagined. I had over 100 categories! (This is not a joke!) Most of them either had just a few blog posts or zero, so I've been trying to redo the way I tag my posts and categorize them so it feels a bit less messy. I spent hours on this project this past weekend and still didn't get it all done. Eek.
Planning… to move in with my friend Bri! Yes, yes, yes! I am so excited about this. I thought I would never, ever want to have a roommate again, but Bri and I get along so well and she's the only person I would consider doing this with. (Plus, apartment costs are expensive and I've been really stressing about how I was going to afford everything.) We've talked budgets, move-in dates, and apartment must-have's (hers is a washer/dryer in unit; mine is a pet-friendly community and a gym). She adores Dutch and can't wait to have him with us. And I'm just thrilled! This is exactly what I wanted and I'm pinching myself that I get to be her roommate. 🙂 We're going to look at our first two apartments on Friday afternoon – woohoo!
Searching… for the perfect eyebrow tool. I have really light and thin eyebrows… they practically disappear if I don't use an eyebrow pencil to darken them. (Funny thing is my eyebrows used to be brown just a few years ago! Now they are blonde.) I've tried basically all the drugstore brands and none of them do what I need them to do, so I'm thinking I may need to try a pricier option. On my list, either ULTA's Brow Expert or Anastasia Beverly Hills' Bold Brow Kit. Or maybe I just need to dye my eyebrows…
Wanting… to spend more time on my fiction novel. I haven't even opened the document since late August, and I am missing stretching my creative muscles. Luckily, my writing partner and I are meeting up on Friday to work on our novels! I am so excited!
Wishing… my soda cravings would just go away. It's been almost three weeks, and I'm still craving it like crazy. I mean, it's not terrible. I can resist it. But I just wish I didn't have them at all, you know? I think it's all about reframing my thoughts and habits, and the more I resist, the stronger I become. Deep breaths. I can do this!
Loving… "springing forward," Trader Joe's, days when running feels fun, The Voice, a clean bill of health from Dutch's exam, lady dates, new office supplies, and baking therapy.
What are you currently reading, anticipating, and loving?