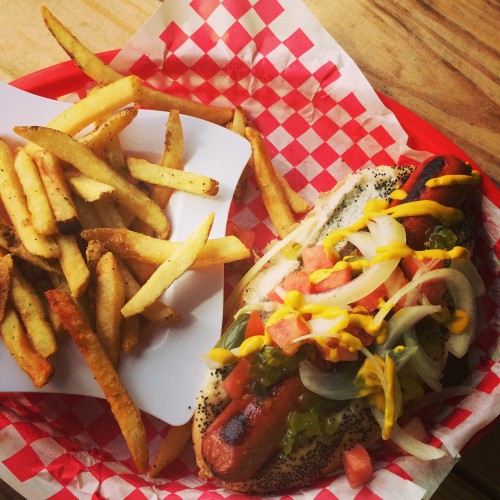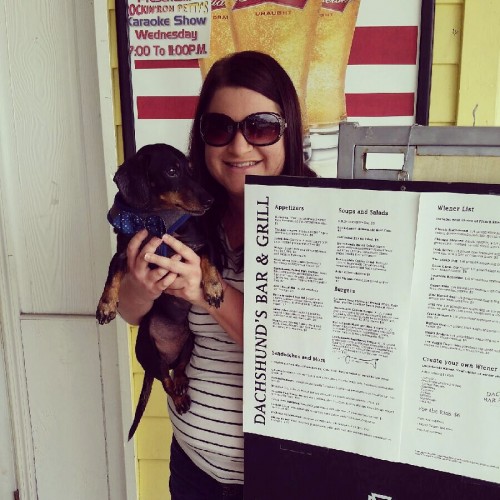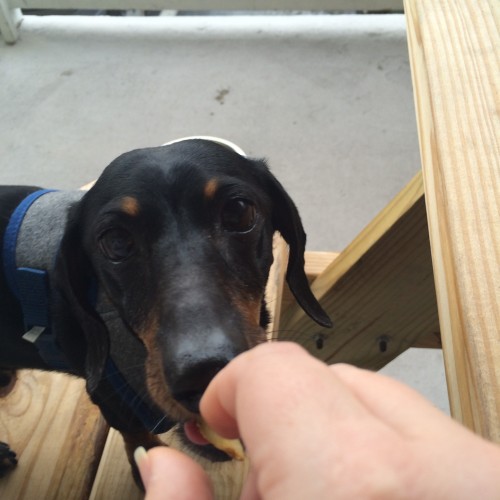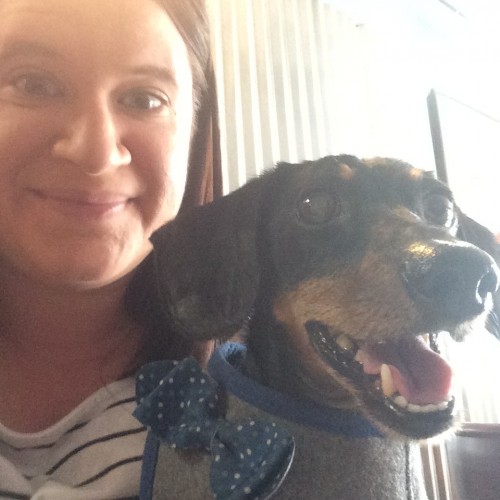 One of my goals for my Tampa Bay Project is to visit 10 non-chain restaurants in the Tampa Bay area. I mentioned this in the original post, but for someone who has grown up in the area, I am embarrassingly unfamiliar with Tampa points of interest. And when it comes to restaurants, I tend to stick to my old favorites (which are usually chains). So, this is a way for me to step a bit outside my comfort zone, try some Tampa area staples, and maybe find a new favorite restaurant.
One such restaurant I visited was Dachshund's Bar & Grill. My mom had mentioned this restaurant in passing a while back, and I thought it would be fun to go there but pushed it to the back of my mind. Then, as I was trying to find something fun to do this weekend, I saw Dachshund's was running a Groupon – $12 for $20 worth of food! I was sold.
So we went and it was fabulous. Dachshund's Bar & Grill is nestled in an unassuming shopping center in the Town n Country area of Tampa. It's a brand-spankin'-new restaurant that just opened in August. There is a good amount of outdoor seating, which is nice for those who bring their pets. On the inside, dachshund prints line the walls and I could maybe live here. Yes. They are also incredibly dog-friendly, which makes sense with their namesake, but it was nice that Dutch wasn't an annoyance, but that they loved him being there.
When my mom and I went on Saturday afternoon, we were told we could bring Dutch inside. So we did, but I could tell Dutch is a little too neurotic for that. He wanted to explore! Annnnd then he almost peed on a wall, so I hustled him outside to do his business. After that, we decided to sit outside. Luckily, it was a nice day (low 70's – don't hate!)
My mom and I both ordered the same thing: the Chicago Shepard, a 1/4 pound Black Angus hot dog served on a poppyseed bun and topped with raw onions, relish, mustard, tomato slices, peppers, and a dash of celery salt. It was delicious! I am not a big fan of hot dogs (well, the animal version, yes. The food version, not so much.), but this place has sold me. I am already thinking about the next time I can go back!
Dutch was also a fan. He ate his fair share of french fries (even stole one off my plate!) and a tiny bite of the wiener. We'll definitely be back!
Of course, Dachshund's Bar & Grill isn't the only Tampa Bay area restaurant I've visited since making my list. I've visited three other restaurants:

Harvey's 4th Street Grill – A restaurant located in St. Pete, not too far from me. I went here with my mom a few months ago. It's small, dark, and folksy. I went simple and ordered a burger and fries. They were good. Not life-changing, but good. I think breakfast would have been a better choice. Live and learn, right?
Datz – This is a Tampa staple, or so I am told. I went for Ladies Happy Hour with work friends, and I really, really want to go back! I ordered a sandwich, the Hansel & Gretel, which was ham, swiss cheese, and beer cheese fondue on a pretzel bun. It was good, but I'm not a huge fan of ham and, at the risk of tomatoes being thrown at me, of too much cheese on my sandwich. (I would opt for no cheese, in most cases.) But, for those who like ham & cheese? You'd love it.
Nicki's Omelette & Grill – I went here with some work friends last week. It's a cute little diner in Tampa, and I was told they make the best breakfast anywhere. I ordered French toast, which was made on their homemade bread, and I will say it was very, very good. I want to try an omelette next time! I'm not very picky with breakfast, so I don't know if it's the best I've ever had (I'd venture to say I would rather go for Ciccio's brunch, if I had to make a decision), but it was very good and I want to go back soon!
If I came to visit your city, what is a must-visit restaurant you would recommend and why?