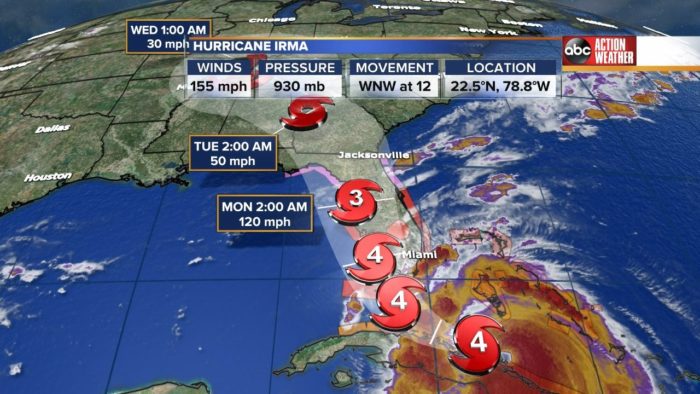 Well, I didn't mean to go MIA for a week after being gone for the month of August, but those who follow me on social media knew I had a good reason for that: Hurricane Irma! This hurricane had everyone in the entire state of Florida scrambling – loading up on non-perishable food, boarding up their homes, filling up their tanks with gas, and making evacuation plans. Hurricane Irma, at one point, was the strongest hurricane ever recorded in the Atlantic Ocean and after ravaging some of the smaller islands in the Caribbean, it made landfall in Florida last Sunday, as a Category 4 storm in the Florida Keys. From there, the hurricane traveled up the west coast of Florida, gradually shifting to the east and weakening. Early Monday morning, the hurricane swept past Tampa (its eye-wall was just to the east of us) as a Category 1 hurricane.
Throughout the week, the storm track kept shifting. First, it was going to hit the west coast and then the east coast and by Saturday, the track had the storm hitting the Tampa Bay area directly as a Category 3 hurricane – the likes of which none of us living here had ever seen in our lifetime. Yes, as a lifetime Floridian, I am well accustomed to hurricanes, but the truth is, the Tampa area has been extremely lucky and hasn't been directly hit since the 1920s! I've never had to truly make evacuation plans (nor have I ever been under a mandatory evacuation, like I was with Hurricane Irma), so this was really a new experience for me. Somehow, Tampa continues to get lucky when it comes to hurricanes and it's a good thing because our city is really not prepared for them. I mean, the roads here flood after a simple rainstorm! I can't imagine the damage a Category 3 hurricane would cause.
In any event, my mom and I had tentative plans to ride out the storm at her work, if we needed to. Her building was built recently and can withstand a Category 5 hurricane, and they were allowing pets to stay, so that was our worst-case scenario plan. Other family members in the area traveled to Georgia to stay with my aunt and uncle (at one point, they had 11 people and 7 dogs!) while my brother and his family went to Kissimmee to ride out the storm with my sister-in-law's family. On Saturday morning, the area where my mom lives was called for a mandatory evacuation, so the plan was set: we would ride out the storm at her work. And that's what we did – packing up the car early Sunday morning and spending the day just kicking back there. I tried to read, did some freelance work, and spent a lot of time hanging out with Dutch and the other dogs. (The pets had to stay in a stairwell, and Dutch did fine there!) I also made sure to go outside often to take videos because I knew this was something I wanted to capture and remember.
So that explains my absence from the blogging world last week. Thankfully, my home is fine and while I was without power until Thursday, I was able to stay with my mom who never lost power (or Internet!). Things feel like they are beginning to return to normal, but other parts of Florida have just begun the rebuilding process and my heart breaks for the damage this storm has caused to the Keys and Naples.
After the storm passed, I started compiling the list of everything I learned during the storm and, well, it turned out to be a lot. More than I should put in one post. So I'll be splitting this up into two posts, which sorta feels like overkill, but what can I say? I am wordy!
1) Dutch can fit inside a guinea pig crate. Early last week, my mom informed me that Dutch would have to be crated if he was going to go to my mom's work. Dutch has never been crated with me (he was fully house-trained when we got him), so I needed to buy one. But at that point, it didn't feel likely that we were going to need to evacuate, so I put it off until Thursday, when I realized we probably needed to prepare to evacuate. So, I went to PetSmart… only to find out all of their crates were gone. (Of course!) The only one available was one of those massive crates for $160. I asked one of the employees about their crates and she directed me to a guinea pig cage and said it might work for a small dog like Dutch. It ended up being the PERFECT size for Dutch.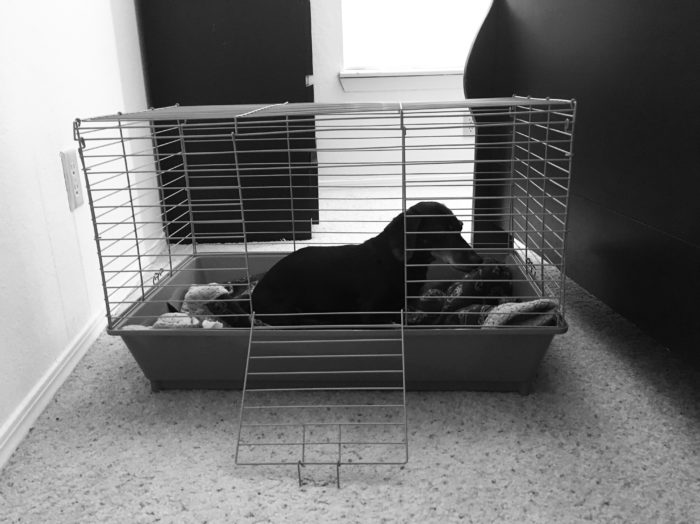 2) You need more than non-perishables. I went to the grocery store on Tuesday, armed with a list of "what to buy during a hurricane," and bought a ton of snacky non-perishables (cookies, crackers, granola bars, beef jerky, tuna fish, etc.) Anything that wouldn't need to be refrigerated and would be able to eat without using power. Well, I didn't exactly think about the time before the hurricane hit, when we still had power and could cook and keep food cold. Our city basically shut down starting on Saturday up until Tuesday, so we were stuck with what we had left in our cabinets, fridge, and freezer. I should have prepared better by cooking some hearty meals that could be popped into the microwave to heat up while we were at my mom's work. We made it work, but our meals were rather sad on Sunday and Monday.
3) Group text messages with friends are a godsend. I had two group text messages going during the storm – one with my book club girls and one with my coworkers. They were a godsend, especially my book club ladies because many of us were anxious and fearful and my friend, M., helped calm us down with her more pragmatic approach to the storm. At one point, I was having panic attacks about still being at home when it felt like everyone around me had evacuated and I texted them and they calmed me down. I honestly don't know what I would have down without those group threads!
4) I have so many people in my corner. One of the more amazing things I experienced from Hurricane Irma was the outpouring of love and support from all over. Friends reaching out to me to make sure I'm okay and asking if there was anything they could do meant the world to me. There's something comforting knowing that I've got people in my corner, people who are concerned for my well-being, Dutch's well-being, and my family's well-being.
5) I did not need four cases of water. Oh, boy, I went a little crazy-train with buying water once it became certain we were going to get hit by this hurricane. I went to Publix on Tuesday afternoon and bought four cases… and I did not need that many cases of water. Oh, well, better safe than sorry, right?
6) I cannot read when I'm stressed out. I had hoped to get a lot of reading done before, during, and after the storm, but it just didn't happen. I was too anxious and stressed out before the storm hit to focus on reading, so I basically just refreshed my social media feeds and talked to friends. I didn't even read a ton when we were at my mom's work to ride out the storm. I did some freelance writing, Mom and I played some games, we took a long walk around her parking garage, and the rest of the time was spent checking on Dutch, walking him, feeding him, etc. My reading has picked up a little after the storm passed, but man, reading is difficult when I'm stressed out!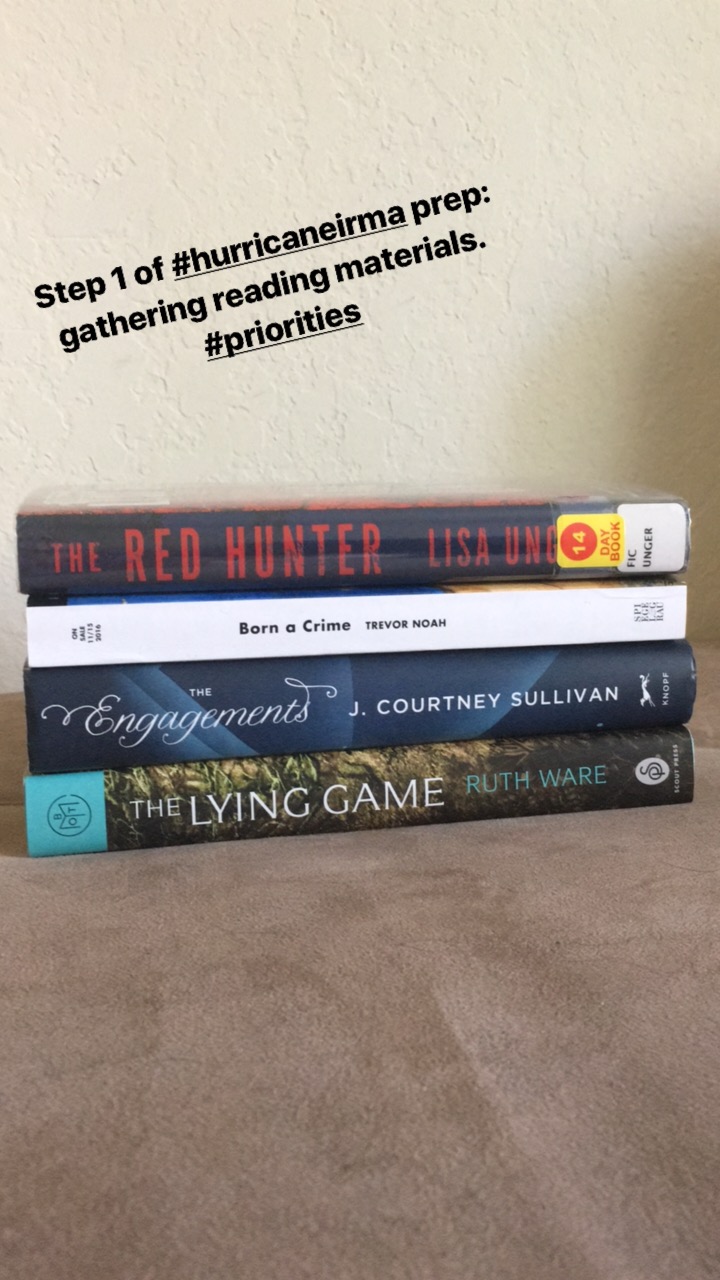 7) We have the best meteorologists in Tampa. Honestly, we do. Between Denis Phillips's calm and informative updates and Paul Dellegato's more nuanced take on the storm, I always knew what was going on and what the effect would be for our area. They helped me feel prepared for whatever would happen and I am so thankful for the hard work of all our area meteorologists – they truly put in so much work to keep us informed.
8) The Tampa Bay area is amazing. You know, Florida gets a lot of shit from people who live in other states. I recently listened to a podcast where someone was like, "Ew, Florida, why are you going there?" and I immediately wanted to delete the podcast from my feed. (Seriously, guys, it's not funny anymore. Get some new jokes!) But you know what? Florida and the Tampa Bay area in general are amazing. It was incredible to see how our community came together during this storm. So many people opened up their homes to those in flood zones (and afterward when millions of Floridians were without power for days). I saw a woman in Publix share her cart with another woman. A local shop gave away free plywood to people in need. Restaurants were sending customers home with bags of ice to keep their food cold if they had lost power. We came together and it was a beautiful thing.
9) I will buy the shit out of some hurricane snacks. Cookies, Little Debbie snacks, Cheetos, white cheddar popcorn, Oreos, M&M's… oh boy, I'm going to need a sugar fast after this hurricane. Hurricane snacks are a real thing and it's amazing how I reverted to a five-year-old when buying them. I just wanted all of the sugar because I knew that if I was going to be stuck inside for days at a time, I'd want comfort food.
10) It's amazing to be so close to Mother Nature's fury. Throughout the day, I took videos of what was happening outside. The winds started around 23 mph in the morning and steadily increased – in the last video I took (around 9:45pm), they were around 45 mph. It was both horrifying and awe-inspiring to be so close to Mother Nature's fury and to realize what a tiny person you are in this universe. Mother Nature is going to do what she wants to do and there is truly nothing you can do to stop it. I think that's what so scary about natural disasters – it reminds you that we are tiny human beings on a big bad planet.