1. I love daily calendars. You know, the ones with a theme where you rip off the day for something new. Last year, I had a dachshund calendar (of course) but I wasn't too impressed with it because the pictures starting rotating after a few months. This year, I decided on a "Damn You Autocorrect" daily calendar which is hilarious as hell but, um, probably not very appropriate for work. Eek. (Good thing I work in a casual office!)
2. Over the long weekend, I went on a social media sabbatical. I had planned to do it over Christmas, but I just didn't feel like it. (I was in a strange, lonely mood and sometimes, I need to be "around" the constant flow of conversation that happens on Twitter.) So after work on Friday, I sent a "goodbye!" tweet, deleted Twitter/Instagram/Facebook from my phone, and just stayed away. And it was really, really nice. It's nice to get away from needing to tweet every silly thought that pops into my head and quiet my mind. Last year, I made a resolution to take a social media break once a month and I want to continue that through this year. I'm planning on taking one weekend (from Friday – Monday morning) a month where I delete my social apps and just live in the moment. I love social media a lot. But I think it's good to get away, too.
3. Tomorrow, I am getting my first massage EVER! And it's a sports massage. Dun dun DUUUUN. I'm nervous about it, but I'm also looking forward to finding out if my tight muscles are the reason why running is so painful for me. Or if I'm just a wimp. Earlier this year, I went to a sports podiatrist to find out why I had so much pain in my ankles when I ran – even when I wore supportive shoes/insoles. The verdict is that my hamstrings, quads, and calf muscles are extremely tight which is causing my other muscles to overcompensate and thus, ankle pain. I kept putting off the sports massage until my mom mentioned a place with reasonable prices. I'm mainly going to get my muscles stretched out and loosen up any kinks. I just hope it helps!
4. I had someone ask to see what my nightstand looks like. It is, far and away, my favorite present I got for Christmas this year. I had a slight suspicion I was getting it, since I saw a large box with Target insignia sitting at my doorstep one day (sorry, Mom!), but it was still a delightful surprise! I had put it on my list, but didn't really imagine I would receive it! And I'm very proud of the fact that I put it together all by myself. I had joked with my brother that I needed him to put it together (which he totally would have) but I wanted to try my hand at it at first. It was pretty easy to follow the steps – but I will admit my brother's electric drill would have been handy! I woke up with my elbows and wrists hurting because of all the twisting I did with my screwdriver. Anyway, the nightstand is below and isn't she gorgeous? It's the perfect height for my bed and it's just nice to have a place to put my odds and ends.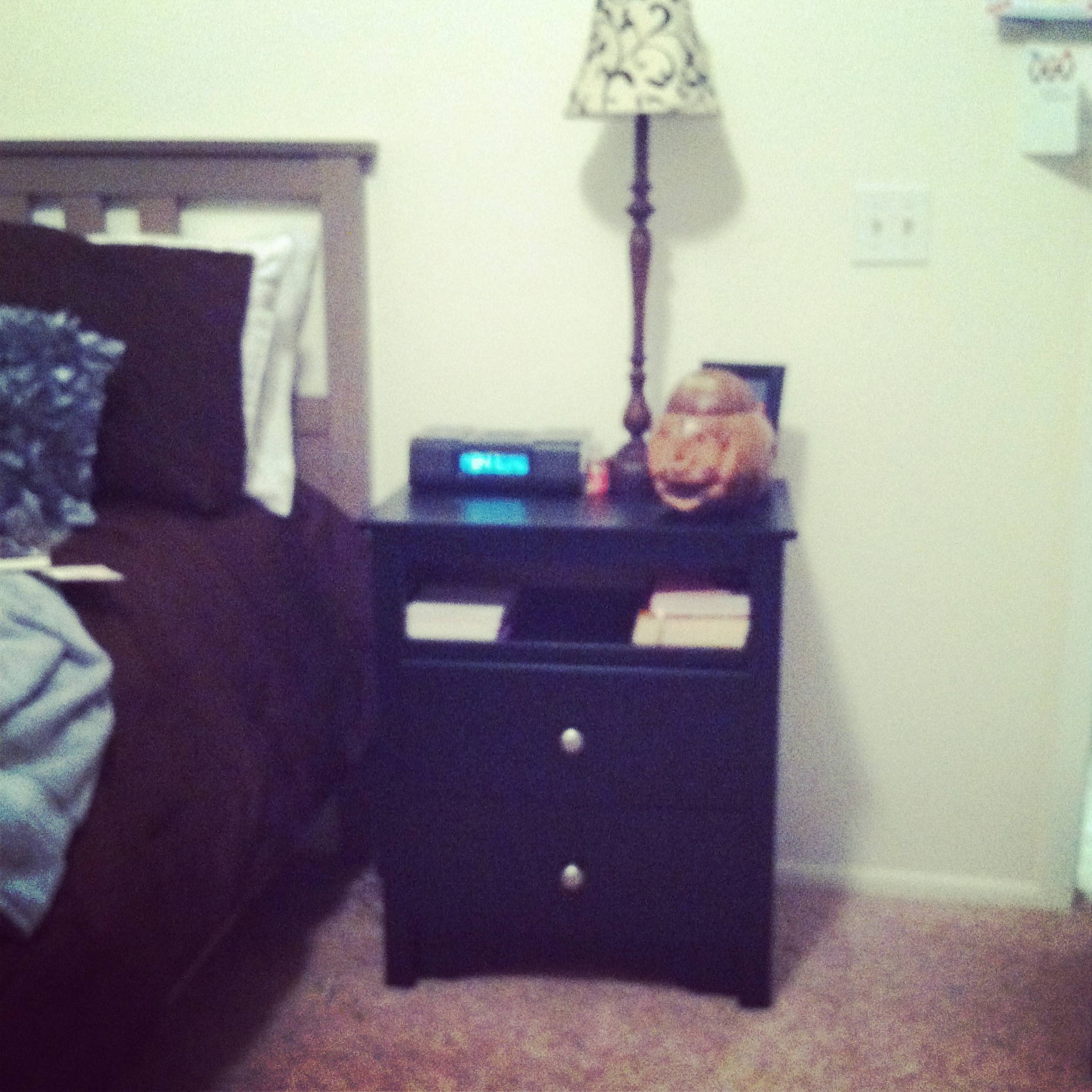 5. I have a very exciting weekend ahead of me and I really can't wait to start it! Saturday morning will start off with my massage and then a hair appointment. Then, my brother is possibly coming over for the Saturday playoff games which will be a lot of fun! We always have a great time together, especially when there's football involved. And he'll be back for the Sunday playoff games, so YAY. Lots of brother time this weekend! And some great playoff games to watch. I don't have any particular favorites in the Wild Card round, though I would like to see the Redskins demolish the Seahawks. It's the Niners fan in me.
Have you ever had a massage? Any fun weekend plans?