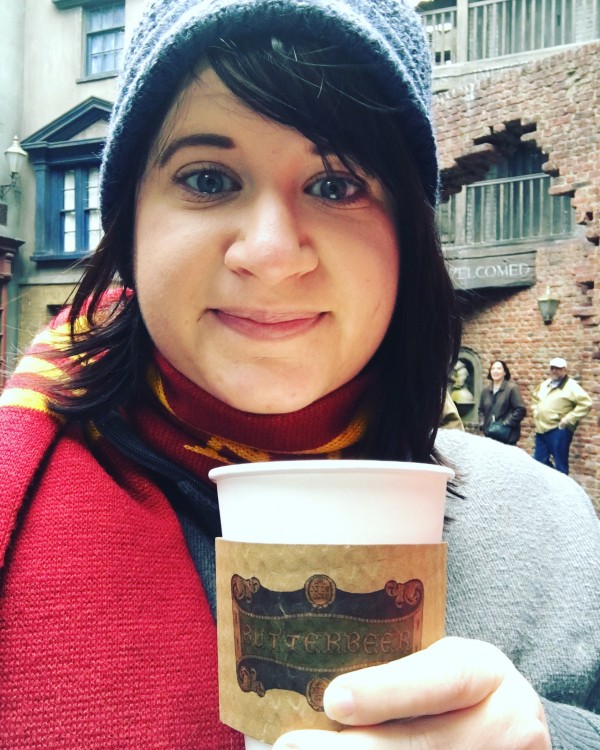 1) Saturday morning, my roommate and I bundled ourselves up and headed to Orlando for some Harry Potter magic. It was a super cold morning (by Florida standards – in the 40s!), but my roommate let me borrow her Gryffindor scarf and once we arrived, we hightailed right to the Leaky Cauldron for hot butterbeer. Oh. You. Guys. Hot butterbeer > cold butterbeer all the days of my life. It was sensational. Rich and creamy and warm and filling. It was everything I ever needed.
2) I woke up on Tuesday with a sore throat, which soon morphed into body aches, plugged ears, sneezing, and congestion. I left work early on Tuesday and spent all of Wednesday in bed, which was exactly what my body needed. So many coworkers, including my roommate, have come down with this illness, so I guess my immune system wasn't strong enough to fight back. (Definitely time to get back to my vitamin regimen.) In any event, I was back at work on Thursday and am feeling as if I'm on the mend. Slowly but surely!
3) The upside to being sick and not having the energy to do much but lounge in bed was that I was able to binge on Gilmore Girls. I finally finished season one and am six episodes into season two. This show gives me all of the happy feels, mostly because my mom and I have such a similar relationship as Lorelei and Rory do. It's fun to have your mom as your best friend!
4) I don't talk about it much on here, but I'm actually a pretty intense NFL football fan. Honestly, get me talking about pro football and you likely can't shut me up. I play fantasy football and I'm not too shabby at playing a "pick 'em" football pool (wherein, you pick the winner of each game each week; the person with the most correct guesses wins). I've been watching as an avid fan since about high school because it was just another way to connect with my dad and my brother. The team I root for the most is the Miami Dolphins, and they don't necessarily make it easy to be their fan. My all-time favorite player, though, has been and always will be Peyton Manning. I love him. So much that I turn into a crazy person when a) he's playing or b) someone talks smack about him. (Oh, and people love talking smack about him.)
So, you can imagine how incredibly delighted I was when the Broncos won the AFC Championship game and Peyton! Will! End! His! Career! At! The! Super! Bowl! I am so thrilled. So. Thrilled. I nearly cried. (I'm a mess when it comes to Peyton, okay?!)
I just really want Peyton to finish out his Hall of Fame career with a Super Bowl win. It's going to be tough (Panthers look really hard to beat!), but nothing would be more epic than that.
(And yes, I do think this is it for Peyton. He's turning 40 in March! He's an old man playing a young man's game. :))
5) This weekend, I don't have much going on. I have my dermatology appointment this afternoon and then book club this evening. On Saturday, my mom and I are meeting for lunch and then going to tour a new place where I might board Dutch during our cruise in March. I've been unhappy with his normal boarder's, and this one comes highly recommended by a coworker. It's a bit more money, but he would get more one-on-one attention and lots of daily walks (and a sweet "villa" to lounge about!). Other than that, though, the rest of my weekend is free for me to work on my novel, read, and lay low so I can hopefully get over this head cold for good!
What are your weekend plans?