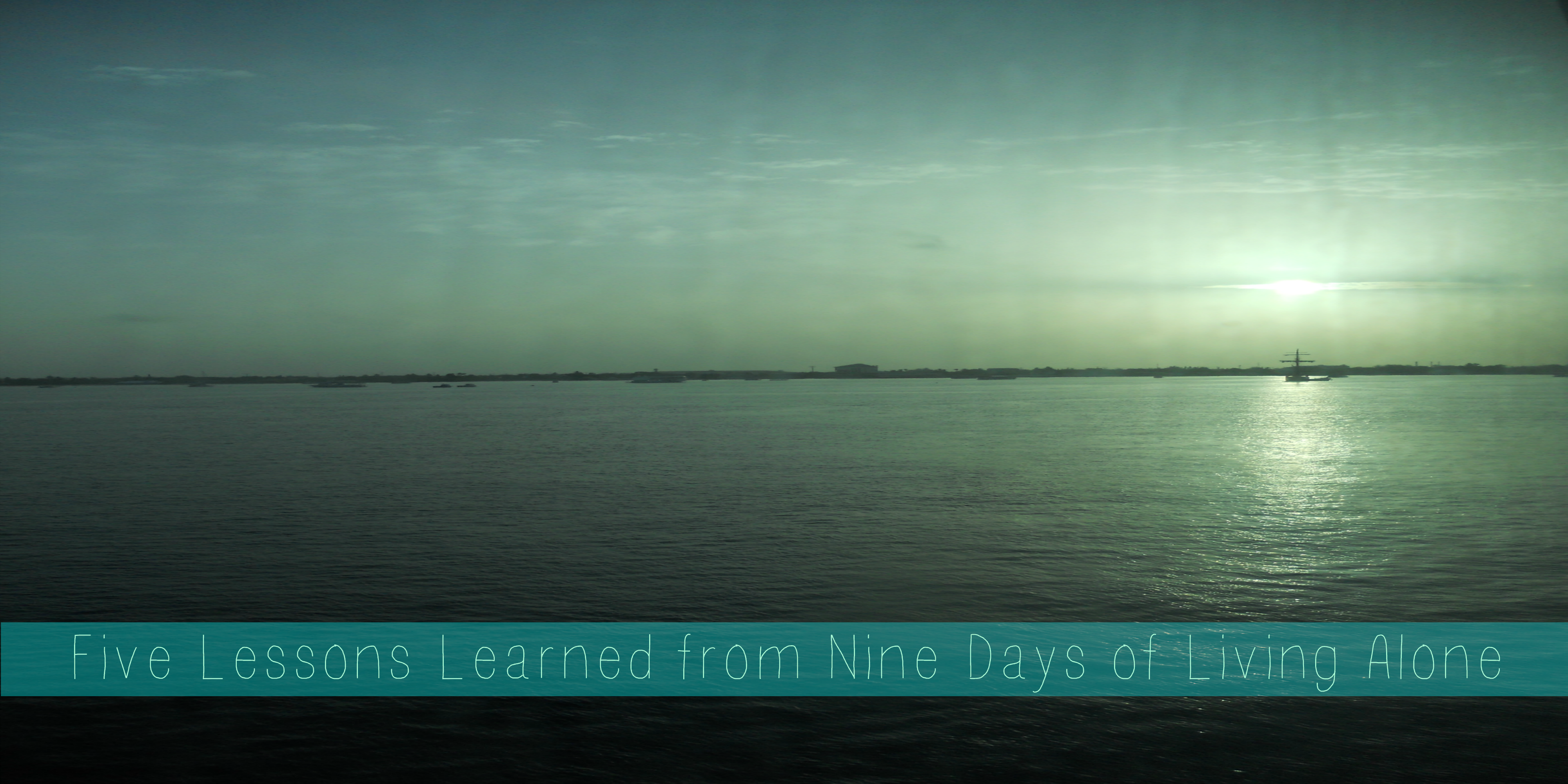 If there is one thing in my life that makes me feel as if I haven't quite gotten rights to my Adulthood Card, it is the fact I still live with my mother. At 25, it feels as if I am a little stunted. This doesn't come from anyplace but inside me, the part of me that worries too much of what other people think and how they perceive me. My mom would be happy for me to stay living with her for a long time, but I know I need to move out on my own. It just won't be happening for another year, since we recently signed on to stay for one more year at this apartment.
(And I love this apartment. I am going to be super sad to leave it. But I could never afford to live here on my own. Sad. Face.)
The truth is, I know I am ready to move out on my own. I am more independent than I give myself credit for and sometimes, the thought of having my own apartment that is mine alone fills me with such excitement and glee.
Last week was my first taste of living on my own, since my mom was gone for 9 days, first picking up her boyfriend in Georgia (long story) and then traveling down to Ft. Lauderdale to take a 6-day cruise. (This is a Big Deal, because it's the most we've ever been away from one another, aside from when I was living at the dorm – but even then, I came home almost every weekend.)
Those nine days gave me a few lessons learned:
Lesson #1: Living on my own will help me to be more social.
Being social is not something that comes easily for me. It can be stressful and anxiety-inducing, and sometimes, it's just easier to stay at home. And living at home with my mom gives me a built-in friend to do things with. It becomes easier for me to say no when friends ask me to go out than yes, because I have my mom. We do a ton of stuff together and that is the reason why I went for so long without having many friends. I didn't need them, right? I had my mom. The truth is, this isn't good for either of us. We've both basically wrapped our lives around one another, which is why her having a boyfriend was a really hard adjustment for me. I wasn't used to sharing my mom, of us having different experiences from one another.
While I wasn't as social as I wanted to be this week (being phoneless didn't help!), I can tell I was more apt to be and I think the longer I live alone, the more natural it will become for me to say yes when friends ask me to hang out. (And make plans with friends myself!)
Lesson #2: I really, really enjoy my alone time. Like. Really, really.
Alone time is precious. I used to be scared to be alone for too long and I think it takes some practice getting used to be alone, used to silence and the ticking of the clock. But once you do get used to it, it becomes this intoxicating thing that you start to crave. At least I do. I enjoy my alone time so much. It recharges me, I look forward to it, and I don't mind the silence. The silence is healing. I used to worry that living on my own would be lonely, and I imagine it could be at times, but I think, most of all, I will really enjoy my alone time and hanging out with myself. Because I am a seriously cool (albeit a bit boring!) person.
Lesson #3: Nighttime is really scary when you're all alone and all you have for protection is an 11-lb dachshund whose bark is really worse than his bite.
So can we talk about how frightening it is to walk around a dark apartment at midnight and just hope there's not a murderer lurking in the shadows ready to kill you? This can't just be me, right? I don't typically get nervous at night when my mom is home, but man, nighttime was a little creepy this week. I could usually calm myself down and I didn't get seriously freaked, but yeah, I wasn't a huge fan of the nighttime.
Lesson #4: Having a dog helps with feelings of loneliness.
Dogs are the best little buddies. I really think Dutch helped me with any feelings of loneliness I may have had. He greeted me every time I walked in the door with happy barks, snuggled with me whenever I needed the cuddles, and followed me everywhere. It's hard to feel lonely when you have a dog! They just really make everything better. I am sure I may not have been as okay, if not for Dutch. It was like having another person around! A very tiny person who needs to be walked constantly and licks your face when it's time to get up.
Lesson #5: I like having time to do whatever I want, whenever I want.
My mom and I do a lot of stuff together. We eat dinner together, we watch TV together, we run errands together, we go to get-togethers together… and I love it. I love being around my mom and I love how close we are. But, I have to say, it was really, really nice to be able to do whatever I want, whenever I want, however I want. It was nice to be able to set the pace for my day and only have to worry about attending to my needs and wants. I am definitely someone who loves low-key weekends at home, where I tackle a big to-do list and get a lot of writing done, while my mom is someone who constantly wants to be on the go. So we have to compromise a lot. This week, it was nice to set the pace of my weekends and not have to worry about what she wanted to do… just what I wanted to do. It felt great!
**
I was very happy to welcome my mom back on Sunday afternoon, because I missed her way more than I thought I would. She's one of my favorite people and I just missed being around her! But these nine days were good for both of us. We need to be okay with doing things with other people, being more independent of each other. It showed me that I am really going to enjoy living on my own, that I am absolutely ready to take this next step into adulthood, and that, no matter what happens, my mom and I will always be close.
I realize I am going to have to get used to doing things on my own, as my dating life is very sad and I don't see marriage (or even a serious relationship) in my near future. And I want to embrace this time. I want to enjoy this time in my life where I am single and able to do whatever I want. I'm not saying my life will end when I get married, but this is the one time where I can be completely selfish with my time and doing what I want. I hear of so many people who say that they wish they had gotten a chance to live on their own before settling down and I want that, too. I want to experience life on my own, finding out who I am and what I want through that, before my life becomes wrapped up in a husband and a family. This week was just a tiny dip into what life on my own will be like, and it fills me with a lot of confidence and excitement for when I can take the leap and move out.