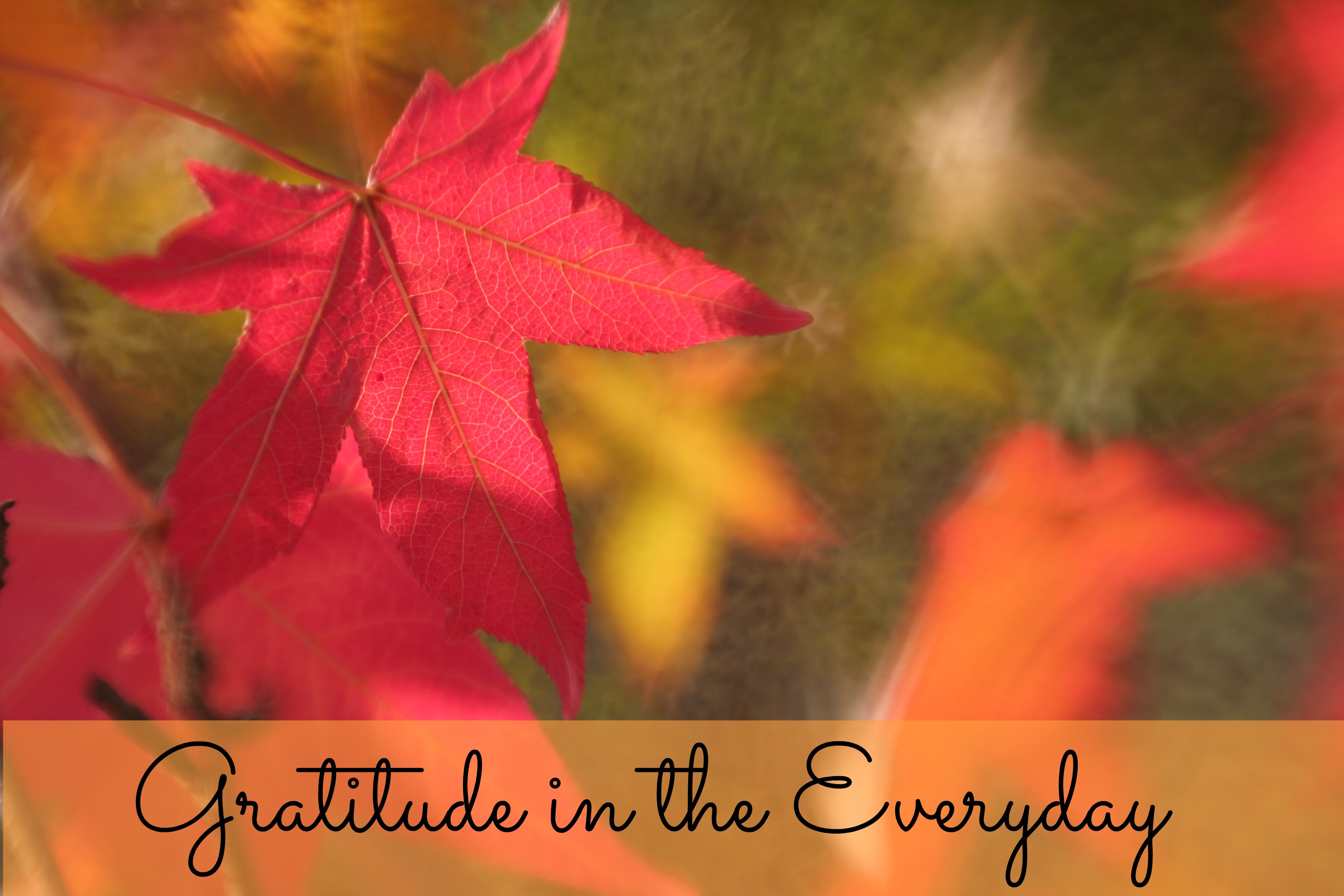 Happy Wednesday! Today, my work is throwing a Thanksgiving potluck and there is so much good food that we're all probably going to be in a coma by the afternoon! Yum, yum!
I'm back with my second installment in my gratitude series. These questions are really great to make me think deeply about my life and the good things I get to experience.
7 – The strongest part of my body in this moment is my mind.

This is a hard question! I can't honestly say any physical parts of my body are strong. Hopefully, this time next year, I can say something different, but I'm just not there yet. But my mind is quite strong. Oh, it can be a bit crazy at times. (Like the fact I worried almost the entire time of my girls cruise that Dutch had died. Wonderful, right?) But mainly, it is strong. My mind is what helps me at work, at life, when I'm with friends, with family, with strangers. My mind is never quiet, it's always buzzing. It is creating plots and stories to tell. It is emoting inside what I can't say or show on the outside. It is helping me to think deeply about my life and what I want. It's helping me to form sentences and think of witty comebacks. The only way I can write, and have the career I do, is because of my mind.
8 – Even after a rough day, the things I'm most grateful for at work are funny coworkers, a great boss, and the ability to work at my own pace.
Honestly, rough days don't happen here as much as they did at my old job. I'm only three months into the new gig, but just about every day is wonderful. (Or, at the very least, good.) I have awesome coworkers (even though I'm still waiting to find my work BFF!). Our crew is a young one, most of us in our mid-twenties to early thirties so that's a fun difference from my last position. And the upper management team knows how to treat people well, in the sense of treating their employees like human beings and making sure they have all the tools they need to succeed. (My last job? It was the total opposite.)
My boss/editor is amazing. She has been such a great help as I settle in and learn how to figure this job out. And the fact that she signs every email "Happy Friday Eve!" on Thursday makes me smile.
Also, I love working at my own pace. My boss isn't looking over my shoulder or constantly questioning me. She gives me work and then leaves me be. I'm not one who likes asking questions, preferring to figure things out on my own (which is both good and bad), so I like that she doesn't feel the need to micromanage me. This job is very self-paced, which is where I excel, so I'm happy to be in a place where I can do that.
9 – I'm grateful that my legs carry me on five-minute runs.
While it may not seem like a lot to some people, but it feels major to me. You see, I really, really want to become a runner. I've been trying to become a runner for many years now. I don't yearn for marathons, or even half-marathons. I'd just like to be able to run 3 miles a few times a week. Maybe do a few 5Ks. But god, running is awful. I don't really like it, yet I still have this want to become a runner. I finally realized run/walk intervals don't work for me. What has been working for me is giving myself a time goal to shoot for. First, it was to run as long as I could before I felt like stopping. That was 1 minute, 45 seconds. Pitiful, but it was my starting point. And each run after that, I aimed to increase my time. Two minutes, two-and-a-half minutes, three minutes… so on and so on. Currently, I'm up to running for five minutes straight, and looking to increase that with each subsequent run. It's hard. It hurts. But… I kinda like it. Sure, this means building up to run a full 3 miles without stopping will take me a long, long time… but I'm finding myself much more excited about running doing it this way. And that's really all that matters, isn't it?
10 – I felt a little burst of energy today when I had my 90-day review and it went wonderfully!
I'm writing this post on Tuesday and Tuesday marked three months at my new position. Three months! It went by in a flash. I also had my 90-day review and it went amazingly well. At my last job (is anyone sick of this phrase yet?), our reviews were intense and scary and always left me feeling a bit down on myself. Also, fun fact, at my one-year review, I was told one of my goals was to make no mistakes. MAKE. NO. MISTAKES. BECAUSE I AM A ROBOT. Sigh. But this review was very low-key and laid-back and easy. My editor is happy with my writing and my progress, and I am happy with the work I am doing, so it was all a big party of happy. And I was given a raise, which I wasn't expecting, so I'll just be over here on cloud nine, thankyouverymuch.
11 – The best song I heard today was I Put A Spell on You by Jacquie Lee (from The Voice!).
It blows my mind that this girl is just sixteen years old. I am still upset that Preston isn't on The Voice anymore, but Jacquie is my second favorite. She's adorable, quirky, and the voice that comes out of her tiny body is insane. I downloaded the single on iTunes right after her performance, because I loved it so much. For your listening and viewing pleasure:

12 – When I look inside my closet, I'm grateful for the much-loved shirts, perfectly-fitting slacks, and dresses that make me feel feminine and pretty.
I like to open my closet and complain loudly that I have nothing to wear. I think it's the plight of the girl. Our closets are full, but we just want more. Lately, I've been feeling a need to update my wardrobe. I want to feel good in what I'm wearing and a lot of the clothes sitting in my closet don't make me feel that way. I've taken to keeping a bag on hand for Goodwill donations for anytime I wear a piece of clothing that doesn't make me feel great. If something I wear doesn't make me feel good, it goes straight in the bag. Even if I am overweight, I still deserve to feel good in what I'm wearing! So while there is a lot I don't love about my closet, there are certain shirts that I wear on a constant rotation because I love the way they fit and the way they make me feel. I have a pair of slacks that I recently bought at Kohl's that fit me in length and size (new rule: I cannot buy slacks unless they are specifically made for petites. Nothing else fits the way it should!) and make me feel wonderful when I put them on. And then there are the dresses that are fun and flirty and modest, perfect for work or a fancy dinner out.
So while I do eventually want to work on building a more loved closet, there are certain items that I am very grateful for, because of the way they make me feel.
What is the strongest part of your body? What are you most grateful for at work, even during the rough days?