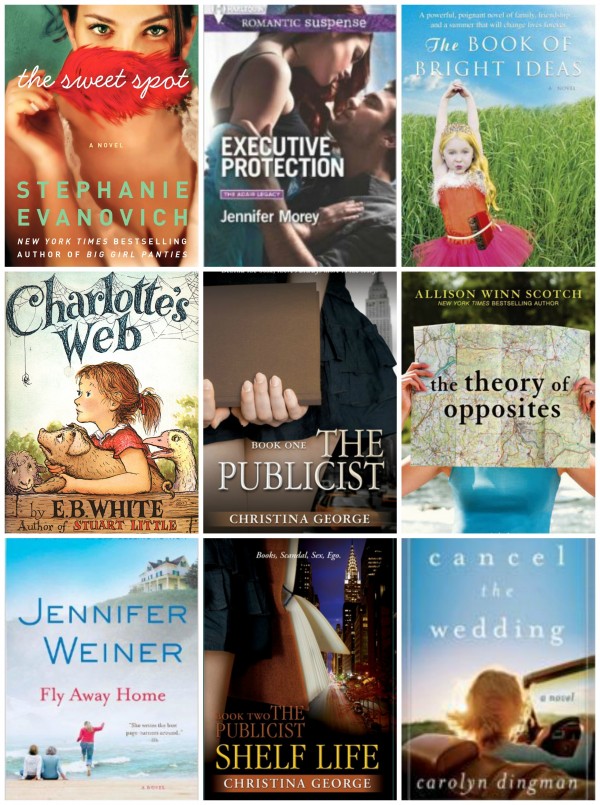 I had a wonderful reading month! In July, I read 9 books, bringing my total for the year up to 51 books and way, way ahead of schedule to read 75 books this year. I know I won't be able to read 100 books, but maybe 90? That would be awesome! My favorite book I read this month was The Theory of Opposites and my least favorite was Executive Protection.
1. The Sweet Spot by Stephanie Evanovich – 2 stars
I reviewed this book on my blog for TLC Book Tours. I wasn't a fan, and my reasons why are apparent in the review.
2. Executive Protection by Jennifer Morey – 1 star
There was so many things about this book that I didn't like that it's hard to know where to start, but my Goodreads review lays it out very nicely. There was a lack of emotion in the writing, plot lines that were so unbelievable (and the plot line of a Harlequin novel is already pretty unbelievable) they made me laugh, and just… the writing wasn't very good. It's hard to be so critical of a novel when I sit here as someone who has not published a book, but I have to be honest, right? It had potential, but the writing was too weak.
3. The Book of Bright Ideas by Sandra Kring – 4.5 stars
We read this novel for book club and it was such a great read. I think we all gave it a high rating. I really love books that are set in the South and take place in the 50s or 60s. There is just something special about that time period for me. This book has a nine-year-old protagonist, which can sometimes be a detriment to a novel but it really worked for this one. It felt really authentic. This was the type of book that reminded me why I love to read so much. Stories like this make it all worth it.
4. Charlotte's Web by E.B. White* – 3 stars
This was one of the books on my reading list. I think I may have read this when I was younger, but I wasn't sure if I had. It was a super quick read, and I'll admit that I skimmed a lot of it because the language was written at an elementary level. I'm sure if I was eight, I would have adored the book but reading it at 26? It was okay, but I could see by it's so beloved.
5. The Publicist by Christina George – 3 stars
I'd seen this book being reviewed by other bloggers – and they all gave rave reviews – so when I found out this book and the next book in the series were on sale for $1.99, I snatched them up. Honestly, I didn't really love it. While it was interesting to get an insider's view into the world of book publishing, I was really underwhelmed by the writing and the plot. There is an infidelity aspect and the author really tries to get the reader on her side to root for the romance, but I just couldn't. I didn't feel any passion, and the characters felt very underdeveloped. And, please, for the love of everything holy and good of romance novels, never, ever, ever, ever, ever refer to making love as a "sexual storm." No. Never. Do not. Ever. Stop. STAAAAAHP.
6. The Theory of Opposites by Allison Winn Scotch – 5 stars
Oh, my heavens, did I love this book. I actually spent an entire Saturday morning and part of the afternoon snuggled in my bed, reading the second half of the novel because I loved it so much and couldn't put it down for anything. It's chick lit, but the main character never made me roll my eyes with being flighty and stupid. She had her issues (don't we all?), but I really love the way the plot moved along. And I was super, super satisfied with the ending. A must read, in my opinion!
7. Fly Away Home by Jennifer Weiner – 4 stars
WELP. I must say, I think I am becoming a Jennifer Weiner fan. The first few novels I read I didn't love (Best Friends Forever being one I had to abandon), but I've read quite a few more since then and I've grown to love her writing style. Her books have the right amount of character development, smart dialogue, and a plot that makes me happy and sad. I'm a fan!
8. Shelf Life by Christina George – 2 stars
I wasn't keen on reading the second novel in George's series because I thought her first novel (above) was just okay. But I paid for my copy and I was going to read it! I was hoping for a better story, but this one was even more underwhelming than the first. It was suuuper boring and I thought about abandoning it multiple times (never a good sign!). I didn't love the push-pull of the love triangle. I didn't love the writing. I didn't love the ending.
9. Cancel the Wedding by Carolyn T. Dingman – 5 stars
I'm writing a review for TLC Book Tours on this novel that will be up in the next couple of weeks. Stay tuned for my thoughts on this one!
How many books did you read in July? What time period and/or setting do you love to read about the most?
*Part of my Rory Gilmore Reading Challenge