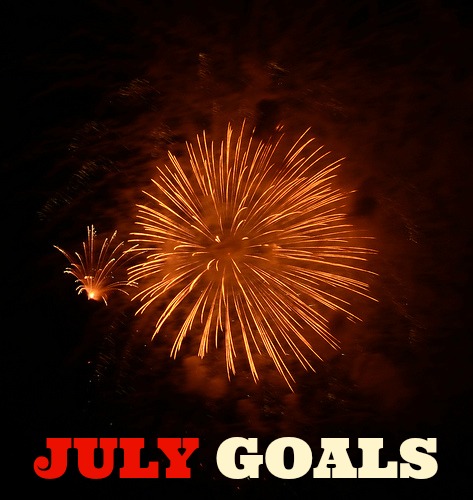 Is this year flying by, or what? I can't believe we're halfway through 2014 already! Weren't we ringing in the new year a week ago? It's so crazy.
I have spent the past week thinking about how I want to attack the last half of the year, what I want to put in place now to end the year on a high note. I know I'm not incredibly happy with my progress so far in 2014, so I want to really focus and hone in on my big goals so I can sit back at the end of December and feel proud of myself.
With all that said, here's how I did on my goals for June.
Recapping June goals…
Start my spending freeze, pay off my credit card, and bring my emergency savings to $700. I was able to pay off my credit card – yay! It wasn't maxed out or anything, but I had been putting purchases on it here and there so the balance was a little high. But because of that, I wasn't able to sock any money away in my emergency savings.
Write a new "About Me" page for the blog, and put up "Hire Me"/"Contact Me" pages. Yes! I have a new About Me page up, and just added the other two pages over the weekend.
Go back to church. Yes! And I am so happy to be back. It feels so right.
Lose 5 lbs. I haven't weighed myself lately, but I'm pretty sure I can mark this goal as a fail.
Make a dentist appointment. No, but not for lack of trying! When I called to make my appointment last week, I was informed I needed to claim this particular dentist office on my health insurance. (I've never heard of this!) So I did that, but it takes a few days for all the paperwork to go through. Hopefully going to make the appointment this month, though!
In July, I want to…
Complete 31 workouts in 31 days. I got this idea from Lisa, who just finished 91 workouts in 91 days(!). I'm so inspired by her, and I think taking on this challenge is exactly what I need to get back to a regular exercise routine. I am aiming to work out every day, but I'm sure there will be some days where I can't so I'll have to double up on my workouts on certain days.
Participate in Camp NaNoWriMo and write 31,000 words of my novel. This is a big goal, and I hope I can accomplish it! I know I have some quiet weekends ahead of me, so that will be helpful for catching up if I need it. My main goal is to write 1,000 words every day, which is how I came to my number of 31,000 words.
Take an adventure somewhere. Summer is for simple adventures, right? I don't care what I do… if I'm with my mom, with friends, or by myself… but I want to just get outside and go on a little adventure.
Start the process of re-categorizing and tagging my posts. Oh, this should be a fun job. I have almost 800 posts to go through, so this is going to be a l-o-o-o-o-o-n-g process. But I've wanted to do this for a very long time, so I just need to get 'er done! My goal is to work through 100 of those 800 posts in July.
Add $500 to my emergency fund. As long as I tighten up with my spending habits, this is 100% doable.
What goals are you working on in July?