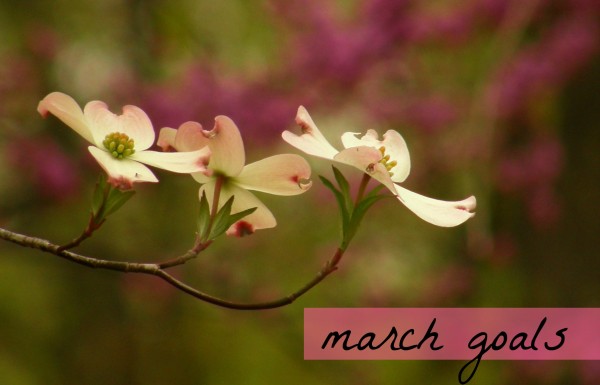 And suddenly it's March! February was a wonderfully exciting month. I went through a breakup that only made me feel happiness and relief, and this steadfast assuredness that singleness is right where I want to be. I became an aunt for the second time, and my brand-new nephew is squishy and adorable. And I celebrated Valentine's Day with one of my favorite gal pals, complete with DIY pizza, Clueless, and manicures. All in all, I can look back on February with lots of fondness.
Here's a look back on the goals I set for last month and the progress I made with them:
> finances: start using a cash budget system for groceries and extra expenses
I attempted this, but did not follow through like I should have. Early on in the month, I came to the conclusion that using a cash budget for my groceries just doesn't work for me. But I really do want to get better at using cash for any extra purchases – toiletries, meals out, shopping, etc. I need to be stricter with myself and learn that when my cash is gone, I can't just supplement with my debit or credit card. (Duh, Steph!)
> nagging task: clean out and declutter the screened-in patio
Success! Cleaning out the screened-in patio has been the epitome of a nagging task. My mom and I have been talking for months about how we need to clean it out, but we just… don't. We set aside some time last weekend and cleaned it out. We got rid of so much stuff: two bikes, a heavy tool box, three beach chairs, a painting that we never hung up, and tons of other odds and ends. I am so glad to cross this task off my list! Here is the before and after:
> health: start using a food journal to track what I'm eating and how I'm feeling
Yes! I originally started by using a paper journal and tracking down what I was eating and how it made me feel, but I quickly realized that method wasn't working for me. I didn't feel good about it. So I switched over to MyFitnessPal, which I know works better for me. Calorie counting isn't ideal, but it does work and it helps me with portion control. I just gotta be consistent!
> exploration: visit the zoo
I didn't get around to visiting the zoo this month. The day I had planned to go wound up being my nephew's birthday! 🙂
> personal habit: turning off the computer and TV by 8:00 p.m.
I am not doing this all the time, but I am doing it more often than not. And I feel so good when I do shut everything down by 8pm, take a long and hot bubble bath, and settle into bed to read for 30-45 minutes. It's the perfect way to end the day!
Three out of the five goals achieved! I am very happy about that because I crossed off some really big goals. Here are the goals I'll be striving for in March:
> finances: utilize a cash budget system for toiletries, eating out, and other entertainment
> nagging task: launch a new blog theme
> health: eliminate soda completely from my diet 
> exploration: enjoy Savannah and eat at Olde Pink House
> personal habit: buy an alarm clock and stop using my phone right before bed and right as I wake up
What is one goal you'd like to accomplish in March?