So I'm trying something different this year. I want to be more intentional about documenting my life, so I really remember all of the moments that make up a month: the good ones, the bad ones, the learning experiences, the triumphs. All of it deserves my recognition. So that's what I've done – I'm looking back on my month in six different ways: moments, pictures, books, movies, podcasts, and goals. This will be a lengthy post, but I hope it will give a pretty great overview of my month and everything that happened.
January in Moments
The first month of the year carries so much weight. We all want the year to get off to the best start possible! In some ways, this was a really good month and in other ways, not so much.
I went to the circus in January. It was a pretty last-minute decision, but my friend had free tickets through her work, so I went with her and another friend. And it was fun! It was a lot of fun. But I ended up feeling a little weird about the whole "animals performing for my entertainment" deal. Kinda how I feel about Sea World.
I went on a really good first date with a guy I met off Tinder, but then we had a really, really, really bad second date the following weekend. Like, easily my worst date ever. Hilariously awful.
My brother and I went on our first movie date in years and it was all kinds of wonderful. I don't even think my oldest nephew was alive the last time we had a one-on-one movie date. We were more than due for this. I also went to Cinebistro in Hyde Park with my roommate for a movie date, and I never want to go to another kind of movie theater ever again.
My favorite coworker left my company and I was heartbroken, but happy for him. It's hard when people leave, even when we know it's for the best.
In January, I bit the bullet and did something I'd been dying to do: I got bangs! I am so, so, so happy with the change and have gotten so many compliments. I feel like a completely new person.
I dealt with a lot of health issues this month. My chronic congestion kept me miserable, so I tried a neti pot and humidifier. Neither helped. Then, the last week of the month, I developed a head cold and had to take off work for two days, so that wasn't fun. Lastly, I had to get a mole on my back biopsied and I'll find out the results of that within a week or so. I'm trying not to worry about it, but I do know that nearly 10,000 people a year die from melanoma, so.
January also brought colder temperatures to Florida, a trip to the Wizarding World of Harry Potter where I tried hot butterbeer for the first time, and seeing my grandma's gravestone for the first time, which was all kinds of emotional and hard. I still can't believe that she is really gone forever.
January in Pictures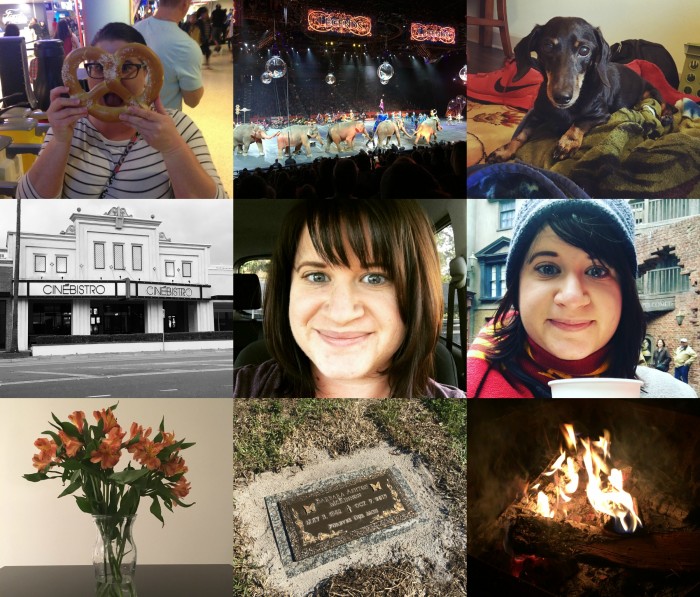 Clockwise from left: (1) a pretzel bigger than my face (2) circus! (3) Dutch (4) Cinebistro is very Instagram-worthy (5) Bangs! (6) A cold day and hot butterbeer make for a happy Steph (7) flowers for the apartment (8) my grandma's gravestone (9) bonfire at book club
January in Books
I read seven books in January for a total of 2,301 pages read. Two of the books were diverse. Here's what I read:
January in Movies
I ended up watching three movies in January, which may not seem like a lot to some but is for me! I'm not much of a movie buff. Here's what I saw:
Daddy's Home – Typical Will Ferrell comedy, but I love his movies so I enjoyed this one. Not his best, but still funny.
Sisters – Tina Fey and Amy Poehler can do no wrong. I loved this movie. It was hilarious!
Forrest Gump – I loved seeing Savannah at the beginning of this movie. And I loved Tom Hanks, as per usual. The movie left me feeling very melancholy, though, so I'm not sure how I feel about it.
January in Podcasts
I added three new shows to my feed, but they are still in the "trying out" phase (I give every podcast five episodes to hook me in), but I am enjoying them so they might have the staying power to remain in my feed:
Pop Culture Happy Hour – I kept hearing about this show, so I decided to give it a try. I really like it so far, but it is kind of dull to listen to people talk for 20-30 minutes about a movie you haven't seen and don't plan on seeing. So we'll see if I keep it.
Another Round – I heard about this podcast through Happier with Gretchen Rubin and I'm kinda enamored with the hosts and I like that it covers a lot of topics I don't hear about from my other podcasts. Pretty sure this one is staying for good.
What Should I Read Next? – I learned about this podcast through Kathleen. In this podcast, the host talks to a guest about three books they loved (and why), one book they hated (and why), and what they are currently reading. Based on that discussion, the host will recommend three books to read. It's a fun premise!
For my regular podcasts, I really enjoyed the following episodes:
January in Goals
The goals I made this month are tied to my yearly intentions, but here is some of what I wanted to accomplish:
I wanted to outline my novel, but I didn't really make the time for this goal like I wanted to. I do have a good idea of how I want to change and re-write certain parts of my book, but I do wish I had spent more time with this goal.
I wanted to exercise three times per week. I achieved this goal, aside from the last week because I got sick and only exercised one day.
I wanted to drink 16 ounces of water per day, but this was a struggle for me and I think I only achieved it half of the time.
I wanted to buy a neti pot to see if that cleared up my congestion. I did this; it did not help.
I wanted to go on two dates (check!) and have an adventure (check! – counting going to the circus as my adventure).
I wanted to read the first Harry Potter novel (check!) and watch Forrest Gump (check!).
What was one highlight for you from January?