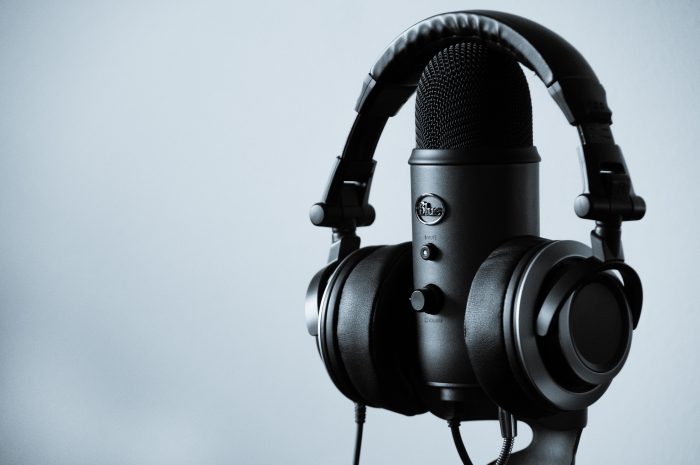 It's that time of the year – time to talk about my current favorite podcasts! Once a year, I like to compile a list of my recent favorites to help anyone who's looking for something new to add to their feed. I've been a religious podcast user since 2014. I have one constantly playing while I'm driving, cleaning, going for walks, getting ready for work, winding down for bed, and even sometimes while I'm working. Me and podcasts go together like peanut butter and jelly. 😉
This year, I decided to break this post into specific categories and talk about my favorites in those categories. This post is looooong (it's possible I listen to too many podcasts), so settle in, friends. Let's get to it!
Bookish Podcasts
All the Books! – Learn all about new releases from this podcast, hosted by Liberty Hardy and a rotating mix of co-hosts. I love that they don't only talk about the buzzy books, but ones that may fall under the radar. I find myself fast-forwarding through a lot of this, especially if they're talking about a book that's already on my TBR list or in a genre I don't read (I've given up on books of short stories, just not my thing!). But it's fun and short and Liberty always makes me laugh.
Annotated – This podcast uses a storytelling format to discuss interesting topics in the world of books and reading. Every episode is short, around 20 minutes, and I find that it's the perfect length for a simple news-y bookish story. I wish the audio was a bit better because I can't really listen to this podcast in my car (I don't have Bluetooth; I just turn the volume up to the max to listen when I'm driving), but I would still consider it a well-produced show.
The Baby-Sitters Club Club – By far, my favorite podcast! Jack and Tanner, two men in their thirties, discuss The Baby-Sitter's Club series from beginning to end. They are funny, self-deprecating, and never fail to have really interesting takeaways from these books. They have segments like "Burn of the Week," "Claudia's Closet," and "Tearful Moment," and I still love the idea that Jackie Rodowsky, walking disaster, is actually a time traveler. If you're going to listen to this podcast, you must start at the beginning. The inside jokes will make no sense otherwise. But believe me, it's well worth it.
Book Riot – The Podcast – A long-time favorite of mine, this podcast has been on this list from the beginning. Jeff and Rebecca, who run the Book Riot website, talk about everything that's happening in the publishing world today and have really great conversations about diversity, inclusion, and sexism. It's really my go-to recommendation for anyone who loves books because being a book lover is about more than reading – it's also about the publishing industry and how it can so easily marginalize the voices we need to hear the most.
What Should I Read Next? – Anne Bogel of Modern Mrs. Darcy fame hosts this bookish podcast, where guests are given book recommendations after they tell Anne three books they loved, one book they hated, and what they've been reading lately. The episodes are longer now than they were in the beginning because Anne delves deep into the guest's reading life before diving into the recommendation segment and that's always fun. I love learning about how other people live and experience their own bookish lives.
Interview-Style Podcasts
Armchair Expert with Dax Shepard – Dax Shepard has a podcast! And it's fantastic! Dax is a phenomenal interviewer, mostly because he's not afraid to ask tough questions and get super vulnerable with his guests. He mostly interviews celebrities, but has started to interview actual experts lately (like a child psychologist). Every episode is so fascinating and it's fun to learn about these celebrities in an entirely different way. Every episode ends with fact check segment, where Dax's producer sits down and tells him everything he got factually wrong during the interview.
Real Talk Radio with Nicole Antoinette – I've been listening to Nicole's podcast from the beginning and I'm even a subscriber to her Patreon because I wanted to show my support in a tangible way. Real Talk Radio is broken down in seasons, with eight episodes per season, and I've been really impressed with the diversity of guests she has been inviting on her show lately. It's so important to listen and engage in alternate viewpoints, and I feel like I really get a chance to do that with this show.
Feminist Podcasts
Call Your Girlfriend – Hosted by two best friends who live on opposite sides of the country, this podcast is one of those that I go through periods of loving and loathing, ha. (One of the hosts can be a bit grating at times, I'll be honest.) Right now, though, I'm loving it and taking comfort in their rants about the state of politics today. The episodes range from interview-style where they talk to authors, activists, political leaders, and other women doing cool things to just regular chit-chat where they discuss what's going on in pop culture and politics today.
Unladylike – If this isn't in your podcast feed, why the hell not? It's fantastic and covers so many important topics affecting feminists today. It's hosted by Cristen and Caroline, who used to be the hosts of Stuff Mom Never Told You, and they have put together a seriously engaging podcast. Each episode features short interviews with women, as well as facts-based research to back up their claims. They've talked about the true cost of abortion, surviving menopause when you're going through it wayyy earlier than you ever expected, and what it's like to be a "weedpreneur."
Culture Podcasts
Death, Sex & Money – Host Anna Sale interviews celebrities and regular people to talk about those taboo subjects we like to keep quiet: death, sex, and money. Recent episodes have included people talking about their student loan debt, their thoughts on manhood today, and what it's like to date in today's online world. The episodes are short, usually less than 30 minutes in length. I also really love Anna's interviewing style and the way she digs into the real heart of the matter.
Good Christian Fun – Did you grow up with Christian pop cultures in the 90s and early aughts? If so, please do yourself a favor and listen to this podcast. It's hosted by two Christians, but both of them have been through their own journey of faith over the past few years. Every week, they discuss something in Christian pop culture, as well as hunt for the "Worst Christian song of all time." Each episode includes a guest who may or may not be a Christian, and it's always super eye-opening when they talk about their own journey of faith. This podcast has been a defining part of my world over the past year, helping me come to terms with my own crisis of faith.
Keep It! – A Crooked Media podcast that talks about pop culture through the lens of politics. It's hosted by culture critic Ira Madison III, writer Kara Brown, and writer Louis Virtel, and it definitely makes me think about my white, cis-gender privilege. Kara is not afraid to tell it like it is and that can make her seem unlikable to some, but she really challenges my viewpoints and beliefs. I'm not really that involved with what's going on in pop culture (I probably couldn't name one Drake song off the top of my head, honestly), but there's something about the way that these three discuss pop culture that has me hooked every week. Give it a listen!
Smartest Person in the Room – This podcast is broken down into seasons, each with a specific focus, and the latest season was easily the best and one that everyone needs to listen to. Host Laura Tremaine dubbed it the "bias" series, but it's really about race and what it's like to be black in America today. Other series have included religion, mind/body, and Hollywood. I love Laura's interviewing style and anticipate every new season.
Political Podcasts
Lovett or Leave It – This game show-style podcast is my favorite way to consume politics today. It's hosted by former Obama speechwriter, Jon Lovett, and each week, there are three new guests on the panel to discuss what's happening in politics lately and play some fun games. No matter how depressing the news is, Lovett and his guests find a way to keep things light-hearted (within reason – sometimes, it's just not possible) and get people laughing.
Pod Save America – Is any podcast list complete without Pod Save America? This political podcast is hosted by four former Obama staffers who go through the news in a serious yet also light-hearted manner. They don't hold back their emotions, so you hear their anger, their discouragement, their shock, and sometimes their humor (because sometimes, the only way to get through this is to laugh at the absurdity.) I'll be honest and say that I have to take breaks from this podcast every now and then when the news is just too depressing. But, generally, it's one of my favorites to listen to because it's just so damn informative. As someone who didn't follow politics closely at all until the recent election, I find that I learn something new with every episode.
Football Podcasts
Fantasy Focus Football – Oh yes, I am that much of a football nerd that I listen to actual football podcasts. They basically take up my feed during football season! This one is hosted by two fantasy football experts and an injury analyst, and they basically just break down what you should be doing with your fantasy team every week. I don't listen to every episode (during football season, it's on five times a week), but it's informative, funny, and easy listening.
Nickel Package – This podcast is a bit different from what's out there in the podcasting space, as it has five episodes a week, each with a different set of hosts. These hosts bring to the table different types of football knowledge, so they share updates related to that knowledge. I only listen to Thursday episodes when Mina Kimes and Domonique Foxworth host (or, as they call it, "minority Thursdays") because their rapport is so perfect. They bicker like a brother and sister would, and it's everything to me. I feel like this is what hosting a podcast with my brother would be like, ha. Also, both of them have so much football knowledge that it blows my mind.
Miscellaneous
This American Life – Easily one of the best podcasts around, solely due to its honest storytelling format. One of my coworkers listens to TAL religiously, and we often have long conversations about the episodes because they truly blow my mind. TAL is weird in the fact that I never get super excited when one of the episodes downloads to my feed, but once I start one, it draws me in immediately and I'm hooked. The power of Ira Glass, I guess.
The Girl Next Door – I'm still not fully caught up with this podcast, and I kinda think it's weird how much I love it since it's so focused on motherhood, but there's just something about Kelsey and Erica that appeals to me! In this podcast, two friends have an hour-long chat about a certain topic. They talk about cleaning routines, habits, marriage after motherhood, money, creative projects, and soooo much more. It's just one of those podcasts that is light-hearted, fun, hilarious, and always puts me in a better mood.
Stuff You Should Know – One of my oldest favorites! Josh and Chuck are basically my honorary uncles by now, and I adore them so much. Every episode delves into a new topic about… well… anything! Somehow, after a decade of releasing two episodes a week, they have not run out of topics to talk about. THERE IS SO MUCH WE NEED TO KNOW. Recent episodes have included gerrymandering, the Stanford Prison Experiment, diabetes, anarchism, Genghis Khan, and birth control.
Do you listen to podcasts? If so, I'd love to know some of your favorites that weren't included in this list! Gimme!