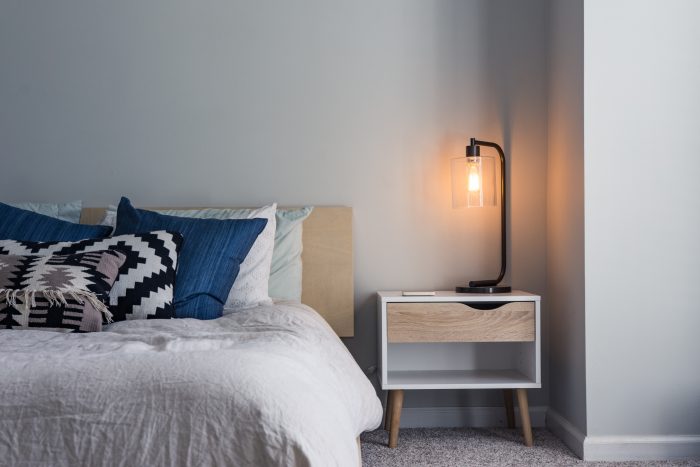 A few weeks ago, Kate wrote a post about her nighttime routine and I really loved it. So much so, I've been thinking about my own nighttime routine and what an ideal evening would look like for me. (Figuring out my nighttime routine was even a goal for me this month!) Most evenings, I'm coming straight home after work and, even though I have a full four hours to myself before my pre-determined "bedtime," I feel like I never have enough time to get everything I want done. So, I took some time to plan out what my ideal evening would look like and I thought I would share it:
5:30 PM – 6:00 PM: Arrive home and decompress
I have a fairly easy commute home on a daily basis, and usually get home right around 5:30. I really, really love coming home, throwing my stuff on the counter, and then lying on my bed for a few minutes, scrolling through Instagram or reading. After a full day in the office and navigating traffic on my way home, I just want to turn off my brain for a little while.
6:00 PM – 7:00 PM: Make and eat dinner while watching a TV show
After some time to decompress, it's time to make an easy dinner. Typically, this is some sort of chicken recipe like healthy baked chicken nuggets or something similar. I'll add a veggie (like corn or green peas) and call it a meal. I will usually listen to a podcast while I'm putting dinner together and then throw on a TV show to watch while I'm eating said dinner.
7:00 PM – 7:30 PM: Work on my blog
I'm always working on something for my blog on weeknights, but usually it entails furiously putting together a post the night before (um, like tonight). So, this is where the "ideal" part of my evening routine comes in because I never really set aside specific time to work on my blog. Somehow, I still manage to get 2-3 blog posts published a week, but only because I live and die by my content calendar. Anyway, I'd really love to set aside 30 minutes every evening to work on my blog, whether that's getting ahead on posts or getting a post ready to be published in the morning.
7:30 PM – 8:00 PM: Clean up the kitchen and pack my lunch
I cannot go to bed to a messy kitchen, so I will always spend some time hand-washing my dishes and clearing off countertops so my place is tidy when I go to bed. Once the kitchen is cleaned, I'll pack my lunch so that it's ready to grab-and-go in the morning. I've fallen into a habit of packing my lunch in the morning, which I never really have time for, so I need to get back in the habit of doing this the night before.
This is also when I'll either prep my coffeepot to brew a fresh pot in the morning, or make sure I have enough coffee chilling in my fridge to fill up my Tervis. Iced coffee is one of my favorite things, so if I'm running low on chilled coffee, I'll brew a full 12-cup pot and pour it into my pitcher to chill overnight. (And before you tell me all about cold brew coffee, I know. I have yet to find a brand that I prefer to my regular chilled coffee, and cold brew is more expensive, too.)
8:00 PM – 8:30 PM: Take a bubble bath
Taking a bubble bath is a nightly tradition for me. I live for them. Sometimes, it's the only thing that gets me through my day. I'll read my book while I'm soaking, and yes, that means I bring library books and my Kindle into the bath with me. Don't worry – I'm a professional.
8:30 PM – 8:45 PM: Wash my face and brush my teeth
Once my bubble bath is done and I'm all fresh and clean and in my pajamas, I need to brush my teeth and wash my face. I'll admit: I am really bad at doing this every night. It's just annoying to do, and by this time, I'm tired and just want to crawl into bed. But I need to make more of an effort because dental hygiene is important! And I wear makeup on a daily basis, so my face really needs a deep cleanse to get off all the dirt and makeup and grime and ugh, faces are so gross when you think of it that way. (I always use a makeup wipe to take off the top layer of my makeup, but it never gets my face as clean as it should be.) Anyway, this is also where the "ideal" part of my evening routine comes in. I really need to cleanse, tone, and moisturize my face every night.
8:45 PM – 9:30 PM: Read until I'm tired
Once all the evening tasks have been completed, I get to read! I'll usually bring my phone to bed with me and take breaks every so often to scroll through a few Instagram Stories, which I know I "shouldn't" do, but alas, I am weak. I'll read until I'm tired or until 9:30 rolls around, whichever comes first.
So there you have it! My ideal evening routine. Maybe I'll check back in a few months to report if I'm living my ideal evening life. 🙂
What do your evenings look like – chaotic or relaxing?