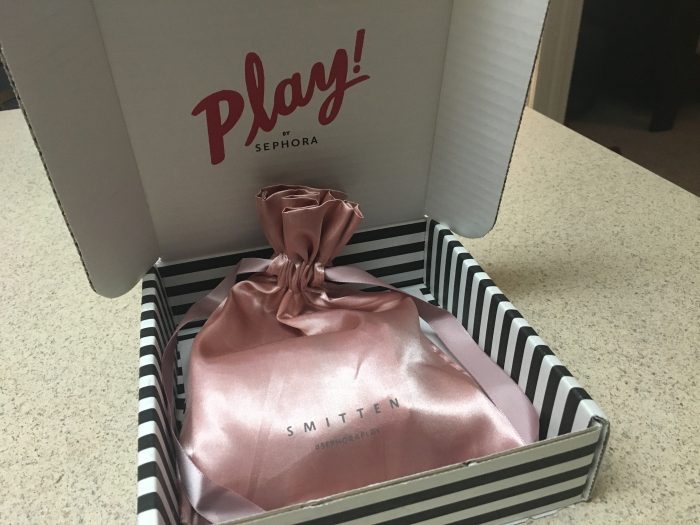 A few months ago, I got off the wait-list for the PLAY! by Sephora subscription box, and I was so, so excited. I am generally not one for beauty boxes, mostly because I hate having tons of samples cluttering up my bathroom and also because most of what comes in beauty boxes doesn't appeal to me. But a Sephora beauty box? Sign me up! I love makeup and playing around with it, and I thought it would be a great way to try different types of beauty products.
PLAY! by Sephora is $10 a month and you get six beauty products and a cute little bag. I've found that the drawstring in the bag comes undone after a time, or maybe I am just aggressive with my drawstring tying (ha). But I still love the bags because they are just so cute. Usually, they have fun sayings on them, but the bag in February's box was different. Gorgeous and silky, and I loved it.
Here's what came in my February PLAY! box and my thoughts: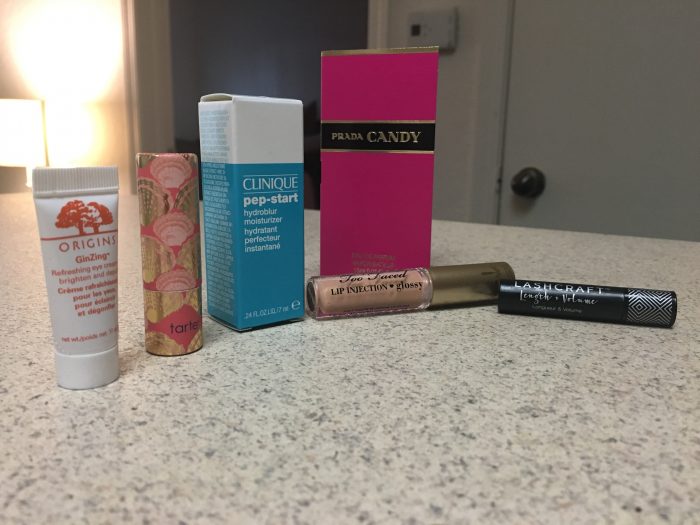 Origins GinZing Refreshing Eye Cream ($30 for 0.5 oz tub)
An energizing eye-opener that instantly wakes up tired eyes.
I am lucky enough that I've never had to worry about bags or dark circles under my eyes. Needless to say, I had no use for this. I used it a few times, but didn't notice any sort of difference. Meh.
tarte Rainforest of the Sea Quench Lip Rescue in nude ($19 for a full size)
A moisturizing lip balm in an array of sheer color shades.
I loved this. It went on smooth and left a tingly sensation. It gave my lips a shiny look, but didn't feel sticky at all. Unfortunately, though, after only a few uses, it broke for reasons I'm unsure about. (It was just in my makeup bag at work, not outside.) From reading the reviews on Sephora, this is common, probably due to the flimsy packaging. So, even though I loved the lip balm, I wouldn't necessarily recommend it. (I also have a problem spending $19 on lip balm!)
Too Faced Lip Injection Glossy in nude ($22 for a full size)
A lip gloss for high volume and tinted, juicy color.
Stay far, far away from this product! It made my lips sting and burn so bad that I had to remove it immediately after I applied it. It was such a terrible experience that I had to see what other people on Sephora said about this one and it has gotten a ton of negative reviews. Plus, my lips are just fine the way they are – no plumping needed!
Prada Candy L'Eau ($38 for a .67 oz bottle)
A trinity of white musks, benzoin, and caramel is heightened by the presence of citrus and Oriental floral notes to create a vibrant ensemble. Zestful, elegant, and indulgent, the spirit of the fragrance lies in Candy's optimistic view of the world.
Every PLAY! box comes with a perfume sample and as someone still on the search for her signature scent, I love being able to try out different perfumes every month in the hopes that I find "the one." Prada Candy is not "the one," but it's still a beautifully scented perfume. I even had a coworker exclaim, "Oh, it's you who smells so good!" Ha! My one complaint is that the smell doesn't last very long; it disappears after an hour or so of wear. Meh.
SEPHORA COLLECTION LashCraft Length & Volume Mascara ($12 for a full size)
A jet-black mascara with a unique two-sided, flat paddle wand.
I'm not very brand loyal when it comes to mascara, so I love that just about every PLAY! box features a mascara sample because it allows me to play around with different types. I actually really, really liked this mascara – it doesn't clump and does what it says it's supposed to do: it lengthens and volumizes my lashes! The current mascara I'm wearing is due to be replaced in the next few weeks, so I'm most likely going to purchase this mascara since it's incredibly affordable (at least by Sephora standards).
CLINIQUE Pep-Start Hydroblur Moisturizer ($29.50 for a 1.7 oz tub)
A lightweight, 24/7 hydrator that provides matte moisturization, instantly blurs imperfections, and preps for makeup.
Moisturizer is another beauty product that I'm not particularly brand loyal to. I use a Target brand moisturizer every night and it's… whatever. It makes my skin feel soft? That's about all I can say about it. I've never noticed a huge difference in my skin whether or not I use moisturizer. This moisturizer is designed for daytime wear (it's really more a primer, though), so I smooth a small dab of it over my face before I apply my makeup. I've noticed that I can use less foundation now and get more coverage, so that's a great benefit. But it's also supposed to help with shine control and doesn't. (Honestly, I don't think any product will control my oily complexion.) It's nice to use as a sample, but I don't think I could stomach paying $30 for a full-size tub.
I'm really happy with this subscription box and I don't see myself canceling it anytime soon. It's a fun little surprise each month and allows me to try a bunch of different makeup/beauty products from some really awesome brands. Each subscription box also includes a PLAY! pass where you can go to a Sephora store and learn how to apply the different products in your box. I've never taken advantage of it, mostly because all of the products are pretty straightforward with application and also because I get worried I'll get a pushy salesperson who will try to upsell me the product. (I'm not sure if this happens, I just like to worry about everything when it comes to social things, ha.) But maybe one day I will take advantage of it!
Do you have any subscriptions to beauty boxes? Are you brand loyal to any sort of makeup or beauty product?
*No affiliate links were used in this post and it was not sponsored by Sephora. I just wanted to share my experience because I genuinely enjoy this subscription box.