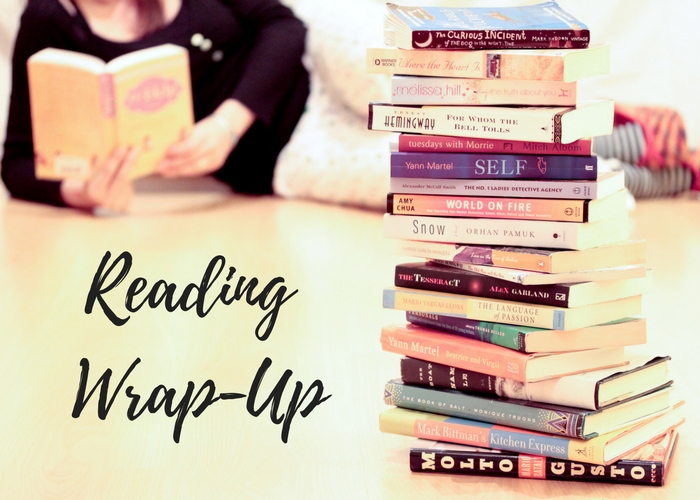 Ooh, we are nearly ten days into June and I'm just now writing my reading recap for May – whoops! It's just the way my blogging schedule shook out this month. In any event, May was an interesting month of reading. I read 10 books, which is about average for me, but only half of them were 4 or 5 stars. The other half were books that I either didn't like or felt neutral about. However, one of the books I read is definitely in the running to be my overall favorite for 2018, so it all evens out.
Another interesting thing about May is that I didn't listen to any audiobooks this month – ahh. Due to being on my cruise, I missed a full week of podcasts and my feed felt a little out of control, so I decided to take the month off listening to audiobooks to catch up on my podcast feed. I'll be back on my audiobook game in June, though!
May Reading List
Overall favorite: The Garden of Small Beginnings by Abbi Waxman
Favorite romance: Moonlight Over Manhattan by Sarah Morgan (review)
Other 4 and 5 star reads:
Books I was lukewarm about: We Are Never Meeting in Real Life by Samantha Irby, About That Kiss by Jill Shalvis
Other Book Stats
Number of pages read: 3,343
Breakdown of formats: physical books (5), ebooks (5)
Breakdown of genres: fiction (3), nonfiction (1), science fiction (1), romance (5)
Number of diverse reads: 1 (10% – eeks)
Where I sourced my books: library/Overdrive (7), Amazon (1), Barnes & Noble (1), Book of the Month (1)
Book that took me the longest time to read: The Engagements (12 days)
Book that took me the shortest time to read: How to Walk Away (2 days)
Expense of books read: $24.98
Favorite Quotes
"Here's what I think: I don't think there is just one person for everyone. I think there are actually lots. But think about how many people you meet, and how many people you don't meet. Hundreds of people pass you on the street every day, and somewhere among them might be the one you could fall in love with, have children with, or just live with in peace and harmony for your whole life. But what if they turn the corner before you do, or go back to get something they forgot, or take one minute longer to get coffee at Starbucks… you might never meet. And then what if you do meet but for some reason you're having an off day, or they are, or they just broke up with someone, or they're coming down with a cold, or whatever, so for whatever reason you don't click right away with. It's amazing anyone hooks up at all, really." – The Garden of Small Beginnings

"From then on, whenever Kate caught sight of her sister's diamond ring, she felt uneasy. She hated that it was supposed to symbolize love and perfection, an idea that seemed so removed from the nature of marriage itself, which even as its best was messy and mundane. She resented the whole notion that a relationship was perfect just because two people got married." – The Engagements

"Whenever she'd thought about it, and she'd thought about it often, she'd imagined love would be a gentle, comforting, enveloping feeling. Like bathing in warm water or being wrapped in a blanket. She hadn't expected it to feel like this. Hadn't expected the wild intoxication that felt as if she'd inhaled an illegal substance. It made her giddy. It made her want to smile at times where no smile was warranted. When she was feeding one of the dogs or occupied by some mundane task like peeling potatoes." – Moonlight Over Manhattan 
What's the best book you read in May?