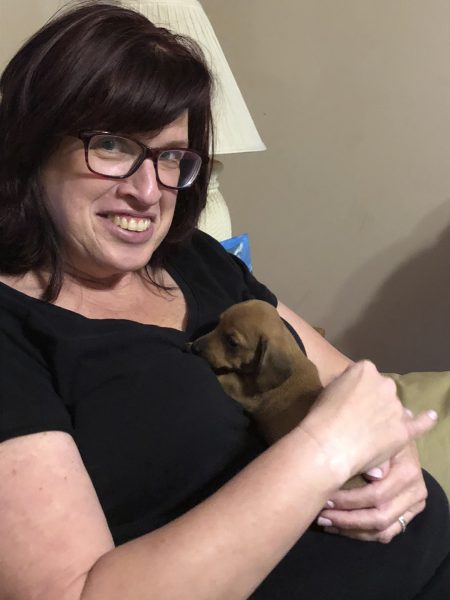 The high of my week was meeting my baby brother! My mom and I took a short road trip on Sunday to meet the most beautiful dachshund puppy and he'll be hers on May 12. I am so, so excited for her (and for me because, let's face it, I'm going to love on that little baby so much), and I cannot wait until he joins our family. My mom is naming him Chip and I'm already so in love with him. (And yeah, I have puppy fever like mad right now.)
The low of my week was not feeling the healthy living lifestyle. Ugh, it's been a struggle, friends. At one point this week, I texted my mom the below message because I was so over it. I know I just need to switch up some of the food I've been eating (probably getting stuck in a rut) because six weeks straight of having two hard-boiled eggs for breakfast is enough to make anyone go crazy, amirite?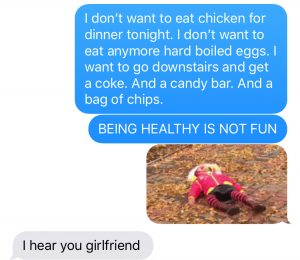 An article I loved was Why I Am (Still) Using YNAB by San from The In Between is Mine. Currently, the way I budget is with a plain old Excel spreadsheet, even though I know there are tons of apps that could be super helpful in helping me better categorize my expenses and building a stronger budget. But I've yet to do that because I get a little overwhelmed by the thought of setting it up (I always figure it will take me awhile) and scared at the thought of actually taking a long, hard look at my budget (I am a very loose budgeter right now). But this post by San lays out the You Need a Budget system in such a way that I feel like I could maybe give it a try, even if it is overwhelming.
A podcast episode I enjoyed was How Paramedics Work by Stuff You Should Know. This episode was fascinating, like the fact that standards for paramedics didn't come out until the 1970s (!) and explaining the difference between EMTs and paramedics. Give it a listen!
The best money I spent was $20 on a new pair of sandals. My current pair of sandals are just about near the end of their life and it has been time for a new pair for awhile, but I'm an underbuyer, so it was hard for me to commit to a new pair. But finally, I did and I'm happy with my purchase!
My plans this weekend include a pedicure date with my mom on Saturday, my friend's 90s-themed 30th birthday party on Saturday evening, and a writing date on Sunday morning. I am particularly looking forward to my friend's party because we've been encouraged to dress up for it. I am not the most creative person when it comes to dressing up (see also: why I hate Halloween), but I figured out a fun outfit for the party and I'm interested if people will "get it."
What was the high of your week?