It's time for Week 2 of the Cardboard Box Diet updates!
I mentioned before that I'm doing Weight Watchers and it was really good to come back to the meetings. My Leader was happy to see me (she even gave me a new book and said this was a "fresh start". I love her!) and the meeting itself was a good one. It wasn't hard to get back into the swing of things and for the first time in 6 weeks, I felt in control again. It's a really good feeling.
I have a lot to say with the questions so let's get right into it, shall we?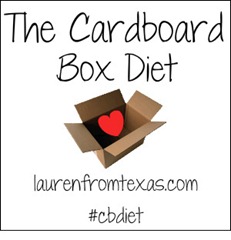 Weigh-In: I'm down 3.2 lbs this week! I'm majorly happy about that (duh), but I usually lose a good amount my first week back on WW. (Can you tell I've done this before?) When I'm following the plan, I usually lose about a pound a week so I don't expect to lose 3 lbs every week – even on my best weeks. Still, it felt good to step on the scale and see such a dip. It gives me that much more motivation to keep at this!
Exercise Completed:
Friday: Stationary bike (30 minutes) and then a Pinterest strength workout (only made it through once, though. So tough!)
Saturday: Elliptical (30 minutes), treadmill on steep incline (15 minutes)
Sunday: 30 Day Shred, Level 1, attempt at a walk with Dutch but he collapsed on a shady spot in the grass 10 minutes in so we went straight home!
Monday: 30 Day Shred, Level 1, stationary bike (30 minutes)
Tuesday: Rest
Wednesday: 30 Day Shred, Level 1
Thursday: 30 Day Shred, Level 1
I decided to dedicate July to completing the "30 Day Shred" for the second time. Only I'm taking a rest day once a week so it'll be more like the "26 Day Shred". My first day was pure hell. I didn't make it through any of the circuits without stopping multiple times and I think there was a part of me that forgot how hard this workout is. It may only be 20 minutes long but Jillian works you nonstop for those 20 minutes. I'm definitely seeing an increase in my endurance level, though, and I'm only really struggling with the strength sections as my arms tire out quickly. But this was a good week for exercise for me. I earned 17 activity points which I'm happy about.
Splurge/Guilty Pleasure: I tried to take it easy this week. My main focus was on tracking and staying on plan, which I did. Splurges were had, especially on Saturday when I ate 45 points (my limit is 26, although we do get weekly alloted extra points and earned activity points). Between a sub, four cookies, and a piece of pizza… it wasn't the healthiest of days. But I had it and moved on. The rest of the week wasn't anything like that.
Success Story: Staying on plan was relatively easy this week. Throwing a holiday in right before weigh-in was tough, but I fought through it. And when I went out to brunch on Sunday, I chose the healthy option of an egg-white omelet, fresh fruit, and whole wheat toast. It was yummy and filling and made me feel good about myself! All wins!
Recipe: I made two new recipes this week – yay! Both were from Skinny Taste. One was a mayo-less tuna salad that I doubled the recipe for to make a big bowl to divide up into lunches. It is seriously delish! It has a bitterness to it, thanks to the red wine vinegar and capers but it totally works to make the meal so good. My only complaint is that it isn't filling enough so I'm not sure it's something I would make again.
I also made her chicken taco chili on Sunday night, which my mom and I then had as leftovers on Monday and Tuesday. Again, delish! This one is making its way into my regular meal plan! (And yes, I am the girl who makes CHILI when it's ninety degrees outside. Whatev's.)
I would also mention to anyone doing Weight Watchers, if you use Skinny Taste for any meals, I strongly advise you to put all the ingredients in the recipe builder on eTools to make sure YOUR servings are coming out right. They weren't for mine. (Her estimate was way, way more for my tuna salad but too low for the chili.)
Photo: