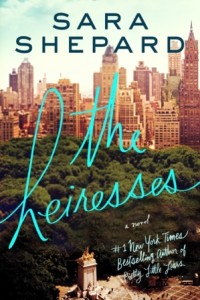 From Goodreads:
The series follows one of the most prestigious and wealthy families on the Upper East Side who have built their entire fortune on the business of diamonds.
Due to a clause the grandfather placed in his will, only his granddaughters are set to inherit his massive fortune…these are the heiresses. After the death of their cousin, the remaining heiresses try to figure out if the family curse is real or not, and if not, who killed their cousin, and more importantly, which one of them is next on the hit list?
My review:
I have never read a book by Sara Shepard, but I have been a longtime fan of the TV shows, Pretty Little Liars and The Lying Game, based on Shepard's books. So I was pretty certain I would love this book and, spoiler alert, I totally did. It was just the perfect light, fun read I needed after finishing a particularly heavy book. I was so excited to dive in and this novel did not disappoint in any way.
As someone who has been a big fan of Pretty Little Liars and The Lying Game for many years, this book definitely followed the same kind of theme. I could totally picture it becoming its own hit TV show, and I wouldn't be too upset about that. 😉 It was still super intriguing and hard to put down. The characters were so well-written, each cousin having her own unique back story and struggles. I read this book in the space of 24 hours because I just could not stop reading – I had to find out who-dun-it!
Sure, it's not some great "literary read." It's just a fun read. And fun reads are the types of novels I love the most, they are why I started reading in the first place and why I am still a bookworm to this day. Literary novels have their place, but easy beach reads like this one will always hold the key to my little bookworm heart. (Too cheesy?)
Anyway, The Heiresses was fabulous and I can't wait for the next novel in the series (this one ends on such a crazy cliffhanger!). Oh, and now I think it's time to start reading the Pretty Little Liars and Lying Game series. Yep, yep.
My rating: 5 stars
I received this book for free from TLC Book Tours in exchange for an honest review. All words and opinions, unless otherwise stated, are my own.