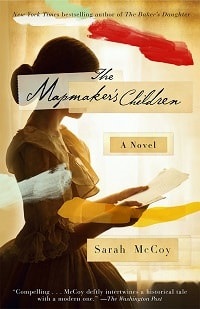 The Mapmaker's Children is a novel about family and friendship; about fighting for what you believe in; about letting people in and letting them see the real you; about accepting your life for what it is, even when it's turning out drastically differently than you ever imagined.
In this novel, we switch back and forth between Sarah and Eden's stories. Sarah's story takes place in the mid-1800s. She is the daughter of abolitionist John Brown and when she learns she won't ever bear children, she becomes one of the Underground Railroad's leading mapmakers, using her artistic ability to help slaves find freedom.
Eden's story takes place in the present day; she and her husband have just moved from a fast-paced life in Washington D.C. to a small town in West Virginia. She is desperate to get pregnant, and this desperation is causing cracks in her marriage. In the old house she and her husband bought, she discovers the head of a porcelain doll hidden in the root cellar – a doll that has an extraordinary past with connections to the Underground Railroad. It's because of this doll that Eden begins to research about its past – and the past of the home she is now living in – to find startling results.
Many authors nowadays seem to love the story arc of intermingling a past story with a present-day one. Most times, I find myself enjoying one story much more than the other one, but with this novel, I found myself deeply invested in both. There was Sarah who was brave and bold and courageous and strong. And then there was Eden who was vulnerable and bitter and hard and sad. Two completely different women, but who share a commonality in finding an identity that is not "Mom."
This book was a slow read for me, but I enjoyed taking my time with it. It allowed me to fully sink into the plot and get to really know these characters. I loved Sarah from beginning to end, but Eden was a harder sell for me. She was just so very unlikable throughout much of the story, but my heart also went out to her because she's grieving the loss of a dream, the loss of motherhood.
All in all, I truly enjoyed this novel and I was taken aback about the history behind the abolitionist movement. I'm embarrassed to admit that I know very little about these men and women, and I honestly did not realize how much they gave up for a cause they fully believed in. It's just something I never stopped to consider! I definitely want to get my hands on more stories about them because I am interested in learning more.
Book synopsis (from Goodreads):
When Sarah Brown, daughter of abolitionist John Brown, realizes that her artistic talents may be able to help save the lives of slaves fleeing north, she becomes one of the Underground Railroad's leading mapmakers, taking her cues from the slave code quilts and hiding her maps within her paintings. She boldly embraces this calling after being told the shocking news that she can't bear children, but as the country steers toward bloody civil war, Sarah faces difficult sacrifices that could put all she loves in peril.
Eden, a modern woman desperate to conceive a child with her husband, moves to an old house in the suburbs and discovers a porcelain head hidden in the root cellar—the remains of an Underground Railroad doll with an extraordinary past of secret messages, danger and deliverance. 
Ingeniously plotted to a riveting end, Sarah and Eden's woven lives connect the past to the present, forcing each of them to define courage, family, love, and legacy in a new way.
You can connect with Sarah McCoy on her website, Facebook, and Twitter. Her book is available to buy from Amazon, IndieBound, and Barnes & Noble. 
Click here to add this book to Goodreads!
I received this book for free from TLC Book Tours in exchange for an honest review. All words and opinions, unless otherwise stated, are my own.
No affiliate links were used in this post.