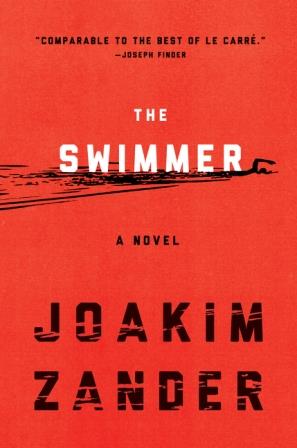 I love suspenseful novels that keep you on the edge of your seat. Novels that take you to a world you have no idea about, that make you root for characters you just were introduced to. And I especially love suspenseful novels that have a strong female lead. Call it being a feminist, call it whatever you want, but I truly appreciate a novel that doesn't stoop to "men save women" levels, but showcases women stepping up, taking action, and finding the solutions to the problems themselves.
The Swimmer by Joakim Zander had all of the above qualities – and more. It was suspenseful, thrilling, edge-of-my-seat-need-to-keep-turning-pages. It had a great cast of characters – including a host of strong females who weren't cowering in the face of terror. It was about what you'll do to protect the ones you love. It was about doing the right thing, even when it comes at a price. It was about friendship, it was about family. It was about corruption and lies and fear.
I thoroughly enjoyed this novel. If you love suspenseful novels, then I would highly recommend this book. It was a fantastic read for me!
The book synopsis, as taken from Goodreads:
Klara Walldeen, orphaned as a child and brought up by her grandparents on a remote Swedish archipelago, is now a political aide in Brussels. And she has just seen something she shouldn't: something people will kill to keep hidden.
On the other side of the world, an old spy hides from his past. Once, he was a man of action: so dedicated to the cause that he abandoned his baby daughter to keep his cover. Now the only thing he lives for is swimming in the local pool.
Then, on Christmas eve, Klara is thrown into a terrifying chase through Europe. Only the Swimmer can save her. But time is running out…
Do you like suspenseful novels? What was the last book you read that you couldn't put down?
I received this book for free from TLC Book Tours in exchange for an honest review. All words and opinions, unless otherwise stated, are my own.