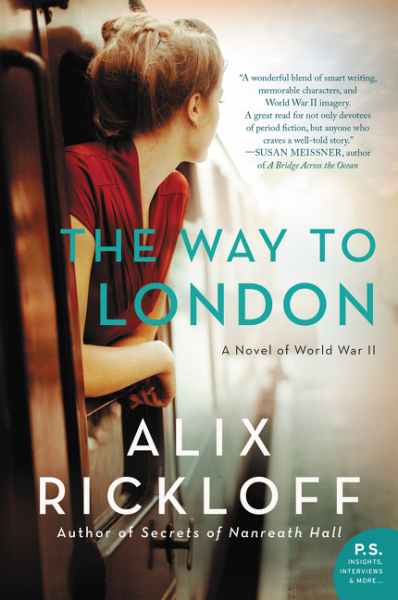 The sub-genre of World War II historical fiction is saturated. A lot of people love to read about WWII because it was such a tragic time in the world yet there were so many brave men and women fighting and surviving and trying to cope with a world that seemed so dark.
… not unlike the world today, to be honest.
I'm not one of those people who loves the WWII sub-genre. I find the books to be so heavy and hard to read, and as a highly sensitive person, they take a lot out of me. After reading something like The Nightingale or The Storyteller, I need a palate cleanser. Or two. Or three. A few light-hearted romances or chick-lit novels to bring me out of my sadness and heartache.
The Way to London by Alix Rickloff is a novel about WWII, but it's not a heavy read. It's actually quite light-hearted, showcasing an aspect of the war that's not really shown in novels: the people for whom the war was, well, not really happening for. The rich people, the ones who weren't losing fathers and brothers and sons and lovers. The ones who could pretend this war was just a little aberration from their daily life. As a character in the novel notes, "The rich can afford to wear blinders."
When we're introduced to Lucy Stanhope, she's enjoying some time by the pool in Singapore, getting waited on hand and foot. She's in a clandestine affair and trying to figure out what she wants in life – maybe to become a famous Hollywood actress? Her mom is a socialite who likes to pretend she's not old enough to have an adult daughter (she insists Lucy calls her by her first name, Amelia, and not address her as Mother) and her stepdad is an important man.
But then Lucy makes a mistake and one that has lasting repercussions because she's sent to live with an aunt in England. Lucy's not happy about it and devastated about leaving the man she was having an affair with, but her anger soon turns into grief when she finds out that the war has come to Singapore and she was one of the last people to escape the island – and her mom and stepdad probably didn't make it out alive.
As Lucy tries to move through her grief, she strikes up a friendship with Bill, a young boy who was sent to England by his mother before the war came to London. But the people he was sent to live with are not good people and the only thing Bill wants is to be with his mom again. And so, Lucy and Bill set off on a trip to London – a trip not without problems and strange detours and new friendships – to reunite him with his mom.
And through it all, Lucy has to confront the choices she's made and define exactly what she wants from life. Does she want to escape to America to become a famous Hollywood actress… or is there more for her in London? Like family, purpose, and perhaps even love.
This book captivated me from beginning to end and I fell completely into this little world Rickloff imagined. The dialogue was so perfect that I felt as if I was sitting in the room with Lucy and walking the streets with her. The writing was beautiful and the pacing never felt off. Everything unfolded at a natural, defined pace. I also read the last 150 pages or so in one day because I could not put this book down and wanted to know how everything would come together for Lucy and Bill. And I was so darn satisfied with the end that this is a book I'll be recommending to anyone who loves a WWII novel or a sweet coming-of-age story.
Goodreads synopsis:
From the author of Secrets of Nanreath Hall comes this gripping, beautifully written historical fiction novel set during World War II—the unforgettable story of a young woman who must leave Singapore and forge a new life in England.
On the eve of Pearl Harbor, impetuous and overindulged, Lucy Stanhope, the granddaughter of an earl, is living a life of pampered luxury in Singapore until one reckless act will change her life forever.
Exiled to England to stay with an aunt she barely remembers, Lucy never dreamed that she would be one of the last people to escape Singapore before war engulfs the entire island, and that her parents would disappear in the devastating aftermath. Now grief stricken and all alone, she must cope with the realities of a grim, battle-weary England.
Then she meets Bill, a young evacuee sent to the country to escape the Blitz, and in a moment of weakness, Lucy agrees to help him find his mother in London. The unlikely runaways take off on a seemingly simple journey across the country, but her world becomes even more complicated when she is reunited with an invalided soldier she knew in Singapore.
Now Lucy will be forced to finally confront the choices she has made if she ever hopes to have the future she yearns for.
You can connect with Alix Rickloff on her website, Facebook, Twitter, and Pinterest. Her book is available to buy from Amazon, HarperCollins, and Barnes & Noble. 
Click here to add this book to Goodreads!
I received a copy of this novel for free from TLC Book Tours in exchange for an honest review. All words and opinions, unless otherwise stated, are my own.
No affiliate links were used in this post.
Do you enjoy WWII novels?