7:30 AM // My alarm was set for 8AM, but I wake up naturally around 7:30 and use the extra time to read and scroll through Instagram.
8:05 AM // I take a shower and get ready for the day while listening to an episode of the Book Riot podcast.
8:40 AM // I wake up Dutch and we go on a walk. He's super slow this morning! Silly munchkin.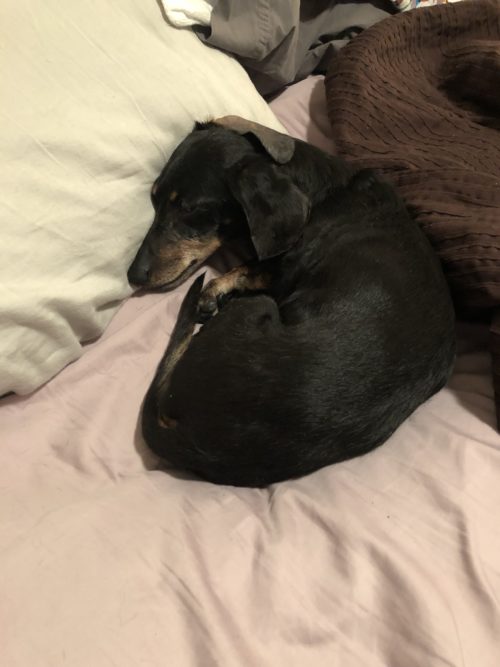 8:55 AM // I pack up my laptop and head over to Starbucks for my weekly writing date.
9:10 AM // I order a dark mocha Frappuccino and a breakfast sandwich, and then try to get to work on my novel, but it's quickly apparent that it's going to be a struggle. It's funny, my writing partner, M., and I have been doing these writing dates for years, but it's only in the past year that we've actually started opening up to each other and now we spend half of our writing dates just chit-chatting and catching up. Ha. I only manage to write about 150 words today, so it's a supremely unsuccessful writing date, oops.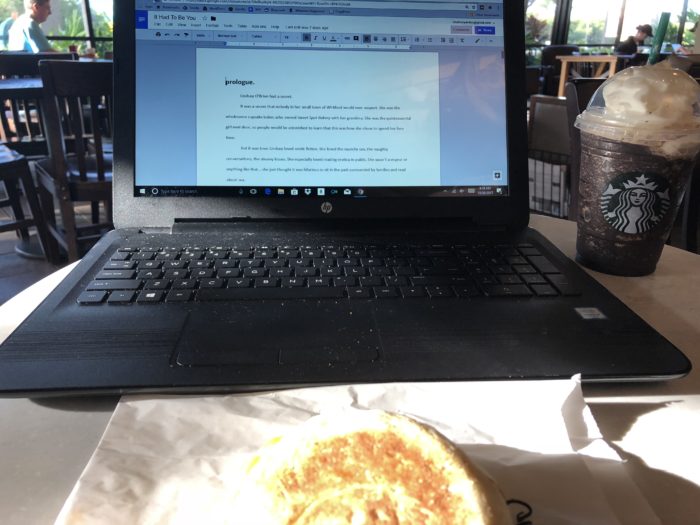 11:10 AM // I leave Starbucks and drive to get my car washed. I just go through one of those car wash machines that does all the work for me while I sit in the car. I'm being lazy today. I also return a few books to the library.
11:40 AM // I'm at my hair salon for a hair appointment. I'm getting my roots touched up and also a trim. The next time I get my hair cut (which will likely be at the end of February or beginning of March), I'm going to be chopping it all off to donate it, so we don't do anything exciting this time around.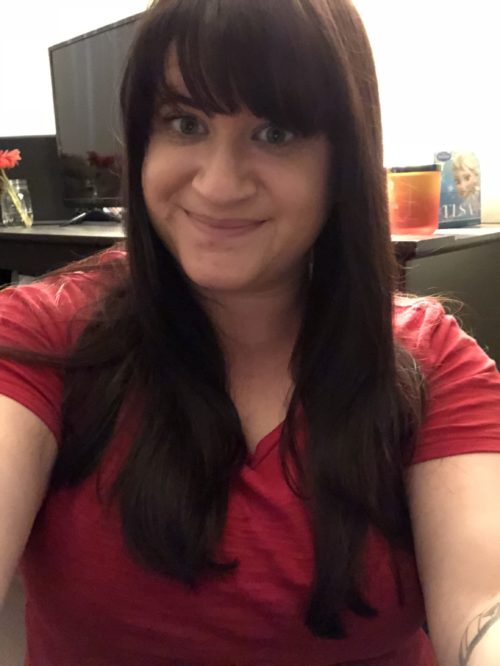 1:15 PM // After my hair appointment, I had planned on going to Target, but I'm tired and need to check in on Dutch, so I opt to just head home instead.
1:25 PM // I'm home and excited to see that part of my Amazon order arrived while I was out. This includes a few things for my Halloween costume and some new markers for coloring. I'm mostly excited about the markers.
1:30 PM // Dutch and I go for a walk outside and he's a bit more chipper and energetic on this walk.
1:40 PM // Dutch and I come inside and I decide to experiment with feeding him a few spoonfuls of wet food mixed in with his dry food. He hasn't been eating much lately (about half of what he normally eats) and I usually have to hand-feed him, and he's lost about 1.5 lbs in the past few months, so it's concerning to me. So I am pleased as punch when he chows down on the wet/dry food combination. He even licks his bowl clean! Hooray! This is the solution, I think, to his food problems. I am so, so relieved.
1:55 PM // I take off my makeup and get into comfy clothes. And then I bring Dutch up to bed with me and read my book for a little while.
2:10 PM // I turn off my Kindle and plug in my phone. Time for a nap!
2:20 PM // Just as I begin to drift into dreamland, my mom calls me. We have a lot to talk about, though, so I answer her and we chat for a while.
2:45 PM // Nap time, take two. This time I fall asleep and stay asleep.
6:30 PM // I wake up from my nap and feel so refreshed. I love really long naps – this one was almost four hours long! Decadent. As I wake up from my nap, I read my book and scroll through social media.
6:55 PM // I take Dutch out, but it's raining so he doesn't want to go very far.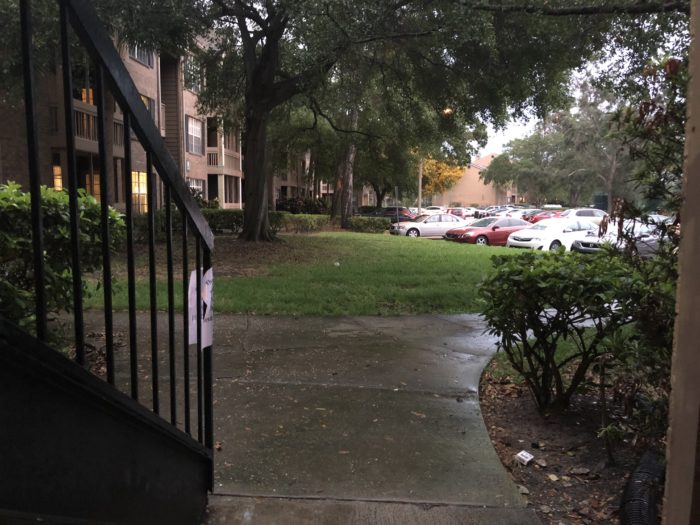 7:00 PM // I feed Dutch dinner (more wet/dry food!) and he scarfs it down like it's going to disappear any second. While he does that, I order a pizza from Dominos. I have a free pizza that I can redeem, so it's a cheap dinner for meeeee.
7:10 PM // I start working on this post while I wait for the pizza to come. Hurry up, pizza. I'm hungry!
7:35 PM // Pizza is here! I decide to turn on Harry Potter and the Sorcerer's Stone as tonight's entertainment. A comfort movie watch is the perfect option for this rainy, Halloweeny night. While the movie is playing, I eat pizza and do some coloring. I also pause the movie halfway through to take Dutch out when he gets a little antsy.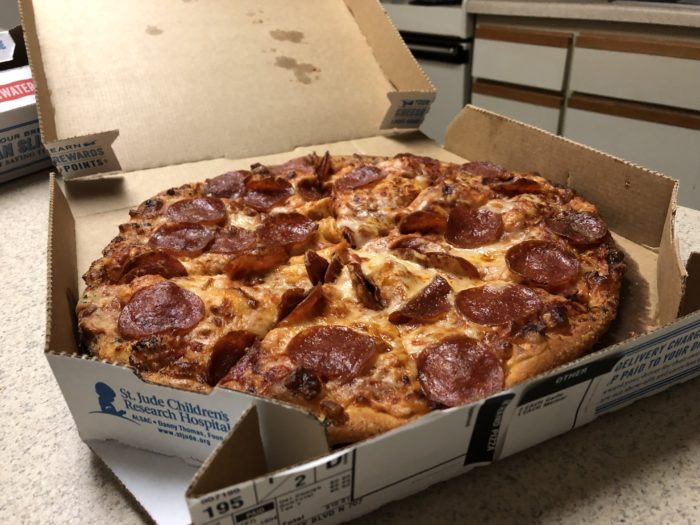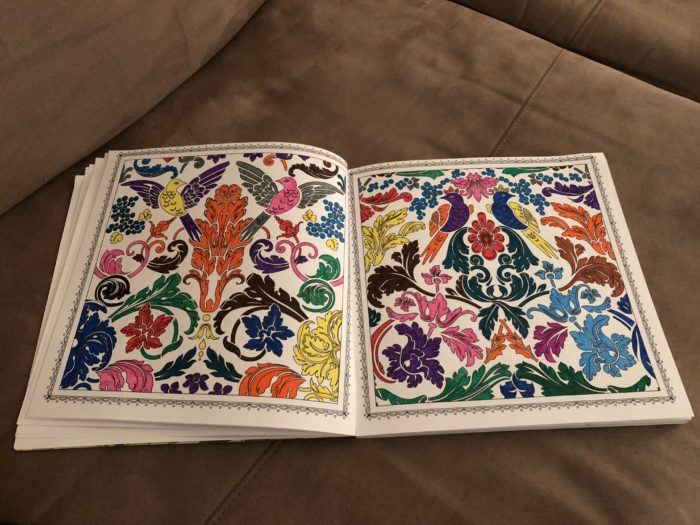 10:15 PM // Movie is over and it gives me all sorts of happy feels. And then I do my budget for these next two weeks and the happy feels dissipate, ha. Oh, budgeting. I also work on my fantasy football lineups, so those are ready to go.
10:45 PM // Dutch is whiny and barky, so I bring him to bed and he takes forever to settle down. I didn't give him his anti-anxiety pill until 8 tonight, so I'm hoping that's why. I need to set a reminder to give him his pill by 6:30 because I think that does wonders at helping him settle down quickly at night.
11:15 PM // I pick up around the apartment, do my nightly routine, and settle into bed with my book. Dutch finally falls asleep around 11:45 and I am so grateful for it.
12:00 AM // Lights out!
Tell me something great about your Saturday!
Saturday a year ago, two years ago, three years ago