One of my favorite sounds from the cruise was waking up to hear the ship setting down anchor. I can distinctly remember each and every sound the ship made as it did so and the way the ship felt. There was something incredibly exciting about knowing we had arrived at a new destination and peeking through the curtains to see where we were.
And Jamaica was simply breathtaking.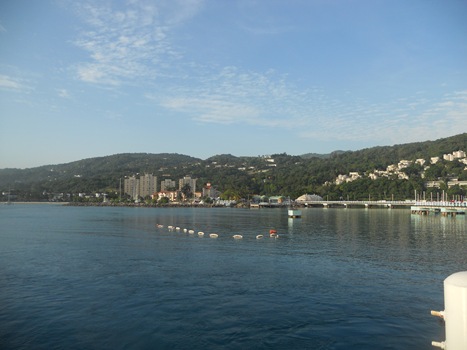 I'm not sure why I felt such a pressing need to visit this country, but I did and it was the one destination I wanted to go on this cruise. We booked an incredible excursion and while we wouldn't have long on the island (we had to be back on the ship by 2:00 p.m.), we planned to make the most of our short time there.
We left the boat a little before 7:30 a.m. and then I proceeded to snap picture after picture after picture of this beautiful country. I couldn't believe I was in Jamaica and all the fun that awaited us this day! I was completely in the moment, soaking in the beauty and the people.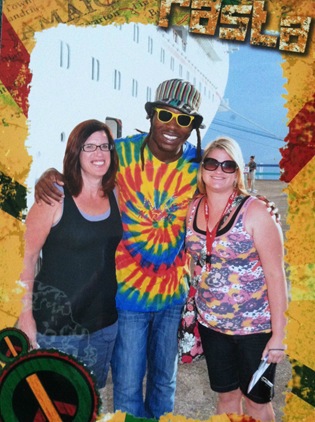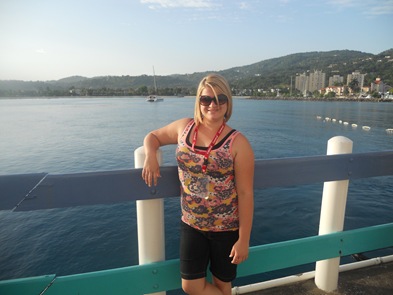 We were herded onto our bus quickly, with a large group of people doing this adventure with us. The bus driver was fantastic, telling us about the flavor of Ochos Rios. We learned it's not "Yes", it's "Yeah, mon" and now I want to make that a part of my everyday language. There's just something relaxing about that phrase, am I right? Yeah, mon.
The drive to Mystic Mountain was quick and before I knew it, we were standing in a rain forest.
We were given a brief introduction of Mystic Mountain, then took an air tram up the rain forest to where the shopping, bob-sledding, zip-lining, and pool were located. We rode the air tram three times: up to Mystic Mountain, a round-trip ride after zip-lining, and then back down to the entrance of the park. Each and every time was absolutely sensational and I couldn't stop myself from snapping picture after picture after picture. To be able to travel through the rain forest, be so high that I could spot our cruise ship in the distance, and listen to the sounds you only find in nature is an experience I will never forget. The air tram took 20 minutes one-way, so over an hour of our time in Mystic Mountain was spent on the air tram. And it still didn't feel like enough.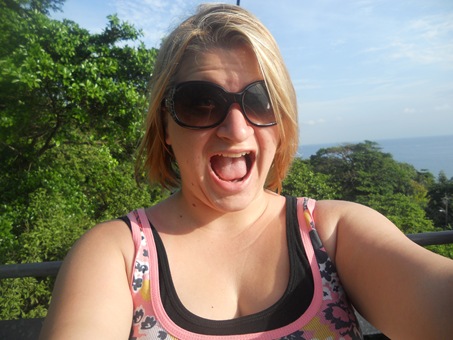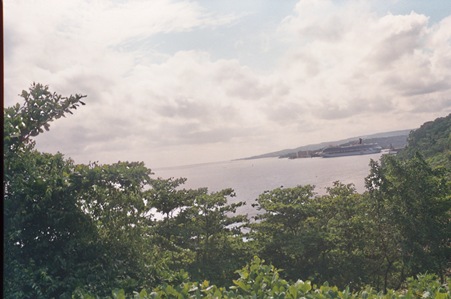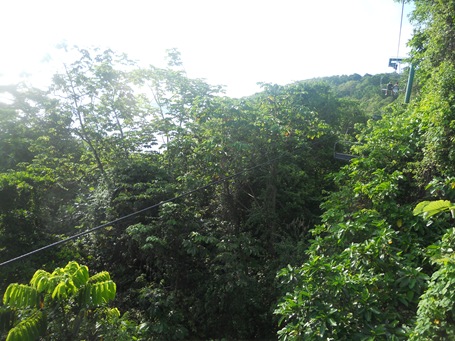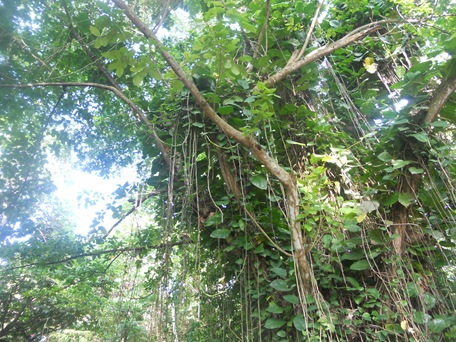 Once we were in the park, we headed straight for the bob sleds. Our excursion was a bob sled/zip line package. My mom was most excited about the bob sled, I was most excited about the zip line. We got into our little cars, we're given instructions on how to use the brakes, and off we went! The bob sled let you handle how fast or slow you wanted to go and I had the gears, so it was all up to me! I started out slow but then realized the bob sled was not going to fly off the track if I went full speed ahead so I went for it!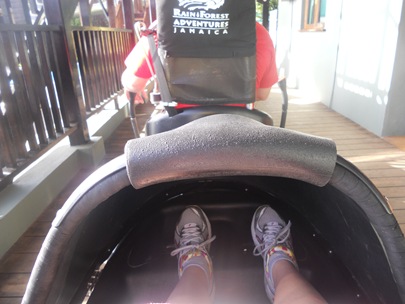 And then it was over.
It was the quickest ride I've ever been on and frankly, left me feeling a bit annoyed. I had so much fun on the track, making the sled go as fast as I could make it that to have it be over so soon was heart-breaking. (And while I could ride it again, it would cost $22 per person. No thanks.) I had a blast in the short time I was able to ride it, zipping through the rain forest, but I was really looking forward to the second part of the excursion: zip-lining!
Have you ever been in a rain forest?