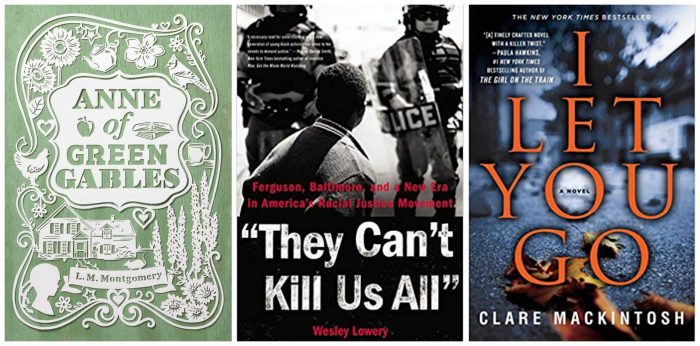 I didn't put up my weekly reading update on Monday because I had much more exciting news to share, so I'm publishing it today! Last week, I finished three books (and all were five-star reads!) so I'm back on track for my usual reading speed. 🙂 I'm pretty sure I'll finish another three this week, so I'm feeling good about my reading life right now. Here are my reviews:
I was worried that my reread of Anne of Green Gables wouldn't hold up, that maybe the story was only meant for younger me. I am pleased to announce that the opposite is true, and I enjoyed this book so much the second time around. I read it at the perfect time, when I really needed a story that was sweet and light-hearted. For those unfamiliar, Anne of Green Gables follows the precocious Anne Shirley as she is adopted by Matthew and Marilla Cuthbert, a brother and sister pair, at the age of 11. Throughout the book, she gets into a fair amount of trouble, as a girl with a big imagination is wont to do, and readers follow her journey from ages 11 to 16, watching her grow into a beautiful, kind woman. I loved every single page of this novel, and was sad when it ended since it meant stepping out of Anne's world for a bit, but I'm excited to read the next seven books in the series.
Wesley Lowery is one of the most influential voices reporting on police killings and racial justice, and this book was so powerful. It begins with Michael Brown's death because that's where Lowery began his journey, as he traveled to Ferguson to report on the protests and was arrested with another journalist at a McDonald's (they were both released pretty quickly). The book chronicles the next few years after Michael Brown's death, as the Black Lives Matter movement begins and gains a following. It details more deaths from black men at the hands of police and the protests that follow. It's an infuriating read, a book that had me exclaiming out loud multiple times because I was so enraged. If you're committed to becoming a better ally and learning as much as you can about racial justice, this book is a must read.
Oh boy, do I love a good thriller, especially one that makes has me flipping back to the beginning of the book when a big twist is revealed. I devoured this thriller in a few days because I just could not put it down, although I'll admit that the beginning 40% was slow and read more like a police procedural than a thriller. But I knew a twist was coming and I could not predict what it was for the life of me! This book is about a hit-and-run accident that kills a little boy, who was running across the street to his home when he was struck by a car. The driver drives away and what follows is a story about how this little boy's death reverberates through the community, especially between the two police officers who are tasked to find the driver and bring him or her to justice. Definitely add this one to your list if you love a good thriller. (Although content warning for violence against women, which is quite graphic in parts.)
I'm currently reading…
Landwhale: On Turning Insults Into Nicknames, Why Body Image Is Hard, and How Diets Can Kiss My Ass by Jes Baker, on audio. (I really need nonfiction authors to calm down on the length of their subtitles, sheesh.) I'm about halfway through it and it's been… okay so far. I think Jes Baker has an important story to tell but I'm not sure it's fully landing with me.
The Last King by Katee Robert, as my romance pick for the week. I'm nearly finished – I have maybe 30% left – and it has been such a steamy read! Whew! I would have no problem rating it five stars right now, but we'll see how all the loose ends tie up.
There, There by Tommy Orange, for book club. I'm a little over 100 pages into this novel, and I'm really enjoying it. It's much different than I imagined and there are a ton of characters and I'm not yet sure how all of their stories will relate, but I'm looking forward to finding out.
What are you reading?