What a weekend! Whew. I'm writing this post on Sunday evening, as I try to get my bearings with a new week on the horizon. This week will bring a viewing of Crazy Rich Asians with some work friends, my annual review at work, and lots and lots of writing as I work on a big freelance assignment.
Last week, I finished three books! But two of those were novellas, so they were super quick reads at under 150 pages. Here are my reviews:
Books Finished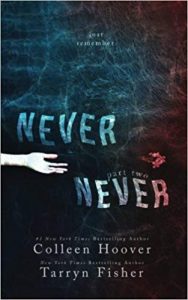 Title: Never, Never: Part Two
Author: Colleen Hoover and Tarryn Fisher
Published: 2015
Format: Paperback
Rating: ★★☆☆☆
Plot Summary: In Part Two of this trilogy, Silas wakes up with no memory but finds out that his girlfriend Charlie is missing and he needs to find her before time runs out.
My Thoughts: As much as I loved Part One of this series, Part Two was majorly disappointing! I'm on the fence if I even want to read Part Three, but since the books are so short (around 145 pages), I guess I'll just finish it out to see what happens. I am interested to know why they have lost their memory! This book took some turns I wasn't expecting and didn't particularly enjoy, so blah.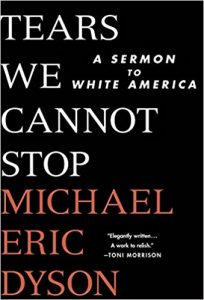 Title: Tears We Cannot Stop: A Sermon to White America
Author: Michael Eric Dyson
Published: 2017
Format: Library hardcover
Rating: ★★★★★
Plot Summary: Dyson doesn't hold back in this book about race relations today and all the ways white privilege has paved the way for black indiginity. Short, impactful, and will leave you forever changed.
My Thoughts: I don't even know how to accurately describe how incredible this book was, but it's one I want to put in the hands of everyone I know. It's a book that will make a lot of white people squirm, but damn do we need to squirm. Dyson really gets to the heart of race relations today and what it's truly like to be black in America. He talks not only about the different times he's been stopped by the police, but also about the times he's been asked to leave churches and universities due to his more progressive views, views that not everyone is ready for. He writes honestly and poignantly about his life and about the ways white privilege and white fragility has infected our culture and made black people feel othered. There were so many quotes that just stopped me in my tracks because damn, does Dyson have a way with words. Please read this book. You won't regret it.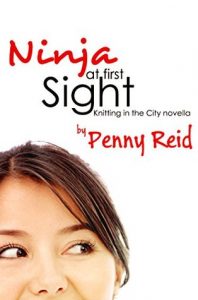 Title: Ninja at First Sight
Author: Penny Reid
Published: 2015
Format: Library e-book
Rating: ★★☆☆☆
Plot Summary: In this novella, readers learn the origin story of Greg and Fiona, a married couple who are present in the first four books of the Knitting in the City series.
My Thoughts: I was told I *must* read this book before reading the fifth book in the Knitting in the City series because it gives greater context to Greg and Fiona's story, as we learn how they got together. And… I just don't get it? Maybe I will once I read that fifth book, but this felt like something that could have easily been incorporated into that book in flashback scenes. Also, I kinda hated this book solely on the fact that her mom was written outrageously awful. She tells her daughter, who had brain cancer a few years ago, that she's "cutting her out of her life" if she goes away to college. Um, what? In what world does this make sense? I understand that the author wanted Fiona to have a troubled relationship with her mom, but that's a little over the top and unrealistic.
Book Abandoned
The Duchess War by Courtney Milan – I abandoned this book at page 71 because it just wasn't keeping my interest. I felt like the author was trying too hard to create a plucky heroine, but it just didn't work for me. It was also just… boring. I didn't feel any sense of excitement whenever I picked up the novel and I found my mind wandering when I was reading. Probably one of those "good for you, not for me" books.
What I'm Reading This Week
What are you reading this week?