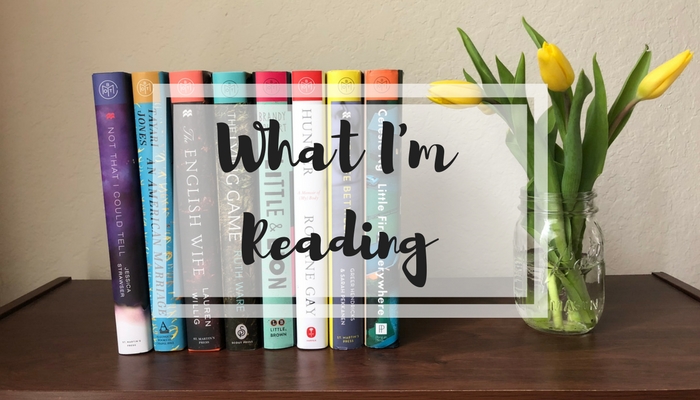 Happy Monday, friends! I had such a lovely, relaxing weekend. So relaxing, in fact, that I managed to finish an entire 350-page book in two days. (Which is a good thing, considering it was for book club and our meeting is tomorrow!)
This week, I finished two books. My reviews are below!
Books Finished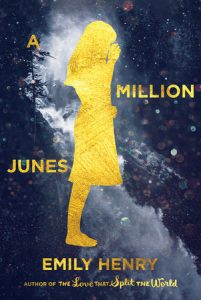 Title: A Million Junes
Author: Emily Henry
Published: 2017
Format: Library audiobook
Rating: ★★★★☆
Plot Summary: June O'Donnell and Saul Angert are supposed to hate each other because that's the way their families work. June's family has a long-held grudge against Saul's family, but June cannot help the pull she feels toward Saul. He's gruff and sarcastic, but sparks fly whenever they're around one another. So, what happens when an Angert and an O'Donnell fall in love?
My Thoughts: I'm not one for magical realism typically, but damn, I loved this novel. It was fun and witty while also being emotionally moving, stirring my heart strings. I loved the characters of June and Saul, and I could feel their chemistry immediately. Their love story warmed my heart and it's what made me most curious to see how everything would end because it seemed like their love was doomed from the start. I also loved the secondary characters in this novel, especially the relationship of June and her best friend Hannah. They had a strong, healthy female friendship and it was a beautiful thing to witness. They just loved each other and wanted the best for one another at all times, and that's something more YA novels need. Teenage female friendship can be healthy! Yes, yes. This book was so fantastic and so beautifully written. I would highly recommend it to anyone who enjoys YA books and magical realism (but also encourage anyone who isn't into magical realism to give it a try because that's not my typical bag and I really enjoyed it.)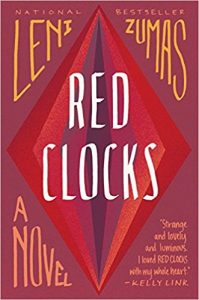 Title: Red Clocks
Author: Leni Zumas
Published: 2018
Format: Library hardcover
Rating: ★★☆☆☆
Plot Summary: In this novel, Leni Zumas has imagined a world where abortion is illegal, IVF is banned, and every embryo is granted right to life, liberty, and property. She explores how this affects four very different woman: Ro who is trying to have her baby on her own, Susan who is a mother of two and trapped in a disappointing marriage, Mattie who is fifteen and gets pregnant unexpectedly, and Gin who is a modern-day witch doctor who is arrested and put on trial.
My Thoughts: The premise of this book sounded great. Timely and important, and let's face it, if Brett Kavanaugh is confirmed as Supreme Court Justice, a reality we could be facing in the not-too-distant future. However, the writing just didn't meet my expectations. I found the writing pretentious, as if the author was trying so hard to make this book as literary as possible. None of the characters were truly likable, and it just made me sad that none of the women featured in this novel had a strong relationship with anyone – not a romantic partner, not a family member, not a friend, not a colleague. If the author wanted to write a female empowerment book, well, I think she failed on that account. I will acknowledge that I thought the ending was well-done and made up for a very slow beginning and lackluster character development, but eh. Not a book I'm going to be recommending.
What I'm Reading This Week
What are you reading?