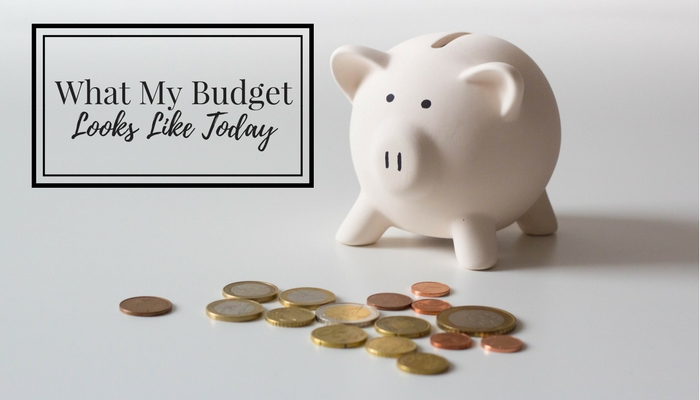 Okay, friends, settle in. I am about to get brutally honest about what my money situation looks like today. I'm talking REAL numbers about how much money I make and what my bills look like.
Why am I doing this? Because I think we need to be more honest about money and not feel ashamed to talk about our salaries and budgets. Sure, my salary may not be all that impressive to other people, but it's fine for my needs and it allows me to support myself easily.
I was inspired to write this post after listening to an old episode of the Girl Next Door podcast (I'm slowly making my way through their back catalog of episodes) where they got real honest about their money situations, including what they make and what debt they have.
So, let's do this!
At this moment in time, I'm 30 and I work a full-time job as a SEO content writer. I'm in my fourth year in this current position, although the position itself has grown and changed drastically over time, and each year, I've gotten a great raise that has put me in a fairly comfortable financial position. I also dabble in freelance writing, but I'm only working with one client who needs content every couple months or so. It actually works out really well for me because I quickly realized the freelancing side hustle was not for me. This way, I get consistent work without having to spend hours and hours hustling after it. And the money feels like a bonus. It's never accounted for in my budget, and I usually funnel it to my debts.
So, what does my salary look like? My gross salary is around $47,000, but once I account for taxes, health insurance, and my flexible spending account that I use for healthcare costs, I'm earning around $37,000 a year. And I usually make around $3,000 a year from freelancing, although that doesn't account for taxes, so when all is said and done, I'm earning a little under $40,000 a year.
Now let's talk about my expenses. I'm going to break this up into a few categories: housing, debts, auto, and other. These are my fixed expenses that I have to account for with every budget I put together. (Friday, I'll talk about discretionary spending and where my money goes after the bills are paid.)
Housing
Like most people, this is my biggest expense. One of the reasons is that I have chosen to live alone. Obviously, I could save more money and pay down my debts faster if I had a roommate, but it wasn't worth it for me. I really, really wanted the experience of living alone, and after 18 months of it, I can say with certainty that it was the right decision. It just means that all of the housing and utilities fall on my shoulders, but it's totally worth it for me.
Currently, I spend $825 a month to rent a one-bedroom apartment in a great location. And I'm getting a steal because most one-bedroom apartments around here are around $1,000 a month. There are certain sacrifices I'm making: my apartment is tiny (under 600 square feet with no dining area to speak of), the appliances aren't updated, the countertops and cabinets are a gross beige color, etc. But I honestly didn't want to pay much more than $800 and I'm really happy with the apartment and location, so I'm hoping to stay here for at least a few more years.
My other bills related to housing include utilities (water and electric), which usually run around $100 a month, sometimes a little more. I also pay $75 a month for high-speed Internet, which feels really pricey, but I literally never have issues with my Internet and it's lightning fast, so I can't complain too much. I don't have cable, but pay $12 a month for Netflix.
Debts
After housing, my next biggest expense is paying off my debts. I carry three specific debts: a school loan, a car loan, and credit card debt.
My school loans total $13,409 currently and I can't see myself paying those off for… well, a long time. I try not to think about it too much, haha. I pay the minimum balance on two of the loans and I have a third loan that's under $500 that I've been very focused on paying off. In total, I pay $200 a month for my school loans. I don't regret my student loans because they were the only way I was able to pay for college, so I try not to think of them as a burden. They just… are. I had to have them and they will be paid off one day. I refuse to feel bad about my school loans or the fact that I may be in my forties and still paying them off.
(You may be wondering why I haven't consolidated my student loans and the truth is, I just haven't done the research to figure out how to do this. It's pure laziness on my part.)
My car loan is almost paid off – I have less than $900 to go. Woop! Once the car is paid off, my plan is to take the money I was spending on my car payments every month ($228) and put it into a savings account for a car down payment. I don't want to buy another car anytime soon, but I want to have a hefty down payment saved up for when the time comes for a new car. Once I've saved $3,000 for my down payment, I want to start throwing that monthly payment toward my school loans. (Honestly, I'm not sure if this is the best decision because all the debt blogs say to pay off debt before saving, but I also know I'd feel more secure knowing I have a down payment saved up, should my car give out on me in a year.)
Lastly, my credit card has a $600 balance. But considering that balance was over $2,000 just a few months ago, I'm feeling rull good about this balance. So sue me.
Auto
I really, really wish I lived in a more walkable city with a dependable public transportation system, but I don't. I have to drive everywhere. My car is old (2005) and is nearing 110,000 miles, but it's in great shape and I'm hoping it'll last me another few years.
My auto expenses include:
Car payment – $228
Gas – I fill up once a week for about $20
Auto insurance – My six-month premium is just under $900, which feels insanely expensive, but every time I quote out another auto insurance company with the same type of coverage I have, the price is about the same. (Am I over-covered? I dunno! Tips welcome.)
Oil changes – Around $30 every three months
Car registration – $30 once a year
I've been lucky in that my car hasn't need too many pricey repairs. I replaced all four tires a few years ago and recently had to get my brakes replaced, but that's it. But now that my car is getting up there in mileage and years, I know I'm going to need more frequent repairs and replacements. But so far, she's held up well and drives just fine! (*knock on wood*)
Other
Some of my different miscellaneous bills that don't fit into any of my bigger categories include my cell phone bill, gym membership, and Spotify Premium. My cell phone bill is around $100, but this includes my leasing agreement for my iPhone and unlimited data. I pay $35 a month for the gym and $10 for Spotify Premium, which is worth every single penny (and I'm not even much of a music person!)
I'm also part of two monthly subscription services – Book of the Month, which is $15 a month, and Sephora PLAY!, which is $10 a month.
But that's what my expenses look like today! On Friday, I'm going to talk more about my discretionary spending and specifically where my money went (after bills) during the first quarter of the year.
Truthfully, it's going to be damn hard to push publish on this post because it feels so incredibly vulnerable to be this honest about my financial situation today. But I'm also tired of reading personal finance posts where it feels like people have all their shit together and can put away thousands of dollars into their savings or toward their debt. That's not my situation because I'm a single person supporting myself on my own and I don't want to live so frugally that I miss out on the things that make me happy. And honestly, I don't have my shit together (something you'll definitely notice on Friday's blog post) and that's okay. As long as I'm willing to admit my mistakes and learn from them and try to be better, that's all that really matters.
And, honestly, I'm proud of where I am today because life was goddamn hard when I was growing up. Financial literacy is not a thing for those of us who grow up poor and functioned in survival mode for most of their growing up years. I've had to learn financial literacy the hard way, which included getting into credit card debt before I even graduated from college. But I've taken the time to learn and grow, and I'm in a pretty damn good place today. Maybe not by a financial planner's standards, but by my standards. And shouldn't that be the standard that guides my life? I think so.